BATB279_Face Mask Makeup Masterclass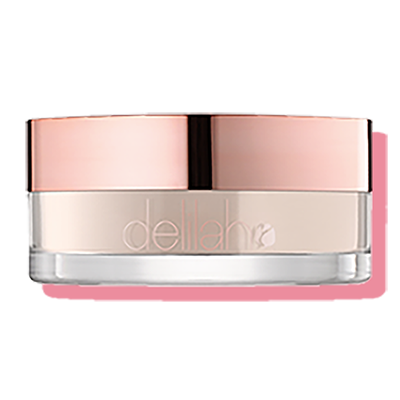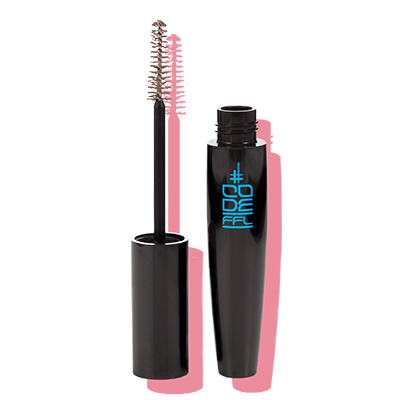 I've created a makeup masterclass to help you look your most beautiful best whilst wearing your face masks 💕
Make sure to watch my video above 👆 to learn my Makeup Artist secrets for keeping your makeup firmly on your face (and not all over your mask!)
…as well as an easy eye look that will help you make the most of your eyes! 🤩
After you've watched all my expert advice in the video above, find out more about the game-changing products I used below! 👇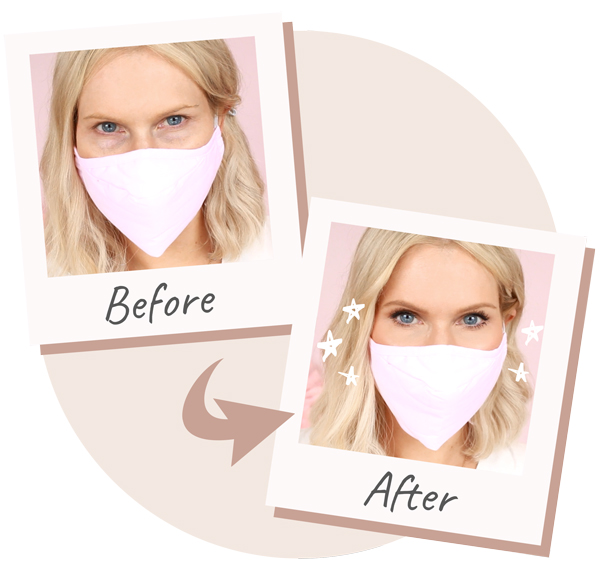 Do you find that your makeup tends to rub off faster when wearing a face mask? 😷
Throughout the day, the natural oils on our face can start to break down our foundation and concealer - which can happen even more-so when wearing a face mask...(they can get so hot!).
This is where a makeup primer steps in...
This Delilah Future Resist Foundation Primer has been created to perfectly prepare the skin for makeup and help your makeup last longer! ⏱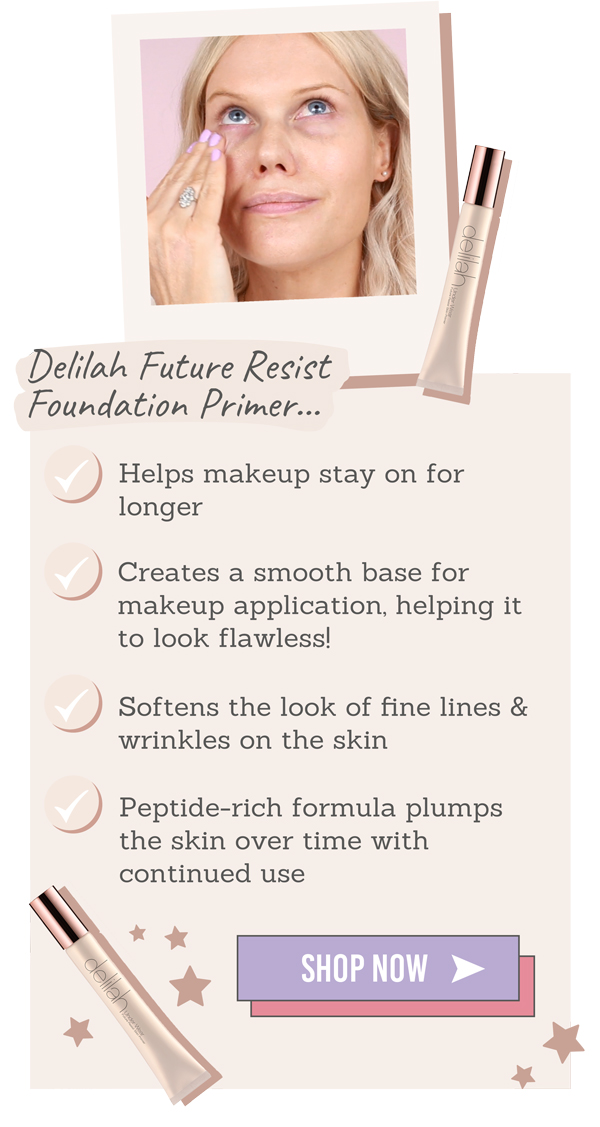 It also ensures makeup not only applies more easily, but looks amazing on the skin, too!
Simply smooth the primer all over your face and wait to dry before applying your your foundation or concealer!
I've learned many clever tricks to help keep makeup on for longer, and this one may surprise you because it may seem like it is in the wrong order…
…but spraying your face with setting spray before you apply your makeup is my secret for getting makeup to last longer! 👏
This Slay All Day Setting Spray adds a slightly tacky feeling to the skin, allowing makeup to stick better to the skin and last longer! ⏱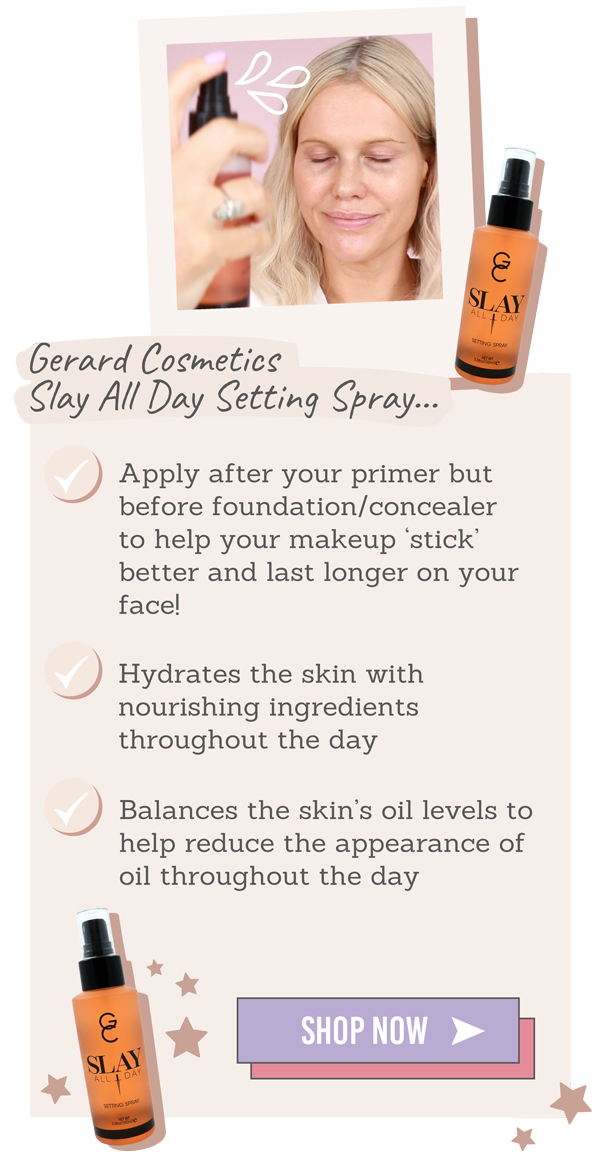 As a bonus, it smells incredible (like a juicy peach), and gives skin an instant refresh with a cooling feeling 🍑
Simply spray on the skin after you've applied your primer, but before any other products, to get the ultimate in long-lasting makeup! 🙌
Do you find that you're left with lots of foundation inside your face mask when you remove it? 😖
One way to avoid this happening (although some makeup will always end up on your mask) is to apply makeup to just key areas of the face.
Veil Illuminating Complexion Fix  is a little pen of magic!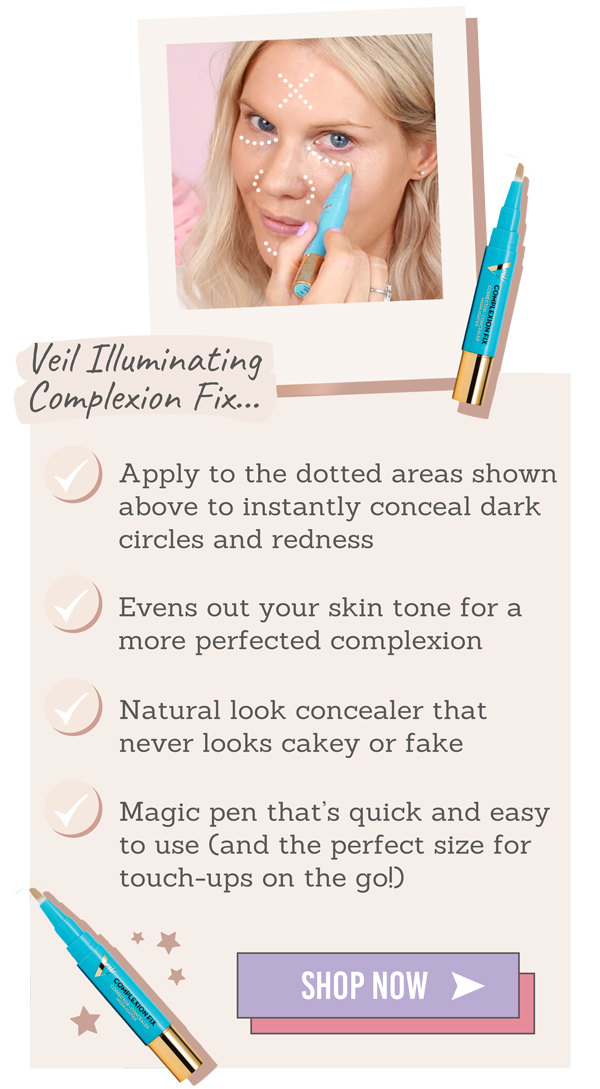 It helps to conceal dark circles & redness, looks natural & never 'cakey', and can be carried around in your purse for top-ups throughout the day! 👜
Apply Veil Illuminating Complexion Fix under your eyes, around your nose, on your chin & forehead - and any other areas you may have redness!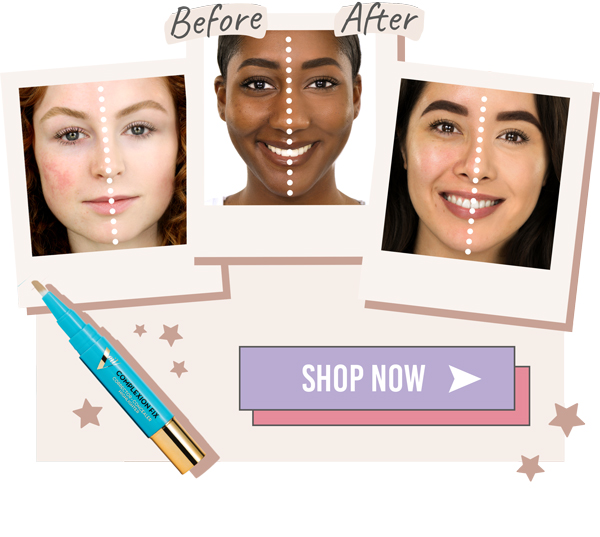 Another key step in helping your makeup stay put on your face (instead of all over your mask) is to lock the makeup in place… 🔒
I like to use a translucent loose powder to help set my makeup in place.
Delilah Pure Touch Micro Loose Powder not only helps you to 'lock in' your makeup, but also reduces the look of fine lines and blurs large pores! 🙌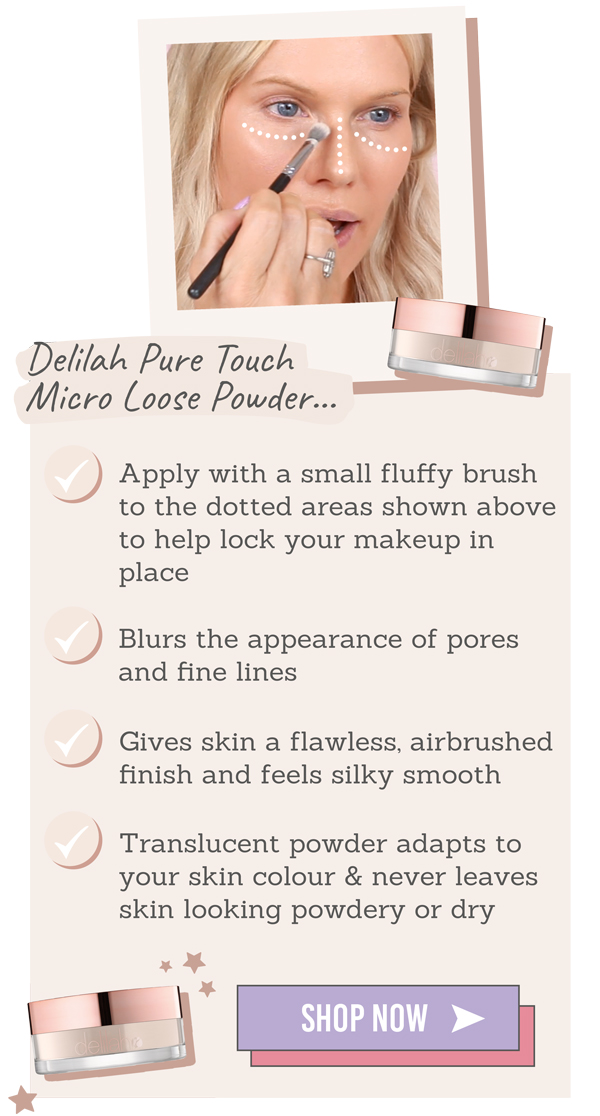 Use a small fluffy brush to pat this loose powder onto the areas of your face that your face mask touches (think around your nose and under eye area).
If you're in need of makeup brushes, this Nanshy Masterful Brush Collection has everything you need for flawless makeup application! 💕 
Do you sometimes feel your complexion looks a little 'bluuurgh'? Perhaps you feel your complexion doesn't have the healthy glow it used to?
I've discovered a product that will help give you back that youthful glow, and it's this Daniel Sandler Watercolour Blush in shade 'Passion'! ✨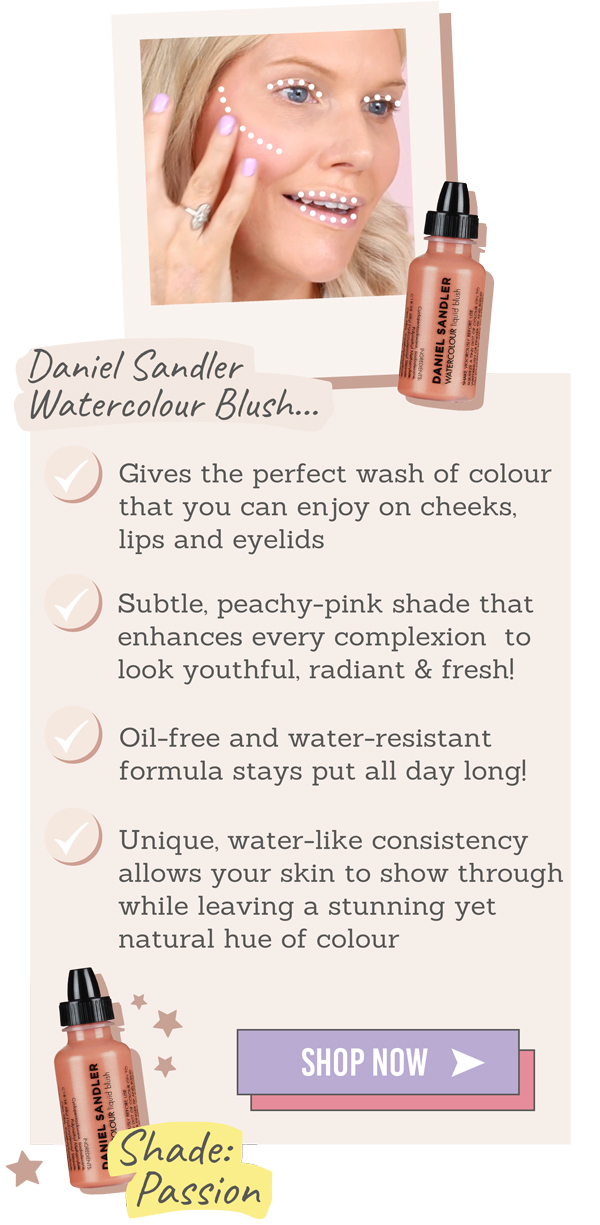 This clever little bottle of liquid blusher gives the ultimate natural, pretty glow, it instantly picks up a tired-looking complexion 💕
Simply squeeze a drop of this Watercolour Blush onto your hand… ✋
…and use your fingers to dab it onto the apples of your cheeks, using a clean finger to blend up towards the top of your ears in circular motions.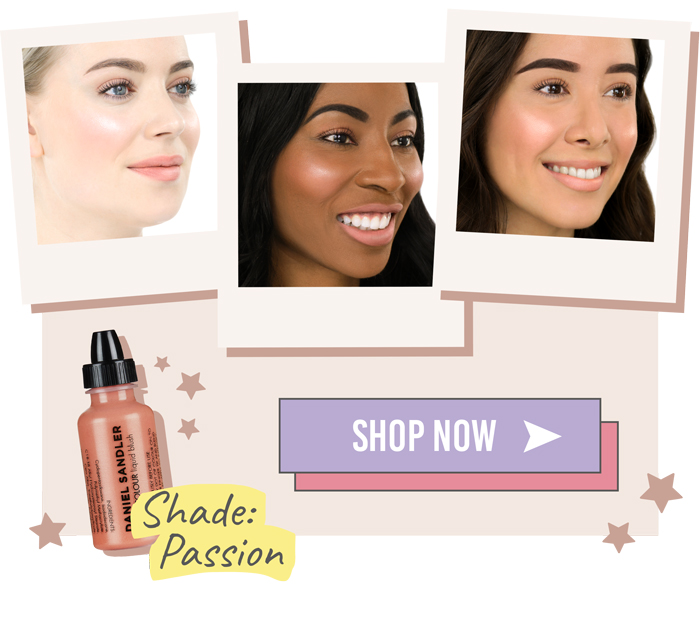 I know we're all wearing face masks that cover our nose and mouth… but when we remove our masks we still want our lips to look pretty! 👄
However, we don't want any of our lovely lip colour to end up all over our masks - and that's where lip liners come in, as they're more long-lasting and transfer less than traditional lipsticks!
This Studio10 Age Reverse Lip Liner is double-ended and creates the look of sculpted, fuller lips 👄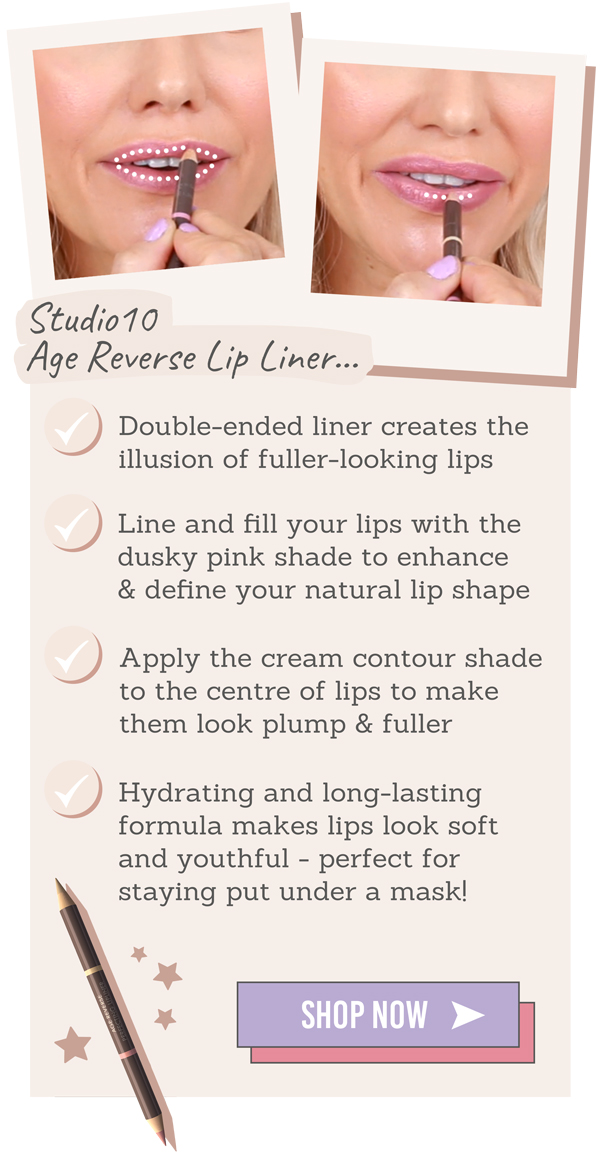 The pink end is the perfect 'your lips but better' shade, meaning it's ideal to help you define your lip shape. Apply this to the outer lip edge and then fill in your lips.
Then, apply the cream shade to create lightness in the centre of your lips, helping them look fuller! 💕
Psst...
If you find your lip liner pencil to be quite hard, I recommend applying a lip balm first. My current lip balm obsession is this Ouli's Ointment Olive Balm...
It gives lips hydration and keeps them super soft & smooth! 💕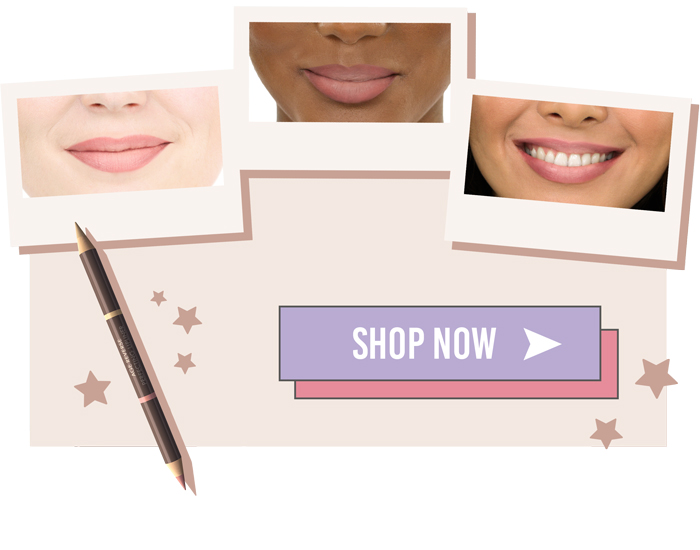 Since most of the day, when we are out and about, our nose and mouth are covered by a face mask…
…making our eyes the centre of attention has become more important than ever! 👁
And believe it or not, creating a dazzling eye look starts with your brows…
This Senna Brow Duo is my holy grail for quick and easy brows 💕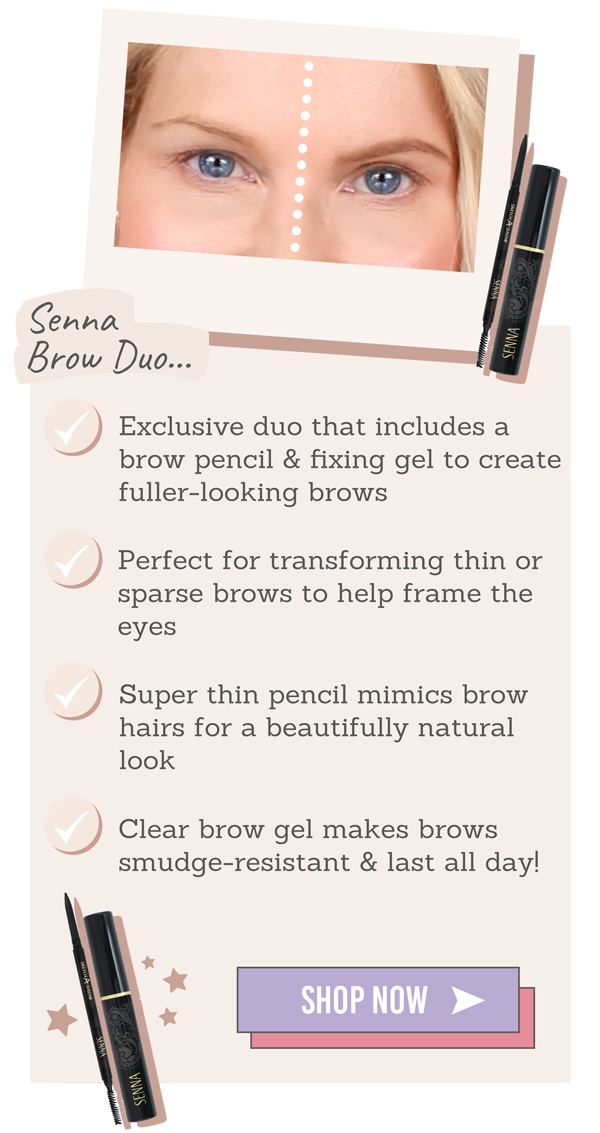 The pencil has an ultra-fine point, making it easier to create tiny hair-like strokes that look both ultra-defined yet natural.
The clear brow gel helps you to tame unruly brows and keep them neat and in place all day! ⏱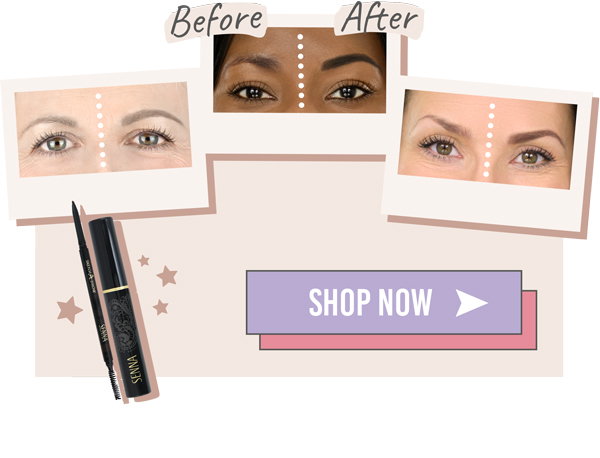 I'll admit it; eyeshadow can be tricky...
But here's the secret… it doesn't have to be!
This Daniel Sandler Dawn to Dusk Trio works to create an easy eyeshadow look that anybody can achieve.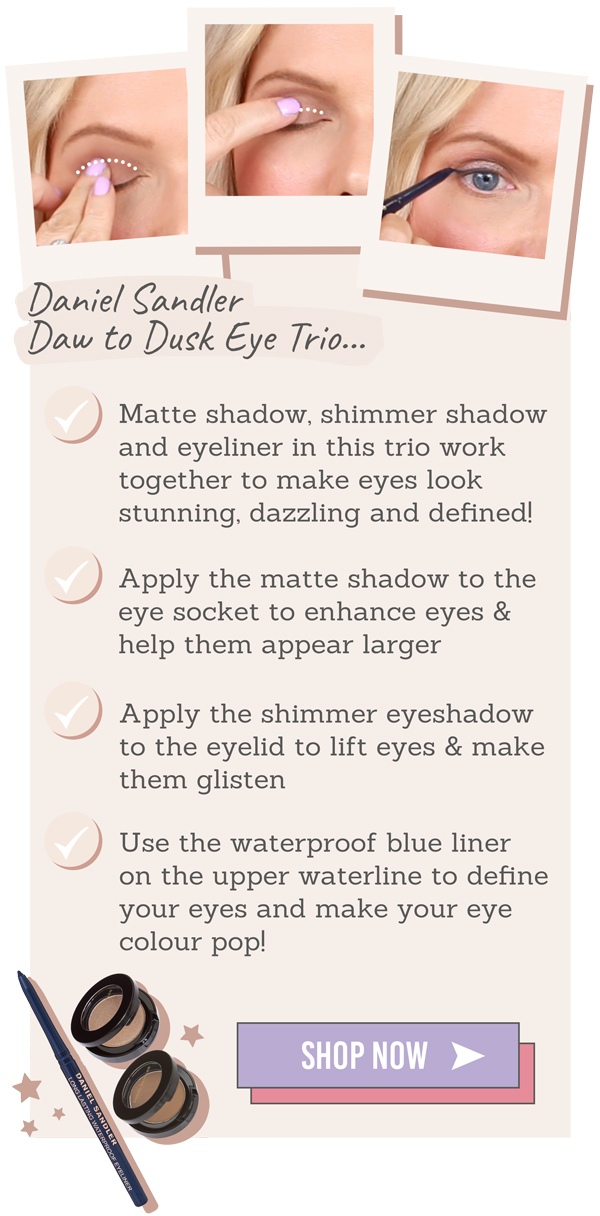 First, apply the matte shade 'Cedar' into the socket of your eye – I did this using my finger, using little 'windscreen wiper' motions, but if you'd like to use a brush, I recommend a fluffy socket brush.
Then take the shade 'Gilded Taupe' and use your finger to dab a little onto the centre of the lids to make your lids sparkle and make the colour of your irises pop!
Last, I take the eyeliner in 'Blue Velvet' and gently dab along the outer corner of my lashes and on my upper waterline to make my lashes look fuller and thicker.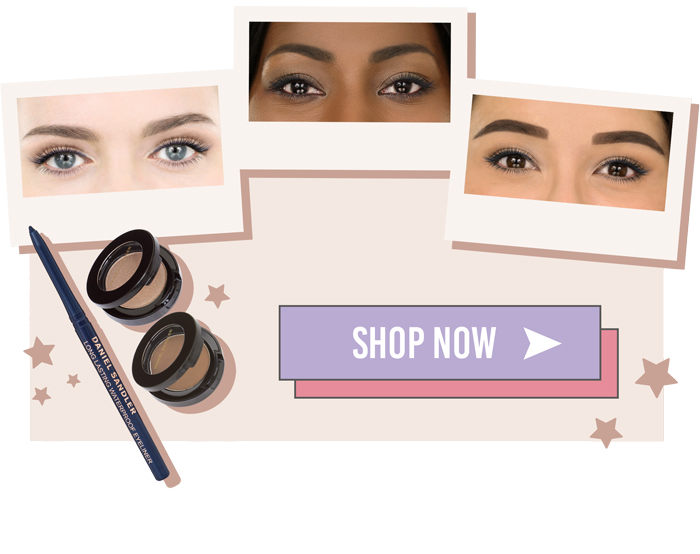 Do you have short or sparse lashes?
As we age, our lashes can start to look thinner and more sparse, but don't worry! I've discovered a product that super boosts every mascara, to create the ultimate full lash look (a false lash effect with no glue or tricky to apply lashes!) 🤩
Code FFL Lash Primer stands for 'Forget Fake Lashes', and once you try it, you'll understand why!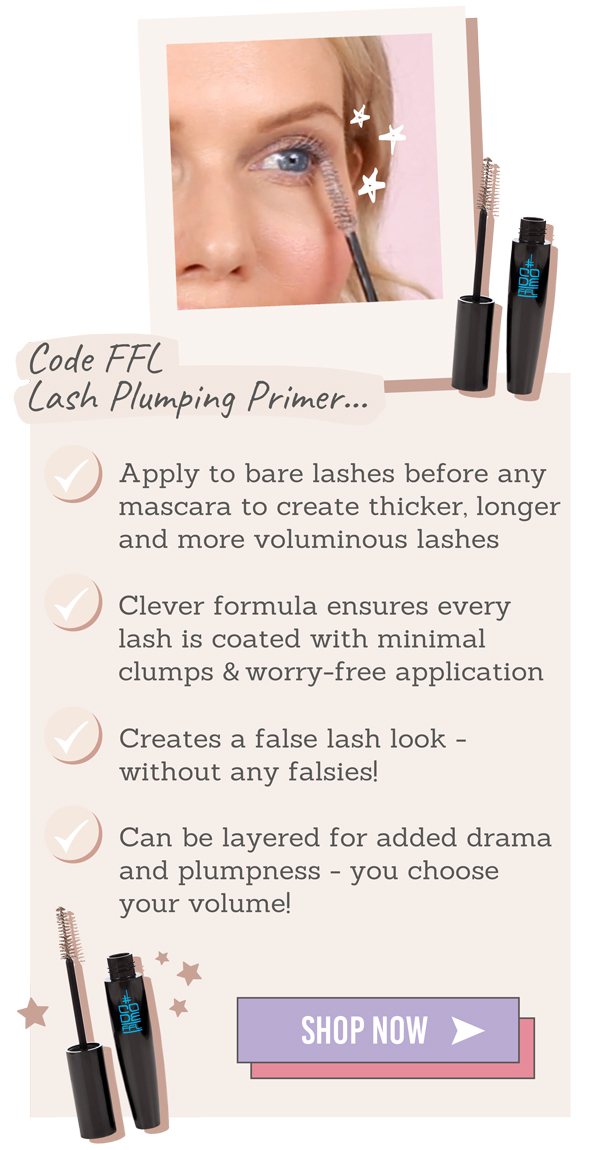 It helps you prep your lashes, before applying mascara, by coating them with microfibres, helping to lengthen lashes.
Simply apply Code FFL Lash Primer to your top and bottom lashes before applying your mascara to create a false lash effect 🤩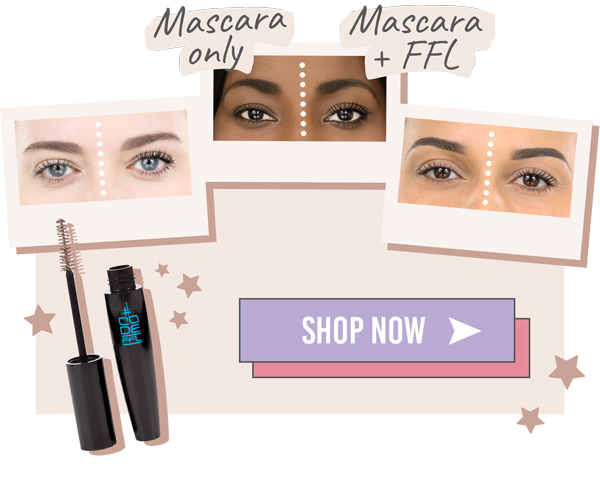 As a makeup artist, I've tried hundreds of mascaras - and yet I keep coming back to this Lord & Berry Back in Black Mascara!
It's a makeup bag staple for me thanks to its ultra-thin wand – which allows me to get right to the root of my lashes, creating a fuller look without the clogginess! 👏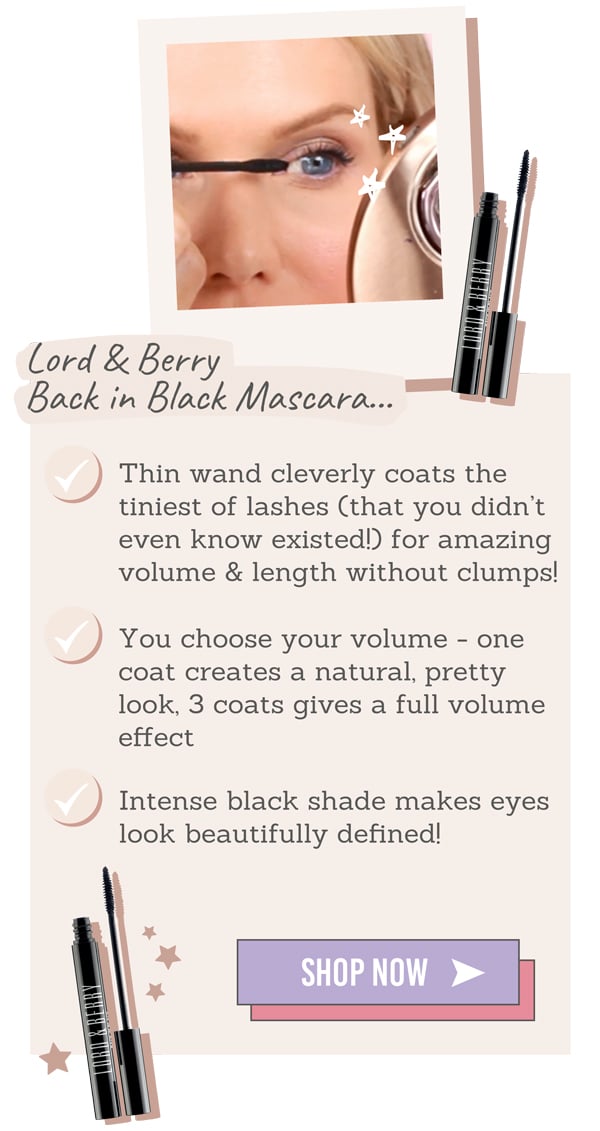 Stamp the wand onto the roots of your lashes, then wiggle the wand and lift it through to the tips of your lashes!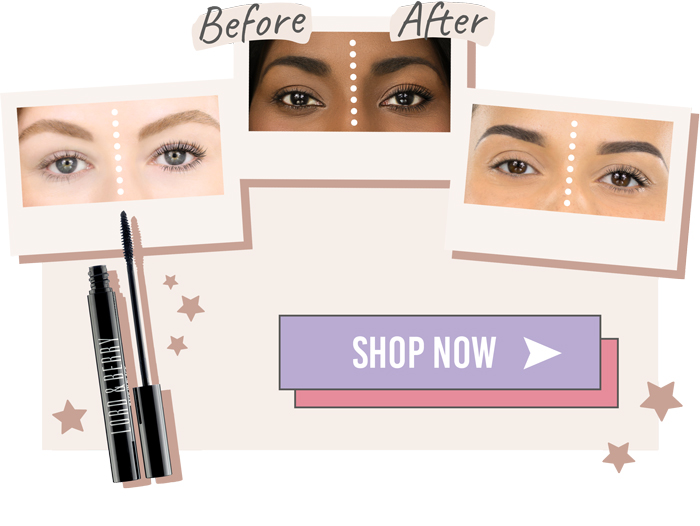 The step to keeping your makeup on your face (and not on your mask) is to give your face a final spritz of setting spray to lock your makeup in place 🔒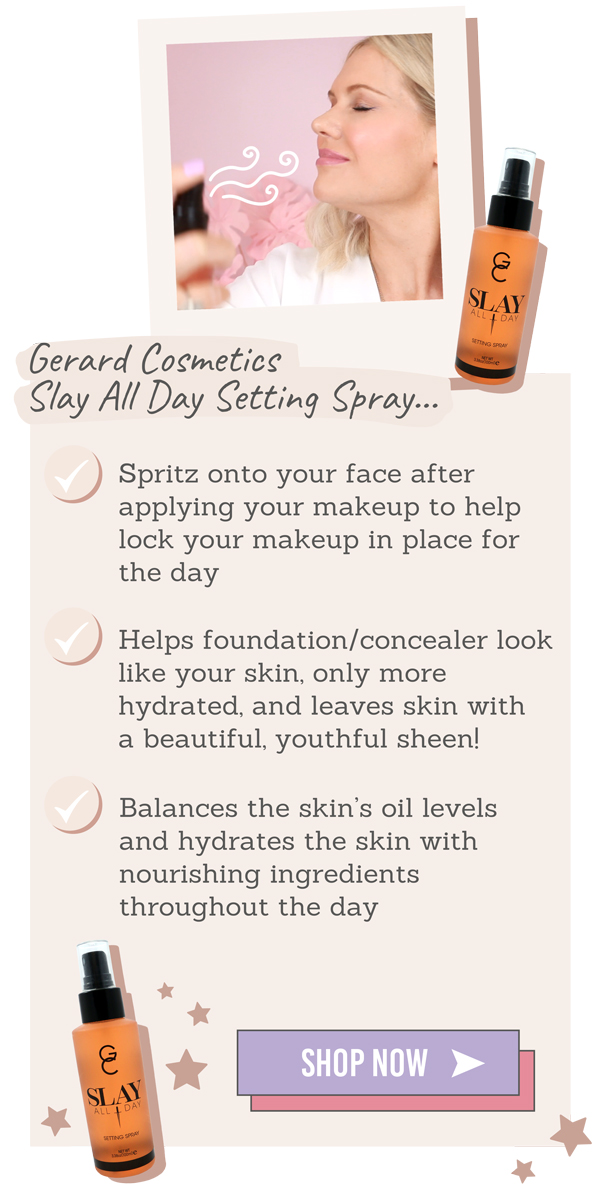 The Gerard Cosmetics Setting Spray also helps to give skin a dewy-look and radiant glow...
…which makes makeup look beautifully natural! ✨
One question a lot of us have been wondering is…
'How do I wear both a face mask & glasses without them steaming up?!'
I've got a simple trick for you that will not only help prevent this (and help you to see!), but also help protect you from makeup marks!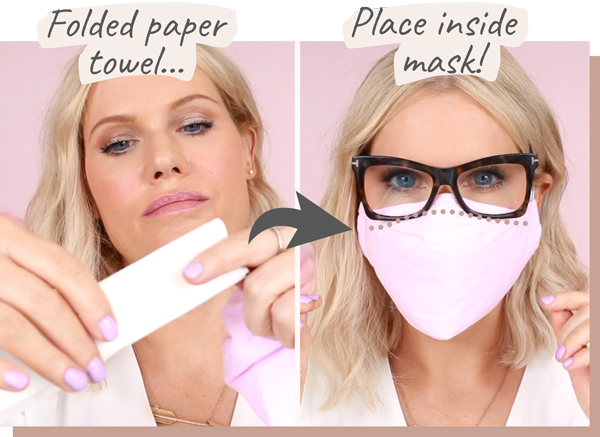 Simply take a paper towel and fold it into a long strip, and place it into your mask, along the top edge that sits on your nose.
The paper towel will help to soak up some of your breath and stop your glasses from steaming up...
...and will also ensure that your makeup doesn't rub off onto your mask but onto the paper towel instead.
So simple!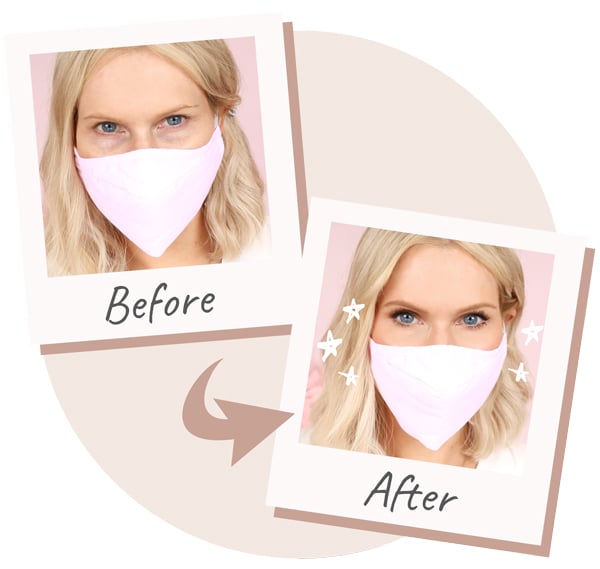 If you haven't already, be sure to watch my video above 👆 to discover my tips for helping makeup last longer and accentuating your eyes when you next wear your face mask! ✨
Plus, scroll down to discover even more tips that I think you'll love below!