Jessica Flint - Pineapple Silk Sleep Mask
Pineapple Silk Sleep Mask
We all know that a good night's sleep is one of the best remedies for looking and feeling great!
With sufficient rest, your skin looks younger, eyes appear brighter, and you feel healthier and more energised for the day ahead!
Sounds pretty simple, right?
Sometimes, getting to sleep is no easy feat – too many external distractions can make it tricky to shut out and turn off!
Even a little light from a glowing phone screen or a hall-way light can keep the brain active.
Switching off stimulation is critical!
When your brain senses pure darkness, it causes the production of melatonin, the chemical of sleep.
That's why using an eye mask to gently block out all light (and the outside world) is a beauty and well-being game-changer!
Not only are your chances of falling asleep improved, but the quality of your sleep is much improved too!
Kiss 'goodnight' to the prettiest mask designed by talented Jessica Russell Flint:
'Pineapple Cliche' Silk Mask
This beautiful, luxurious silk sleep mask with its super soft wadding and silk pom-pom trim will make sure you also look the part…
…every night!
And that's not all…
The 'Pineapple Cliche' Silk Mask is also a great travel buddy when you might need an extra helping hand to fall asleep…

…but still looking super chic and cute!
Plus, silk helps the skin breathe, reduces puffiness and takes down redness in the skin!
Jessica Russell Flint's 'Pineapple Cliche' Silk Mask is the perfect, thoughtful gift to yourself and anyone you care about.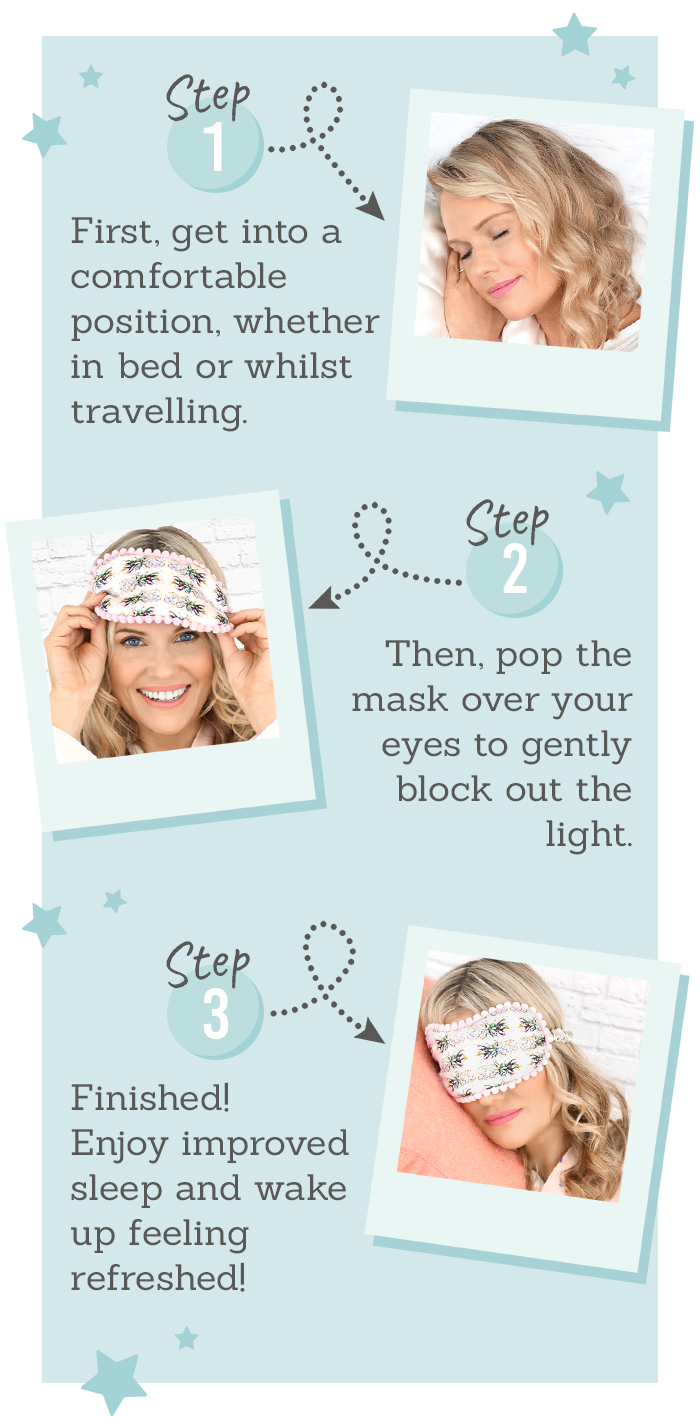 Stylish, luxe silk sleep mask featuring the highly sought after "Pineapple Cliche" print to keep you looking chic even when you sleep!

Super soft wadding, pom pom and the softest silk on both sides to help skin breathe easier, reducing puffiness and redness

Comes in a beautiful gift box, so it's a stunning and thoughtful gift to yourself or anyone you care about

Perfect for taking on travels if sleep is disrupted and for blocking out any light should your bedroom not keep light out

Blocks out external distractions for better quality sleep wherever you snooze making you look and feel fresher, rested and more youthful!
About the brand: Jessica Flint
British interior designer and illustrator Jessica Russell Flint is the brains behind some wonderfully eccentric, colourful creations!
She mixes British Heritage inspired themes with contemporary colours and bold designs - and with the ethos behind the brand to make the most of life, enjoy it, embrace colour, and think outside the box.
It's easy to see how you can fall in love with this lovely little luxury!
At Beauty and the Boutique...
We love beauty and animals – so you always know the products we sell are never tested on animals.
I hope you love using this Jessica Flint - Pineapple Silk Sleep Mask as much as I loved hand-picking it for you!
Need more help?
Should you need more help with your new Jessica Flint - Pineapple Silk Sleep Mask, be sure to get in touch with us 👉 here, we'd love to hear from you!
Show us your selfie!
We love seeing how you like to use your Jessica Flint - Pineapple Silk Sleep Mask Send us your selfie wearing your new purchase 👉 here and let us celebrate you!