Life Armour - Recharge Focus
Recharge Focus
Do you find yourself lacking energy and focus throughout the day?
Love your cup of tea or coffee…especially on days when a little 'pick-me-up' is needed?
Me too!
Though caffeine is healthy in moderation, too much of it has been scientifically proven to increase feelings of anxiety.
So how can we achieve that energy boost that caffeine gives, but without the side effects?

Step forward:
Life Armour® 'Recharge Focus'…
Life Armour's® 'Recharge Focus' capsules with 100% active and effective ingredients and the caffeine-free energy kick that also helps enhance mental focus and may help to support brain health.
It's the welcome and wholesome option that your mind, body and busy lifestyle will thank you for!
This daily natural essential has been specifically formulated to help boost energy and fight fatigue without the need for caffeine.
So, to keep your energy levels up, let this superstar supplement power through your fatigue the natural way!
What makes 'Recharge Focus' so unique?
Life Armour® Recharge Focus is jammed full of natural ingredients that also help enhance cognitive functions (the brain-based skills we need to carry out any task – both complex and straightforward).
This means you may notice your perception, attention and memory (among others) improve!
Incorporating these plant-based supplements into daily life will (over time) keep you in balance, allowing for a more energetic and effective mind and body throughout your day…
…meaning you can kiss those recurring afternoon energy dips goodbye too!
We may not be able to eliminate fatigue or stress in our lives, but we can help give ourselves a much-needed energy boost on the days, weeks and months when we need it most!
And that's not all…
Inside each capsule is natural plant-based ingredients such as Ashwagandha, Rosemary, Bacopa Monnieri, Gotu Kola, Panax Ginseng and Fucus Serratus…all-natural, active ingredients that will help your body with the following benefits:
Ashwagandha KSM-66 An ancient medicinal herb with multiple health benefits, the Ashwagandha KSM66 (the highest quality Ashwagandha available!) is clinically proven to improve energy levels for a boosted mood. As an adaptogen, it can help your body and brain manage stress levels by boosting brain function, lowering blood sugar and cortisol levels, as well as fighting symptoms of anxiety and depression.

Bacopa Monieri Also known as 'Herb of Grace', this is a staple plant in traditional Ayurvedic practice and has been used for centuries for various purposes, including helping to improve memory thanks to increasing certain brain chemicals thought to be involved in thinking, learning, and memory.

Fucus Serratus This natural seaweed with high mineral and vitamin content helps enhance cognitive function. Plus, the antioxidant compounds found naturally in Fucus Serratus are also thought to delay signs of ageing, improve skin conditioning, repair and hydrate.

Gotu Cola A herb in the parsley family, Gotu Kola has been commonly used in Traditional Chinese and Ayurvedic medicine for a variety of reasons, including to help enhance cognitive function thanks to its ability to enhance memory and nerve function and improve mental clarity naturally. It's believed that Gotu Kola reduces anxiety by regulating the activity of GABA neurotransmitters (gamma-aminobutyric acid) in the brain.

Panax Ginseng A plant that grows in Korea, North-Eastern China, and Far Eastern Siberia to help improve general well-being as it helps maintain good cognitive function and supports memory performance, amongst other benefits. Ginseng is effective in memory improvement with the neuroprotective effects helping prevent depression, enhance memory and calm anxiety.

Rosemary A herb that has been traditionally used for many benefits, such as to help enhance and improve memory. Rosemary contains antimicrobial, anti-inflammatory, anti-oxidant, anti-apoptotic, anti-tumorigenic, antinociceptive, and neuroprotective properties that help to enhance your mood, learning quality of memory, and increased activity mental alertness and reduce pain, anxiety, and poor sleep quality.
Energise with Life Armour® Recharge Focus to manage and support energy levels, fatigue and brain health safely and naturally!

It's my new lifeline for living my best life, naturally!
How to use your Recharge Focus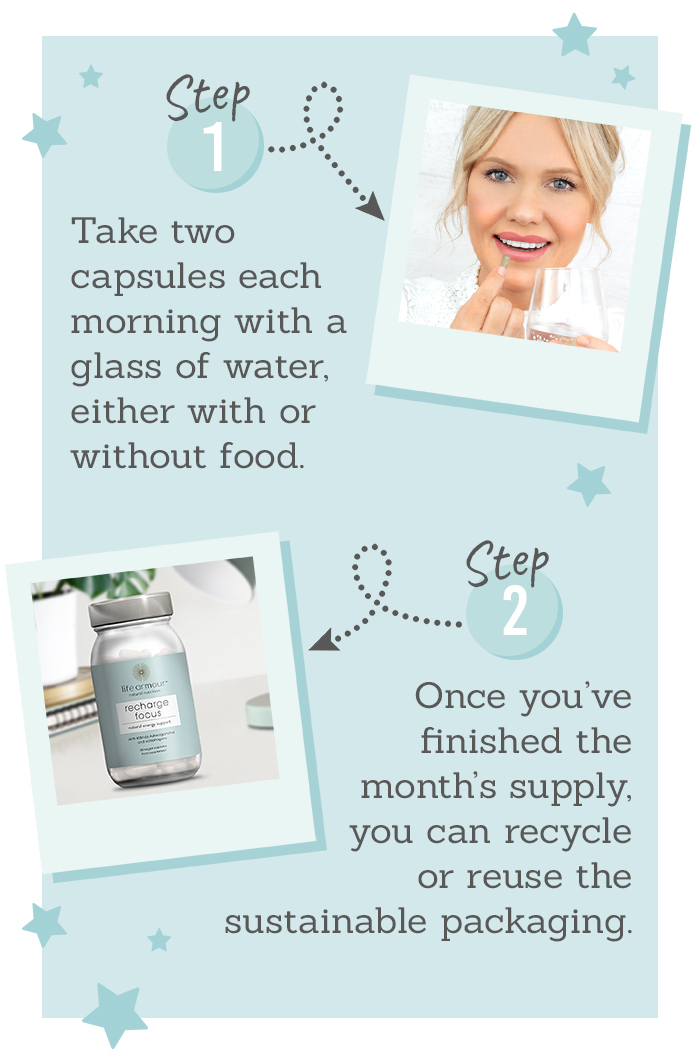 Natural supplements (featured in Vogue UK!) with active plant-based ingredients that help boost the mind and body to enhance energy and combat fatigue

Helps to support brain health with clearer, sharper and improved memory

Helps protect against physical and emotional stresses in a safe and natural way

Vegetarian cellulose capsule shell and soft capsule form that is easier to swallow

Uplifting Rosemary scent (with NO taste) for an energised boost

100% active, effective and completely natural

Cute sustainable packaging that's environmentally friendly and looks pretty on your kitchen shelf!

Two capsules per day provide the perfect balance to help support your energy levels the natural way

Ashwagandha KSM-66 (270mg) – highest quality available and clinically proven to help boost energy, among other things

Bacopa Monieri (136mg) – to help improve memory

Fucus Serratus (90mg) – to help enhance cognitive function
About the brand: Life Armour®
Life Armour's® founder Marishka Dunlop's passion was to create a natural supplement that nourished and protected our bodies from daily stressors from within.
Designed for women to live life to the fullest, with positivity, good health and endless possibilities, Life Armour® consists of 100% natural ingredients that work in harmony with your body to restore vitality and health, reducing the effects of stress and anxiety.

Developed in the UK by a team of leading experts and medical herbalists to create a range that you can trust, Life Armour® is a collaboration between real women, expert scientists and ethical manufacturers.
For natural supplements that lead to better health and improved wellness look no further than Life Armour®.
At Beauty and the Boutique...
We love beauty and animals – so you always know the products we sell are never tested on animals.
I hope you love using this Life Armour - Recharge Focus as much as I loved hand-picking it for you!
Need more help?
Should you need more help with your new Life Armour - Recharge Focus, be sure to get in touch with us 👉 here, we'd love to hear from you!
Show us your selfie!
We love seeing how you like to use your Life Armour - Recharge Focus Send us your selfie wearing your new purchase 👉 here and let us celebrate you!