Naya - Everyday Face Oil
Everyday Face Oil
Introduce this skin repairing elixir into your bedtime beauty ritual!
Supercharge your skin with super star ingredients to work their restorative magic in fighting wrinkles and ageing naturally – all night long!
Allow the naturally fragranced, calming blend of Patchouli, Orange, Lemon and Juniper Berry to drift your senses into a deep, relaxing state gently…
…the name of this skin repairing elixir?
Naya Everyday Face Oil
It's the award-nominated NAYA 'Everyday Face Oil' - a lightweight, luxurious and nourishing oil that works your skin from deep within thanks to its pure and exquisite bioactive oils.
This clever elixir encourages the skin's repair process to restore itself by supplying it with an abundance of vitamins - every day!
The 'Everyday Face Oil' is filled with potent and clinically proven bioactive ingredients at a higher concentration giving skin the nutrients and nourishment it needs.
If you've never heard of Cacay Oil before, then get ready to wonder why!
What is Cacay Oil?
This powerful ingredient plays a starring role in this NAYA 'Everyday Face Oil'.
Cacay Oil is considered the hero of natural anti-ageing skincare. It effectively stimulates cellular turnover and slows collagen breakdown thanks to Omega 3, 6 & 9 and the naturally occurring vitamin A.
Known as one of Amazon's best-kept secrets, Cacay Oil is an incredible, nutrient-rich plant oil that can visibly improve skin tone and reduce the appearance of environmental damage.
And because of its fine molecular structure, it works not only as a skin hydrator but also to protect it whilst visibly improving skin tone and reducing the appearance of environmental damage.
NAYA 'Everyday Face Oil' definitely deserves its leading role!
Cacay Oil helps to lock in moisture for a plumper, youthful complexion.
And that's not all…
As well as Cacay Oil, you'll also find the following skin-enhancing ingredients inside each drop of NAYA 'Everyday Face Oil':
Meadowfoam Oil Just as incredible as it sounds! Your skin's natural barrier is helped by its antioxidants that fight free radicals and reduce oxidative stress. The skin's dermis is filled with rich nutrients to keep skin cells healthy and protected, acting as an emollient to lock in moisture.

Bisabolol A chamomile extract that keeps skin looking smooth, moisturised, soft and supple! It provides nutrients to penetrate deeper and soothes irritation and inflammation. Bisabolol has been used for hundreds of years as a personal care agent thanks to its anti-irritant, anti-inflammatory, and anti-microbial properties. Bisabolol rejuvenates from within to plump fine lines and wrinkles.

Sweet Almond Oil Provides abundant essential fatty acids and minerals and delivers the nutrients deep into the dermis to keep the skin cells healthy and protect them from UV radiation damage. Add this skin repairing NAYA 'Everyday Face Oil' into your bedtime beauty routine to treat your complexion to a beauty sleep like no other.

Grapeseed Oil Grapeseed Oil is an excellent emollient known for its ability to soften and re-condition the skin by helping vitamin C and E in your skin work more efficiently.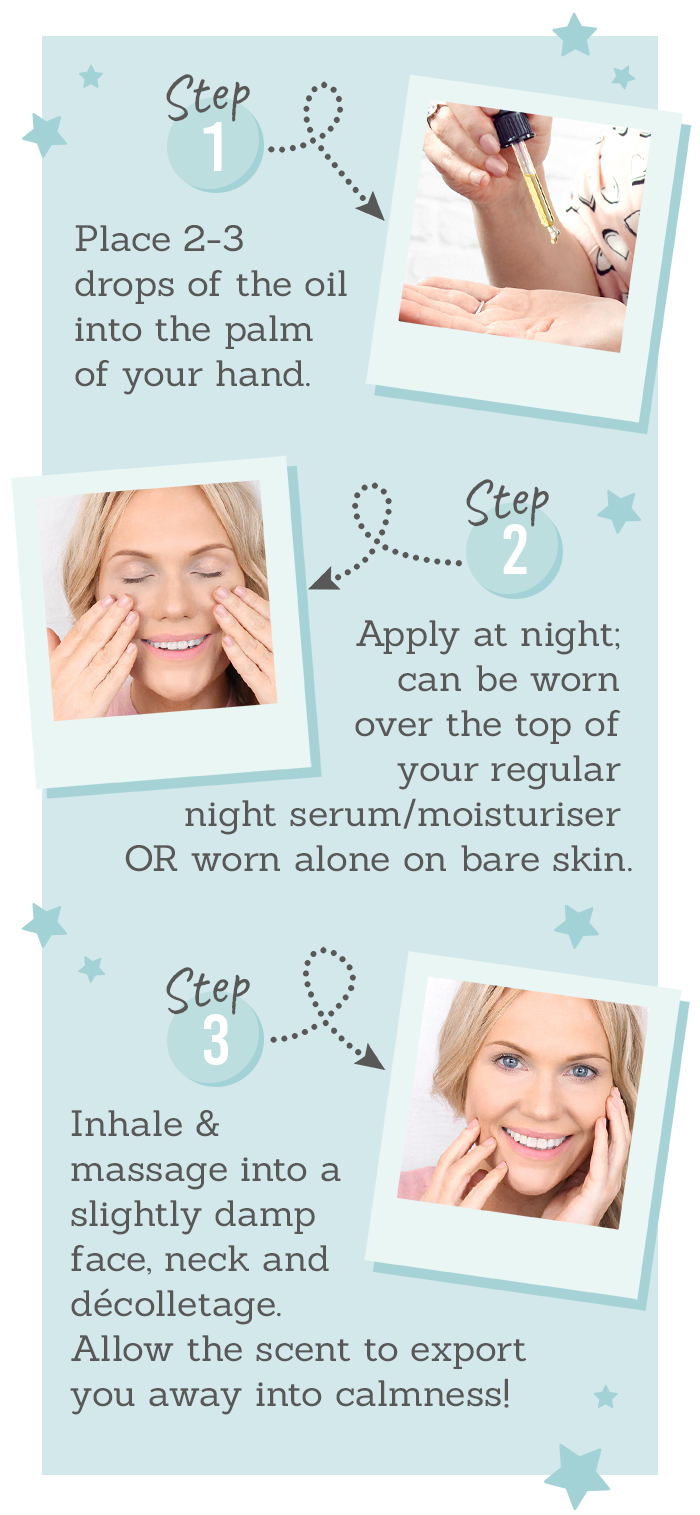 100% plant-derived with clinical studies proven Cacay Oil combats visible signs of ageing

Scientifically proven & patented bioactive ingredients that transform skin by addressing concerns from within and expertly formulated

Refines skin and tightens pores

Bisabolol - rejuvenates and reduces the appearance of fine lines, wrinkles, redness and blotchiness

Helps reduce facial scars and blemishes

Sweet Almond Oil - keeps skin healthy and protected from UV radiation damage

Restores the skin's defences for better protection from environmental stressors

Vitamin E - improves and restores skin elasticity for more youthful and radiant looking skin

Boosts collagen production and elastin to increase skin's firmness, density and volume

Stimulates cellular turnover and slows collagen breakdown

Grapeseed Oil - softens and re-conditions the skin
About the brand: Naya
NAYA is the result of its founder, Sarah Zimmer's global travels to over 70 countries.
The different cultures, local rituals, herbs, and remedies sparked an idea to create a luxurious yet affordable, 100% plant-based, scientifically proven product with ingredients that deliver transforming results and complete transparency throughout the supply chain.
The goal was to empower the customer to learn more about their skin, themselves and the ingredients they put on their skin.
NAYA strives to build a community that fosters sustainable living and protects the environment we live in and only select bioactive botanicals based on their proven ability to work below the skin's surface.
Combining sustainably sourced botanicals with clinically proven actives, NAYA is committed to creating exceptional skincare that enhances and celebrates the authentic beauty in all of us.
At Beauty and the Boutique...
We love beauty and animals – so you always know the products we sell are never tested on animals.
I hope you love using this Naya - Everyday Face Oil as much as I loved hand-picking it for you!
Need more help?
Should you need more help with your new Naya - Everyday Face Oil, be sure to get in touch with us 👉 here, we'd love to hear from you!
Show us your selfie!
We love seeing how you like to use your Naya - Everyday Face Oil Send us your selfie wearing your new purchase 👉 here and let us celebrate you!