NCLA - So Rich Cuticle Oil
So Rich Cuticle Oil
Sometimes our hands can be a little 'overlooked'…
I'll let you in on a little secret – I used to completely ignore my nails and cuticles when I was younger!
But as I've aged, particularly since I reached my 40's, I've started to pay more attention to my hands and my nails as they have begun to show their age!
You've now gifted your hands to a makeover with…
NCLA So Rich Cuticle Oil!
The NCLA So Rich, Vitamin-E Infused Cuticle Oil' is a simple, clever and luxurious treat for your hands and nails that's been specially formulated by pro nail experts…
…so, you know it's packed full of the good stuff!
Plus, it smells gorgeous too.
A real lifesaver for any dry, brittle or weak nails, or just to promote healthy, youthful-looking hands.
In fact, treating your nails, cuticles and hands just as you care for your face and body is super important and has never been easier…
…especially in keeping hands looking younger for longer and promoting softer, smoother hands and nails.
What makes 'So Rich Cuticle Oil' so unique?
Let the experts behind NCLA So Rich Vitamin-E Infused Cuticle Oil save your dry and split cuticles with this luxurious vitamin E infused oil treatment!
It gently encourages stronger and healthier nails (without the use of any nasties!) by revitalising and hydrating the cuticles and nails…and preventing breakage.
Vitamin E extract with sunflower seed oil nourishes your nails, locks in moisture, and helps promote nail growth, as well as supporting the skin to stay as youthful as possible.
Plus, this pro nail formula never leaves hands feeling oily or greasy – thanks, NCLA dream team!
And that's not all…
A little goes a long way, too – all you need is a tiny drop on each cuticle!
Enjoy the wonderfully tropical scented peach vanilla smell, an addictively sweet, comforting scent that's intoxicating yet not overpowering…
…it's a well-deserved treat for both your senses and your nails!
Plus, you can even use it on your toenails to help revive your tootsies – especially great after a long winter, frequent walks, or just to help keep them looking (and feeling) at their very best!
Stop hiding your hands away and get ready to show them off with this little miracle oil that takes your nails and cuticles from looking neglected to look show-tastic!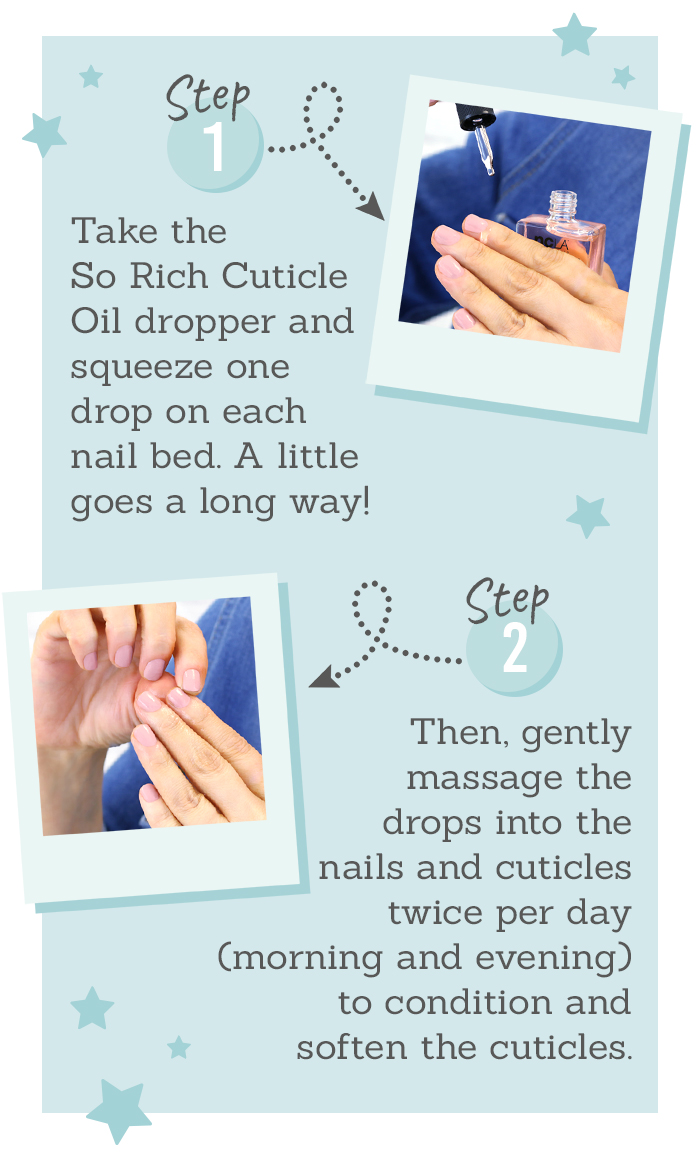 Formulated by pro nail experts to help the condition of your nails and cuticles

Revitalizes and hydrates your cuticles and nails

Vitamin E extract paired with sunflower seed oil nourishes your nails and locks in moisture for younger, healthier-looking nails and hands

Gentle rubber-grip dropper allows for perfect dosage and application every time

Peach Vanilla scent smells delicious yet not too overpowering!

Moisturizes without leaving a greasy or oily feeling

Soaks into the skin quickly

Can be used for both fingernails and toenails

Tiniest amount goes a long way so that the bottle will last a long time!

Safflower Seed Oil - hydrates and deeply nourishes nails and cuticles

Cotton Seed Oil - rich in vitamin E for faster wound healing and added nourishment for healthy nails and cuticles
About the brand: NCLA
NCLA is an innovative and creative nail brand from Southern California that produce leading nail products in the industry!
They are passionate about creating luxury nail and hand products and never compromise on the superior quality of their products.
They are 100% Vegan, Non-toxic, and free from Formaldehyde, DBP, Toluene, Formaldehyde Resin and Camphor!
At Beauty and the Boutique...
We love beauty and animals – so you always know the products we sell are never tested on animals.
I hope you love using this NCLA - So Rich Cuticle Oil as much as I loved hand-picking it for you!
Need more help?
Should you need more help with your new NCLA - So Rich Cuticle Oil, be sure to get in touch with us 👉 here, we'd love to hear from you!
Show us your selfie!
We love seeing how you like to use your NCLA - So Rich Cuticle Oil Send us your selfie wearing your new purchase 👉 here and let us celebrate you!