Prai - Ageless Lip Line Filler
Have wrinkles above (or around) your lips become more visible?
As we age, our skin gets thinner – one of the first places to show it is around the mouth.
While wrinkles happen to all of us as we age, there are ways you can help reduce their appearance… 
…and if there ever was a miracle product to help your lips look younger for longer, then this is a keeper!
No product (yet!) will entirely remove wrinkles and lines permanently, but this magic wand certainly helps to conceal them temporarily and lessen their severity over time!
And with regular continued use, it makes a big difference. 
Prepare to rejuvenate your pout the quick, pain-free and easy way with this Prai Beauty gem:
Ageless Lip Line Filler
…all hail this on-the-go magic line-minimizing wand!
Soften the look of lines with the Ageless Lip Line Filler, and keep your lipstick from feathering.
This magic pen gives your lips an instant beauty boost as it helps to blur fine lines and wrinkles to reveal smoother, plumper and younger-looking lips!
If your lips are thinning with age or you are noticing deeper lines around the mouth, then Ageless Lip Line Filler goes a long way to improve the look of these lines!
For a smoother, more youthful mouth, this needle-free magic wand is designed to fill those stubborn lines around the lips and keep your lipstick from feathering - instantly – and using it regularly over time makes the effect last longer.
What makes this lip filler so unique?
This line-filling hero is a must-have!
As collagen production decreases with age, it gives way to fine lines and wrinkles. Because the delicate skin around our mouth naturally has less collagen than other areas on our face, it's usually here that the first signs of ageing are the most visible.
Prai Beauty Ageless Lip Line Filler is here to help the skin around your lips bounce back to their former glory!
This innovative formulation contains special Prai oil with marine-filling spheres that add volume to wrinkly areas and helps skin stay hydrated. Other ingredients, such as Shea butter and vitamins C & E, help nourish and plump out wrinkles and lines.
The Ageless Lip Line Filler goes a long way in helping to fill vertical lines on lips and around the mouth while smoothing and contouring to plump this area instantly and create younger-looking, line-free lips.
Thanks to the incredibly nourishing and innovative ingredients in this luxurious youth-boosting wand:
Youth-boosting ingredients:
A blend of precious oils, vitamins, butter and clever technology leaves skin feeling supple, firm and rejuvenated with lips that appear more youthful, revitalised and smoother! 
Marine Filling Spheres™  
These innovative spheres help instantly plump and fill in lines and wrinkles within the skin's top layers and on the skin's surface so that the skin looks smoother and more youthful with less deep-set lines.
Vitamins C and E 
Help boost collagen and prevent premature ageing!
Vitamin C can penetrate skin tissue and stimulate collagen production as an antioxidant, making it a perfect pro-ageing ingredient. It also smoothes wrinkles, and fine lines, evens skin tone and protects skin from free-radical damage. Vitamin C helps repair, hydrate, and condition dry skin for a softer and smoother complexion.
Moisturising Vitamin E supports collagen production, leaving skin feeling nourished and replenishing its natural oils, keeping skin soft and smooth. Its natural skin-conditioning properties balance and hydrate skin, protecting skin cells against ageing and strengthening the skin's barrier against environmental toxins.
Shea butter 
This moisturising butter helps to create a long-lasting barrier, effectively (and cleverly!) locking in moisture to provide efficient hydration for the skin - perfect for keeping the lip area smooth and supple.
Precious PRAI Oil
Imparts smoothness and suppleness to the skin.
And last but not least, precious PRAI Oil gives skin a fantastic glow and adds long-lasting smoothness to crepey skin! The skin around the lips looks softer, supple and more radiant thanks to this incredible youth-boosting oil!
After two weeks of continual use, the fine lines around your mouth will look smoother, softer and less noticeable, and after each application, they are plumped up even further.
And that's not all…
The pointed applicator tip is quick and easy to use – and a little goes a long way with zero wastage!
The handy twist applicator delivers the perfect amount of smoothing cream that's quick to absorb without being greasy and easy to blend into the targeted areas perfectly, leaving a flawlessly smooth result.
You can use this little magic wand on all your smile lines – and more!
Apply cream to areas prone to creasing, such as the vertical lines above the lip, feather lines around the mouth, nasolabial folds, and even the forehead's eleven lines or frown lines.
You will notice an instant improvement from the first application, giving the perfect base to apply lipstick for smooth, hydrated & even lips.
…a treat for you, your lip and your lipstick!
The lines we all get as we age will not permanently disappear, but this little miracle wand makes them look much less noticeable.
Are you ready to welcome back your best skin and press reset on your lips?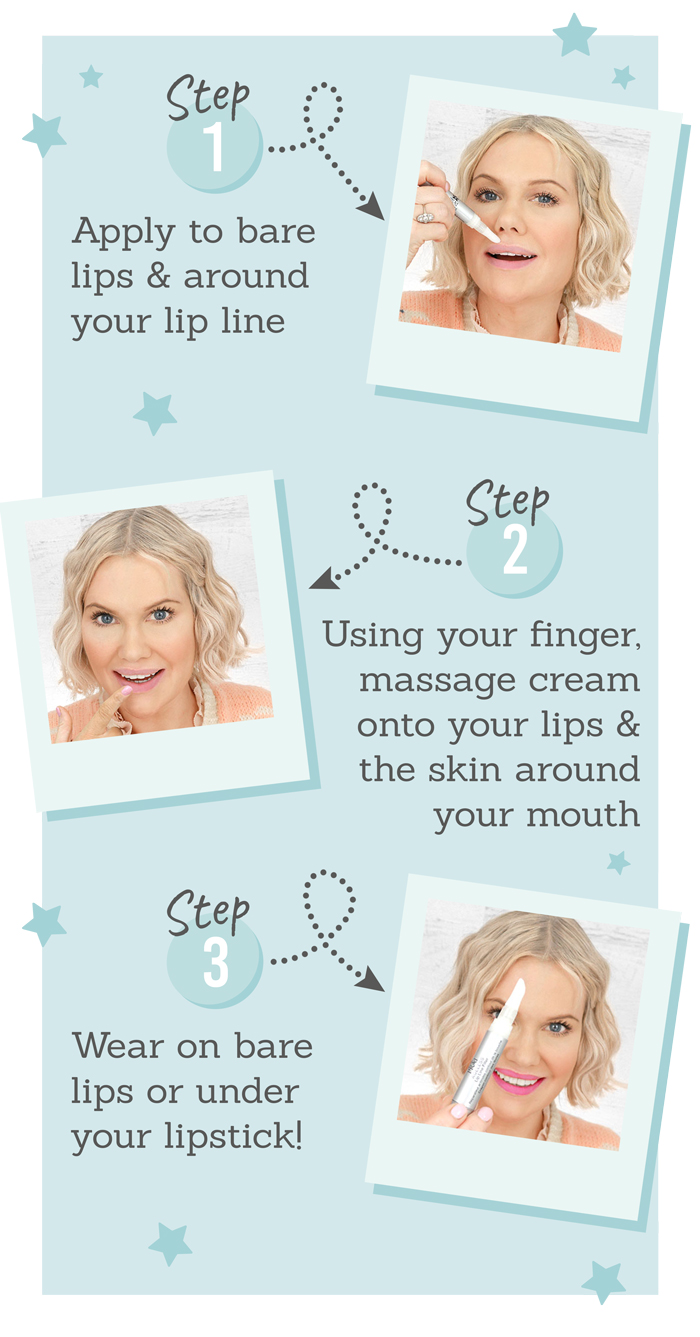 Instantly smooth the appearance of fine lines & wrinkles around the lips and mouth and, over time, with continued use

Fights the look of thinning lips for a plumper, smoother & more youthful pout

Lips instantly look and feel more hydrated, allowing lipstick & makeup to sit better and last longer

Delivers concentrated line-smoothing action to vertical lines between the top lip and nose

Prevents lipstick from feathering

Targeted skin appears fresher and more youthful looking thanks to the vitamins, butter, oils & key pro-ageing ingredients that help turn back time with visible signs of improvements

Boosts collagen around the lips for plumper & more supple skin that looks younger

Quick & easy twist application that targets specific areas & blends in effortlessly for a flawless finish
About the brand: PRAI Beauty
PRAI Beauty was founded by beauty industry veteran and animal philanthropist Cathy Kangas to provide a skincare brand that caters to women of all age and helps animals! Because a love for animals is at the heart of the PRAI brand, which is both PETA Cruelty-Free and Leaping Bunny certified. Each sale supports funding animal rescue efforts globally with their PRAI for Paws initiative and Free the Shelters campaign, amongst others. Also, the key to the PRAI Beauty brand is the crucial value that ageing is a privilege – and that every woman deserves to love the skin she's in. 
With targeted solutions for real women and real-life problems, PRAI offers high-performance ingredients at affordable prices with products guaranteed to make a visible difference to the skin.
At Beauty and the Boutique…
We love beauty and animals – so you always know the products we sell are never tested on animals.
I hope you love using this Prai - Ageless Lip Line Filler as much as I loved hand-picking it for you!
Need more help?
Should you need more help with your new Prai - Ageless Lip Line Filler, be sure to get in touch with us 👉 here, we'd love to hear from you!
Show us your selfie!
We love seeing how you like to use your Prai - Ageless Lip Line Filler Send us your selfie wearing your new purchase 👉 here and let us celebrate you!