Veil - AutoMatte
Automatte
Everyone wants a healthy glow, but no one wants their face to look like a shiny mess by lunchtime!
The weather, our hormones and genetics all play a part in causing us some serious makeup challenges when it comes to keeping our skin in balance and sporting a shine-free zone!
But don't worry...
With a little help from your new Veil Cosmetics 'AutoMatte' you can keep your complexion looking shine-free and (most importantly) natural throughout your day!
What makes AutoMatte so unique?
Traditional 'setting powders' can be a great help, but it's time that these powders step aside for the new kid on the (makeup) block!
Your new mattifying hero is unlike your usual pressed powders or blotting papers – it's a super soft, velvety balm that's both colourless and lightweight and makes skin look naturally smoother for longer.
AutoMatte Mattifying Base & Touch-Up suits all skin types and can be used throughout the day to touch up on shine and as a primer to create an even base before applying makeup!
And that's not all…
The breathable AutoMatte formula leaves your skin with a super flattering soft-focus effect, blurring out any problem areas and comes packed with Vitamin C & E that help brighten, protect, and clarify the skin.
It's the perfect on-the-go compact – all you need is a little dab here and there with your fingertips (or use the added sponge in the convenient mirrored compact!)
Enjoy silky-smooth results with this non-drying complexion saviour…without a hint of cakey or shiny skin in sight!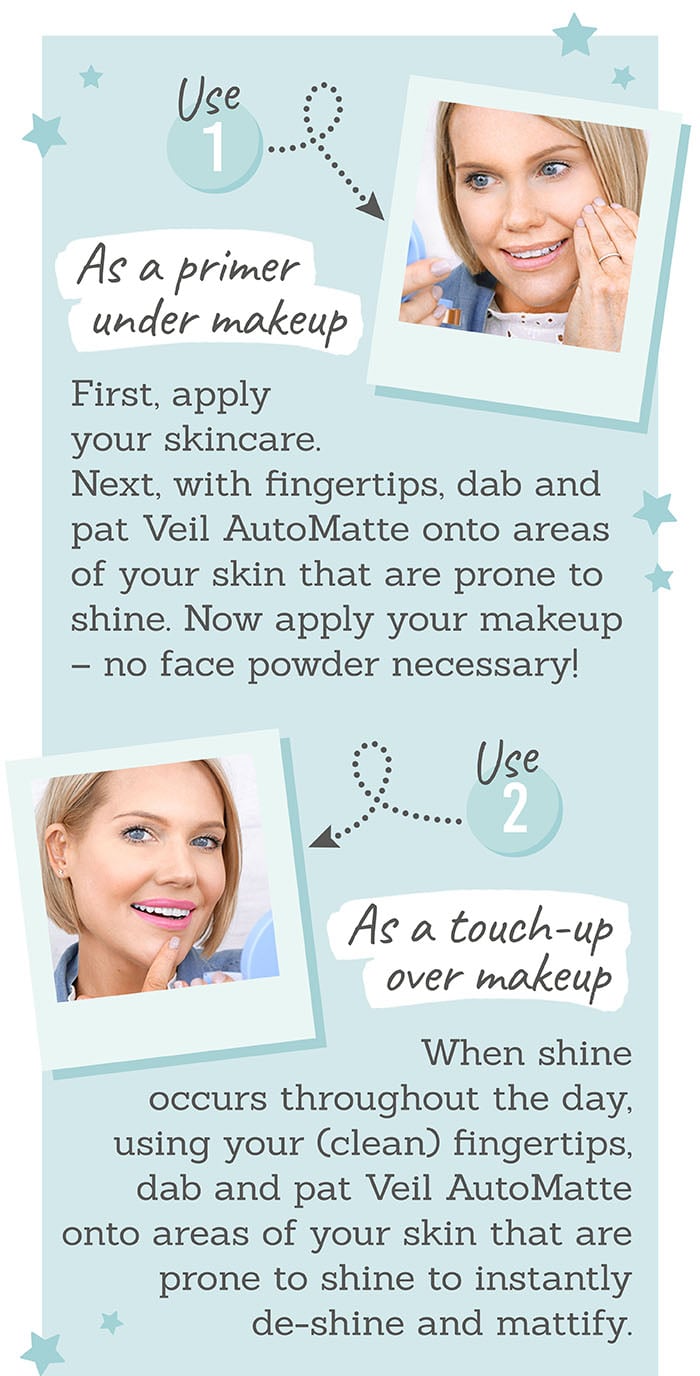 Universal shade to suit all skin tones with instant mattifying results

Powderless, lightweight and breathable formula to keep your skin looking and feeling natural and never cakey

Takes away shine from the skin and helps it look smoother with a blurred, soft-focus effect

Non-drying and non-caking formula that keeps skin hydrated and smoother for longer

Designed for a quick application, so the perfect product if you're in a rush or need to top up on the go!

Contains Vitamins C & E that helps skin stay moisturised, protected and with clarifying and brightening properties

Soothes the complexion and helps with collagen synthesis and protection

Can be used throughout the day to touch up on shine and as a primer to create an even base before applying makeup!
About the brand: Veil Cosmetics
When it launched in September 2012 at New York Fashion Week, Veil Cosmetics mission was to modernise the traditional approach to makeup by revealing naturally gorgeous skin instead of masking it thanks to its superior HD texture and weightless coverage.
It has since become a firm favourite among industry makeup artists and celebrities backstage on TV, the runway and movies.
At Beauty and the Boutique...
We love beauty and animals – so you always know the products we sell are never tested on animals.
I hope you love using this Veil - AutoMatte as much as I loved hand-picking it for you!
Need more help?
Should you need more help with your new Veil - AutoMatte, be sure to get in touch with us 👉 here, we'd love to hear from you!
Show us your selfie!
We love seeing how you like to use your Veil - AutoMatte Send us your selfie wearing your new purchase 👉 here and let us celebrate you!