hand-picked by Makeup Artist
Introducing Tangle Angel

Hairbrush

This brush gently de-tangles knots
Why you'll love it
by Makeup Artist
Get ready to meet your new brush crush!
Your hair will love this brush!
Do you have fragile hair that knots and is prone to breaking?
If you've noticed that the weight and ergonomics of your regular hairbrush are ripping out hair and creating more split ends daily, then you may be due an upgrade!
What you need is a brush that's gentle on your hair… yet tough on knots.
Introduce your tresses to this angelic dream brush:
The Tangle Angel 2.0
…truly a brush sent from (hair) heaven!
Why you'll love this brush!
If you have fragile hair that breaks, tangles and knots easily, prepare to fall head over hair for the Tangle Angel 2.0 brush!
Award-winning Royal & Celebrity hairdresser Richard Ward (with design expert Richard Dunn) developed the Tangle Angel 2.0 concept following his wife undergoing chemotherapy. He wanted to create a brush that was tough on knots yet sensitive to the daily stress and strain upon your hair and scalp.
The revolutionary new Tangle Angel 2.0 brush uses an innovative bristle design to glide through even the most stressed-out and fragile locks and knots.
What makes The Tangle Angel unique?
Tangle Angel 2.0 – a clever, heat-resistant, antistatic and antibacterial, ergonomically designed hairbrush…
…that also happens to look like a little slice of heaven on your dressing table!
Aesthetics aside, this angelic brush glides through hair (wet or dry) without tugging, pulling or hurting the scalp!
The results?
Thanks to the added antibacterial infused bristles, Tangle Angel 2.0 is likely the most hygienic brush you will ever have used, hands down.
It also contains antistatic additives, allowing the brush to be earthed by the strip, and reducing frizz and flyaway hair.
And that's not all…
Tangle Angel 2.0 has Memory-FlexTM bristles that easily separate knots without the hard work because of the innovative design around the edge and centre of the brush pad, where they are most effective!
Get ready to welcome your new, knot-free, antistatic and smooth tresses!
Available in two soft-touch, gorgeously finished options in Pink or White, the new Tangle Angel 2.0 will treat your scalp to a much-deserved head massage and leave your hair easier to manage, control and style.
Let this be your go-to brush!
Feel your hair become more manageable to brush than ever; the Tangle Angel 2.0 de-knots gently and quickly, saving time after the shower.
Plus, get fewer split ends, which will save you money as you can go longer in between haircuts.
Just be warned - everyone will want to borrow it!
Short hair or long hair, fine or thick… this gentle, comforting and stylish brush may just be your new haircare addiction!
Results to expect:
Less hair snapping, breakage and split ends
Water-resistant, antistatic, and up to 99.9% antibacterial for healthier hair
Heat resistant (up to 120C degrees), so you can use it whilst blow-drying
Perfect for detangling wet or dry hair
Choose from two beautiful and aesthetically pleasing designs – Pink or White
Suitable for all hair types, including sensitive scalps
Innovative design and ergonomics for more effective detangling
Memory-FlexTM bristles that flex and return to their original position
Ex-StaticTM antistatic earthing strip to minimise static and reduce flyaway hair
Lengthened handle for greater control and a rubberised base to aid stability
Award-Winning Product
Don't just take our word for it – check out this outstanding award that Tangle Angel 2.0 has achieved:
UK Mum's TV – Mum's Choice Awards
About the brand: Tangle Angel
Award-winning Royal and celebrity hairdresser, Richard Ward, is responsible for bringing Tangle Angel to life.
With the help of product designer Richard Dunn, who, after numerous designs and research, together eventually developed the most ergonomic concept with the brush resembling wings – and they called it the Tangle Angel.
More than just another detangling brush, these brushes are uniquely shaped for knots to be easily detected as most products, including a handle for ease of use.
The added antibacterial and antistatic additives in the new and improved design, along with the highest quality materials, really do make the Tangle Angel 2.0 more than just a regular hairbrush.
At Beauty and the Boutique...
We love beauty and animals – so you always know the products we sell are never tested on animals.
Ingredients
The Magic Formula Inside:
Memory-FlexTM Bristles are flexible bristles that are extra gentle on your hair and scalp making it suitable for all hair types including sensitive scalps. Plus, these super flexible bristles quickly return back to their original position which helps the brush easily glide through even the knottiest of hair. Gift your scalp and locks this gentle, effective and highly innovative brush - it may just become your new hair obsession!

The innovative Ex-StaticTM Antistatic Earthing Strip helps to minimise static and reduce flyaway or frizzy hair - perfect for keeping your hair looking smooth and sleek no matter what! So if you want shiny, soft, healthy and lustrous tresses, look no further than the Tangle Angel!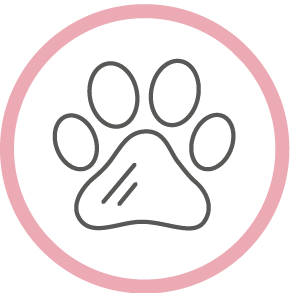 Not Tested On Animals
ABS (ACRYLONITRILE BUTADIENE STYRENE), TPEE (THERMOPLASTIC POLYESTER ELASTOMER)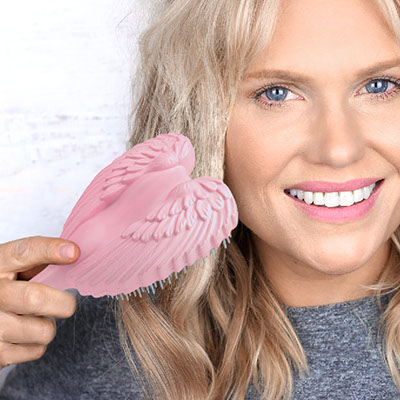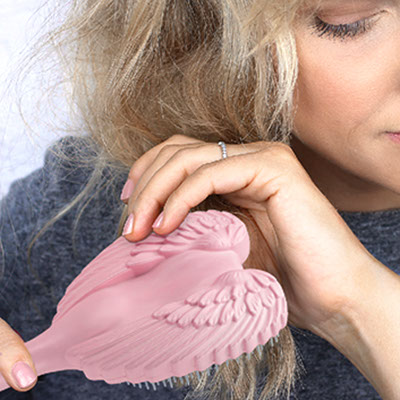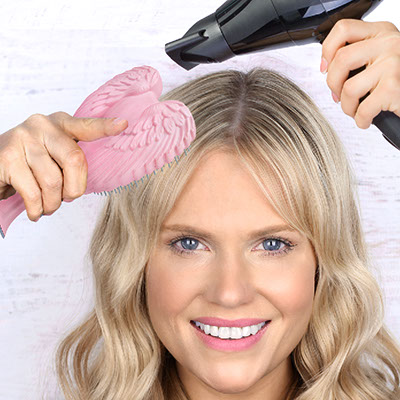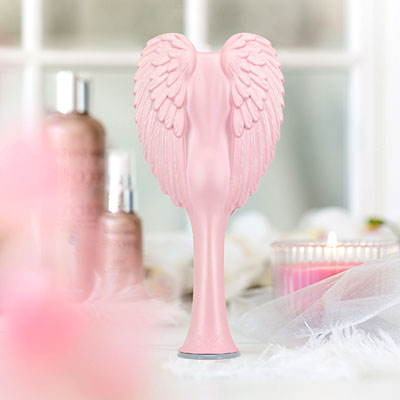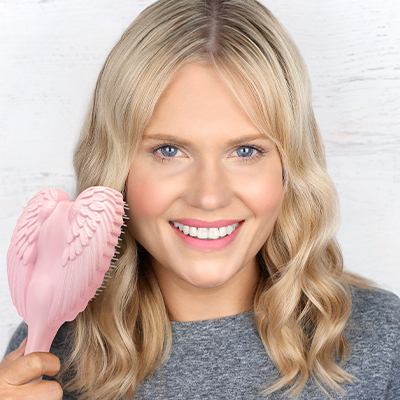 Customers love it
What they're saying
Blessed to have found you!

"

I have purchased many products from Katie and they are all fabulous. I bought a brush because I have had hair extensions and it's amazing. Gets rid of all tangles and my hair feels like silk. Thank you so much for your wonderful videos and products. Feel truly blessed to have found you.

"
Very impressed!

"

Received my products today - they arrived beautifully wrapped! I'm Very impressed and highly recommend Beauty and the Boutique!

"
WOW!

"

WOW! Your products have just winged its way to me here in Australia, your hand picked must haves are the BOMB! I've just made a new order as your products are now the ONLY impulse buy I'll ever make.. Plus can't overlook how beautifully they arrive wrapped with love!

"
Beautiful!

"

I buy from Beauty and the Boutique all the time now, every product I love, Katie makes great videos easy to follow. Goods arrive quickly and beautifully packaged , with lovely touches added.

"
Look no further!

"

For an example of how to run an online business, look no further than Beauty and the Boutique. Their customer service is outstanding. Delivery is quick with no issues and the products are made so you feel that your are buying bespoke beauty at great prices. Friendly. Efficient. Human.

"
Amazing in every way!

"

I took a risk with this company and I was blown away! The products came super quick. The customer service was prompt and so kind. I 100% will reorder! Plus the products come adorably packaged. I 100% can honestly say you can fully trust this company! Absolutely amazing in every way!!!

"
Discover My Story