hand-picked by Makeup Artist
Introducing Lay-n-Go

Ultimate Cosmetic Bag

Put away & tidy makeup quickly with this handy bag!
Why you'll love it
by Makeup Artist
Does your dressing table (or bedroom floor!) get in a huge mess whenever you apply your makeup…
…with makeup and brushes everywhere?!
And, do you just hate wasting time cleaning it all up after you're ready?
Stop the mess with this innovative, quick-fix solution:
Lay-n-Go® Makeup Bag!
This Lay-n-Go® is the ultimate cosmetic bag everyone needs!
It's the quickest way to makeup and go without leaving your dressing table (and your nerves!) in a hot mess!


What makes Lay-n-Go® so unique?
Do you ever spend ages looking for a particular product in your makeup bag?
Let's face it, sometimes your makeup bag can feel like a bottomless pit!
That stops the moment you get your Lay-n-Go® Makeup Bag where you can easily find any product – pronto!
A chic, versatile, washable and convenient storage solution for your makeup products - whether at home or away!
Thanks to the creative access design allowing the bag to open up flat, showcasing all the contents at once - yet still in a very contained way!
It's amazing what gems can get lost in the bottom of your standard makeup bag, so the Lay-n-Go® Makeup Bag is a real treat for the eyes!
How Lay-n-Go® works!
When you've finished your makeup, and you're ready to close the bag, simply pull the drawstring, and the Lay-n-Go® Makeup Bag is converted back into a completely sealed, soft clutch.
Genius!
A great bonus feature is the secret inside pockets - perfect for more discreet storage (such as pills, feminine products or special jewellery).
Let the Lay-n-Go® Makeup Bag save your day… every day!
And that's not all…
The Lay-n-Go® Makeup Bag includes elastic straps in the centre to hold your brushes, pencils or lipsticks in place – what could be handier?!
And don't worry about any products falling on the floor and breaking…
…the specially designed "lip" around the bag keeps your makeup safe from rolling off any surface!
Phew!
So, store your makeup the smart, convenient and effortless way with this super clever storage solution from Lay-n-Go®!
All you need to do is decide which colour you want – luxurious gold, stylish and classic black or chic and trendy leopard print!
(Or why not go for all – to hold your day, evening and special occasion or skincare looks!)
Results to expect
Instantly tidies and stores your makeup!
Helps keep your dressing table both clutter and mess-free
Available in 3 colours - luxurious gold, stylish and classic black or chic and trendy leopard print!
Perfect for home and durable for your travels for clean makeup applications everywhere
Completely opens up flat to reveal all your cosmetics at once on a deluxe size surface, so no more messy surface areas or digging around in traditional bottomless makeup bags
Includes a patented edge (raised lip) to keep makeup and brushes from rolling off the counter
Quickly closes for easy carrying and storage – so you can take it with you without worrying about losing anything along the way!
Washable and wipeable high-quality fabrics to keep your makeup bag hygienic and looking great at all times!
Velcro® storage pocket to stow the drawstring, so you know where it's kept at all times!
The COSMO (22") is smart, chic & washable with 100% Twill Poly (Polyester with Polyacrylic Coating) shell and liner.  This provides a water repellent/wipeable surface that can also be machine washed and keeps your makeup bag clean, long-lasting and hygienic while keeping all your favourite products in one safe and ultra-convenient place!
Zippered storage pocket, elastic brush holder, and a convenient handle to clean up in seconds keeping everything in one easy to reach, convenient place
SIZE: Size: 22"inch
Available in 3 colours: Gold, Black or Leopard print
About the brand: Lay-n-Go
Lay-n-Go initially started thanks to the founders' desire to find storage solutions for keeping their houses tidy - the innovative machine washable makeup bags were born to provide organisational solutions for life, play and travel.
At Beauty and the Boutique...
We love beauty and animals – so you always know the products we sell are never tested on animals.
Ingredients
The Magic Formula Inside:
This 100% Poly shell and liner provides a water repellent and wipeable surface that makes it ideal for storing makeup - any accidents can easily either be wiped off or machine washed. This keeps your makeup bag clean, long-lasting and hygienic while keeping all your favourite products in one safe and ultra-convenient place!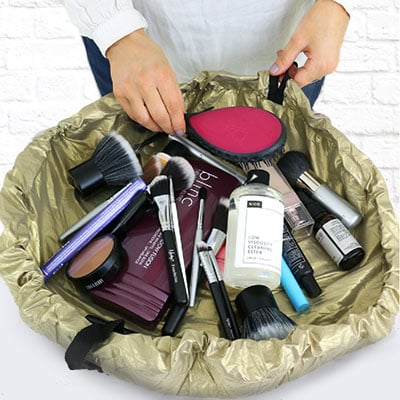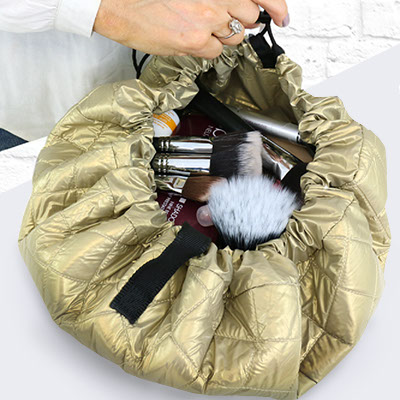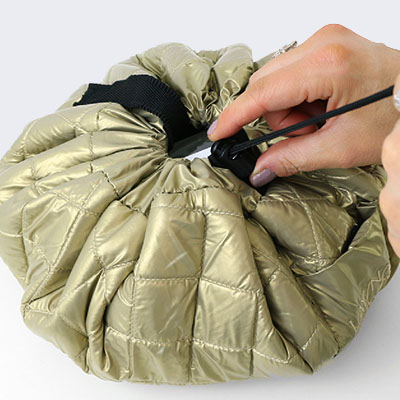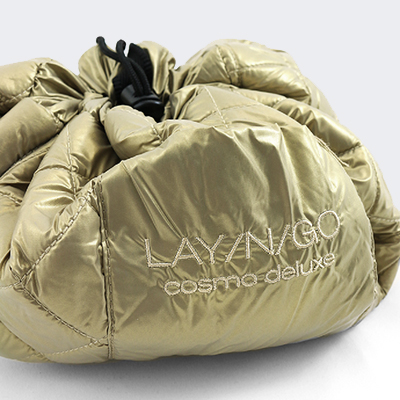 Customers love it
What they're saying
I use it everyday!

"

I have the leopard print bag - I use my bag every day, amazing!

"
Love this company!

"

I was so excited to receive all of my goodies! I love the way everything is packaged along with personal touches. I loved Katie before & love her even more now! I love listening to Katie's tips. I will continue to be a customer, recommending your site & products to my friends & family!

"
Great service!

"

Absolutely great service. All the products are tried & tested by a pro makeup artist & NONE are tested on animals! Products arrive promptly & beautifully packaged. I really feel like I can trust the company & will keep buying from them. The customer service is amazing.

"
A staple for me!

"

Amazing products, after being sceptical of buying products online, I now thoroughly trust Katie & the team. Every item I've tried has been EXACTLY as described & become a staple item for me. The excellent team on Live Chat go above & beyond. Well done Team Beauty and the Boutique!

"
My new obsession!

"

Well I received my goodies today & all I can say is I'm so pleased I found this page, its my newest obsession! The videos are so easy to watch & follow. The packaging & the whole experience of buying from you is not like anything I've experienced before & I love it!!

"
Amazing products!

"

Amazing products received yesterday using them today and been complimented by 2 friends today love it, will be recommending and re ordering!!

"
I'm hooked!

"

I'm so happy I stumbled on Beauty and the Boutique. I was a bit sceptical to order at first, but the shipping was free and speedy, customer service great, and products are amazing. I am currently on my 3rd order and honestly cannot get enough of the products. I am hooked!

"
Discover My Story