Day 4 Beauty Secret - The beauty step your future self will thank you for!
👋 Hi friends,
Welcome to today's beauty secret!
Let's talk about skin...
...skin is not only our largest organ, but it also accounts for 16% of your total body weight.
While most of your skin remains hidden by clothing most of the time, it's most definitely on show when it comes to the skin on your face! 💁‍♀️
So, I want to help you make the very best of yours!
When it comes to keeping your skin looking and feeling it's very best - and possible slowing down the hands of time - then if you do nothing else, remember to do this...
...wear UVA & UVB skin protection every day!
Ensure you wear a minimum of SPF 30 UVA & UVB skin protector every single day! 🙏
It's the most important beauty step that your future self will thank you for!
Your skin will age faster if you don't!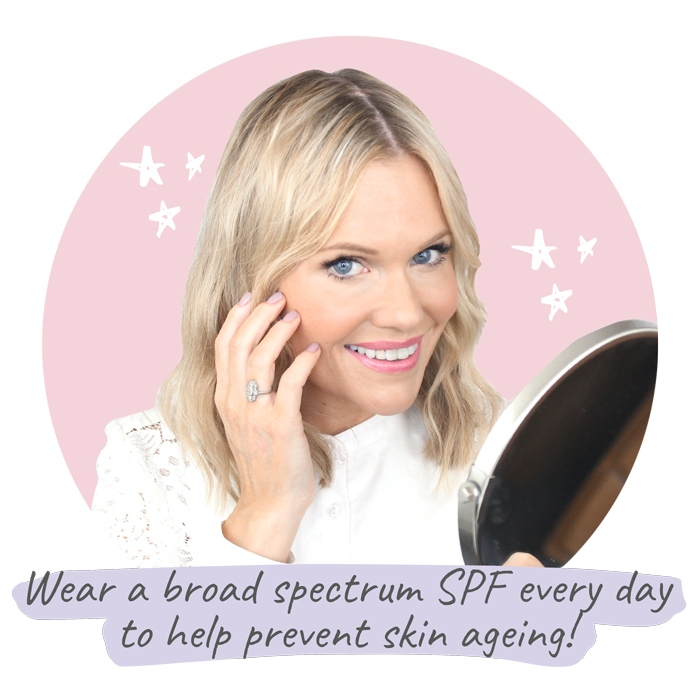 The sun can cause skin damage all year round – even on a cloudy winter days! 🌥
The condition 'Photo-Ageing' is the result of chronic exposure to the sun's UVA and UVB rays, without protection.
The man in the image (below) is 69 years old, but half of his face looks much older, due to premature photo-ageing.
This man was a heavy goods driver for 28 years, and because he drove his vehicle with the right side facing the window, that side of his face received more UVA & UVB rays from the sun.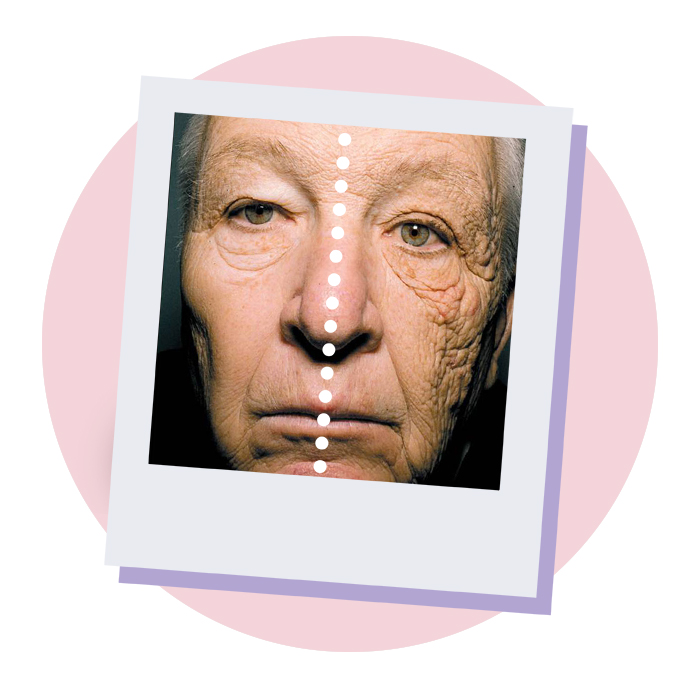 Repeated sun exposure breaks down collagen, and with age our cells produce less and less collagen, so it's becomes harder to repair the damage.
This means that skin eventually wrinkles, sags and loses fullness 👎
Both UVB & UVA rays have ageing effects on the skin:
UVB - Burns the skin and causes hyperpigmentation UVB makes up just 5-10% of solar radiation. It's high energy damages the skins epidermal layers and causes sunburn. UVB is most potent between 10am and 4pm from April to October and does not significantly penetrate glass.

UVA - Ages the skin by breaking down Collagen UVA rays account for 90 to 95% of UV radiation that reaches the Earth. UVA is present throughout all daylight hours and throughout all seasons. UVA ages the skin by breaking down the skins collagen, and can even penetrate through clouds and glass!
Luckily, you can protect against both UVB & UVA rays with SPF broad spectrum creams.
Broad spectrum means that the SPF will be protecting you against both the UVB and UVA rays! 👏
I recommend invest in a broad spectrum cream that contains at least SPF 30.
The SPF number indicates how much UVB it filters out: An SPF 15 filters out about 93% of UV-B rays, compared to 97% for an SPF 30 👏
It's scientifically proven that if you don't protect your skin with a broad-spectrum SPF cream every day your skin will age faster!
"

This SPF Primer protects your skin from UVA & UVB rays, whilst keeping your makeup on for longer!

"

Makeup Artist
Photo-ageing is not part of the natural ageing process - it's avoidable! ☀️🙅‍♀️
If you see a 90-year-old person and look at a part of their body that has not been exposed to the sun, it will look pretty smooth and wrinkle-free!
So, if you wish to future-proof the skin on your face, wear a broad-spectrum SPF every day - rain or shine! 🙏
Pssst...
I hope you've learnt some useful tips on how to keep your skin youthful and protected...
...and I hope I've inspired you to start adding this essential beauty step to your every day routine!
Look out for your next beauty secret arriving straight to your inbox tomorrow...

...trust me, you won't want to miss it! 🙌