Emani- Hydrawear Plus Foundation with Concealer
If you're looking for a foundation that blurs pores, smoothes fine lines and covers dark circles - you've come to the right place!
It may sound like an impossible challenge, but this foundation ticks all these boxes – and more!
Not only will you be able to hide any imperfections (while boosting your confidence!), but this foundation also acts as a nourishing treatment for your skin to restore its plumpness and improve its texture.
Plus, it doubles up as a concealer to help kiss goodbye to dark circles!
Hydrawear Foundation Plus Niacinamide
With its dewy-satin finish and buildable skincare infused coverage, this innovative foundation is both lightweight and breathable, effortlessly blending into your skin…
…you'll probably forget that you're even wearing foundation!
Get ready for your very best flawless complexion!
What makes this foundation so unique?
Hydrawear Foundation Plus Niacinamide is a 2-in-1 foundation with a built-in concealer. It covers imperfections (such as enlarged pores and blemishes) and acts as your high-definition concealer hiding dark spots or under-eye circles!
Plus, thanks to its soothing ingredients, it does an incredible job at smoothing fine lines and wrinkles, giving you the confidence to feel you're showing off your best skin – whatever your age!
Get a healthy, glowing, youthful complexion with the ultra-nourishing formulation…and without applying a concealer underneath!
Enjoy the buildable coverage – from sheer to medium that lasts all day!
With silky (never oily!) hydration, Hydrawear Foundation Plus Niacinamide feels soothing and moisturising without causing breakouts or oiliness (or ending up looking shiny at the end of the day!)…
…just the perfect base for all skin types to enjoy! 
What's more!
Hydrawear Foundation Plus Niacinamide is a foundation with skincare infused, so whilst the foundation makes your skin look incredible and hyper-real, you can also enjoy the skin-loving benefits of the foundation whilst you wear it!
This foundation is what makeup dreams are made of – giving you the perfect coverage whilst caring for your skin at the same time.
And that's not all…
Hydrawear Foundation Plus Niacinamide goes on so smoothly and efficiently with zero tell-tale lines – it's your skin, only on its best day.
And if you have sensitive or breakout-prone skin, this has been specially designed to make it feel super soft and happy!
It even has a natural SPF to protect your complexion and keep it in top form...
Hydrawear offers a natural, physical blockage of the sun's UV rays due to the mineral titanium dioxide (similar to an SPF20 but without the chemicals) – but always remember to wear a separate SPF to maximise skin protection!
To effectively minimise the look of pores, lines, redness, under-eye circles and uneven tone and get a brighter, smoother, and more healthy-looking complexion (even after you take it off!), these super ingredients (with active levels) have you covered instantly…
…and over time.

Foundation with built-in concealer for a 2-in-1 that improves the look of your complexion without the need for additional products

Infused with a blend of active skin-care ingredients to keep your skin smooth and improve skin texture instantly and with each wear

Helps visibly minimise enlarged pores, improve uneven skin tone, conceal dark circles, soften fine lines and wrinkles, diminish dullness, and strengthen the skin's surface for your best complexion yet!

Safe for acne or sensitive skin - silicon-free, fragrance-free, non-comedogenic

Gives skin hydration and balances out uneven skin tone for a more polished and perfected look

Natural SPF helps to protect your complexion and shield you from harmful UV rays that can cause premature ageing

Weightless texture designed to feel like you're not wearing any makeup!

Foundation doesn't cake or settle into creases and pores throughout the day, so no longer worry about a foundation that emphasises imperfections

Great for dry or ageing skin thanks to its moisture boosting factors keeping skin feeling moisturised all-day

Medium coverage that's buildable and breathable with a natural-looking, dewy finish!
Niacinamide works to help minimise enlarged pores, improve uneven skin tone, soften fine lines and wrinkles, diminish dullness, and strengthen the skin's surface

Allantoin is a natural anti-irritant and anti-inflammatory, which helps to soothe and calm the skin and counteract the drying effect

Hyaluronic Acid helps skin look plumper, bouncier and more hydrated resulting in a more youthful-looking, balanced and healthy complexion

Shea Butter is a skin-loving antimicrobial with healing and moisturising properties to help reduce inflammation to soothe and calm the skin

Apricot Kernel Oil can moisturise dry, sensitive or blemish-prone skin and smooth the appearance of wrinkles, fine lines and other signs of skin ageing

Meadowfoam Oil fights free radicals and protects the skin's natural barrier, acting as an emollient by locking in moisture to keep skin soft and supple

Olive Oil protects skin from premature ageing, rejuvenates after sun damage and prevents water loss to help keep skin plump and hydrated

Sunflower Seed Oil nourishes skin and protects it against acne, inflammation, eczema, redness and skin irritation

Japanese Knotweed Root Extract is an ideal natural pro-ageing ingredient that fights hyperpigmentation and dark spots, enhances skin elasticity and protects against oxidative stress and premature ageing

Chinese Skullcap Root can help skin better withstand environmental aggressors and could be beneficial for sensitive skin showing uneven skin tone

Tea Leaf Extract provides antimicrobial, astringent and anti-inflammatory properties and protects your skin from free radicals to keep skin look younger for longer
SIZE: 35ml / 1.18 fl oz
About the brand: Emani
Emani Vegan Cosmetics (founded in Huntington Beach, California, in 1998) by Michelle Doan is uniquely formulated to benefit sensitive, acne-prone, and ageing skin. After struggling with problematic skin, Michelle created products that combine natural minerals with certified-organic botanicals, oils, plant extracts and waxes (with potent doses of Vitamin C, Hyaluronic Acids and Peptides) to create quality makeup that enhances your dermatologic health and the appearance of skin without the use of toxins.
Emani Vegan Cosmetics believes in a beauty experience that is completely 100% Cruelty-free, 100% Gluten-free, and 100% Vegan certified. Eco-friendly manufacturing, green technology, and ethical suppliers are deeply rooted in the Emani Vegan Cosmetics ethos.
Its mission has always been to make clean yet high-performing products for loved ones, moms, friends, daughters, and you!
At Beauty and the Boutique…
We love beauty and animals – so you always know the products we sell are never tested on animals.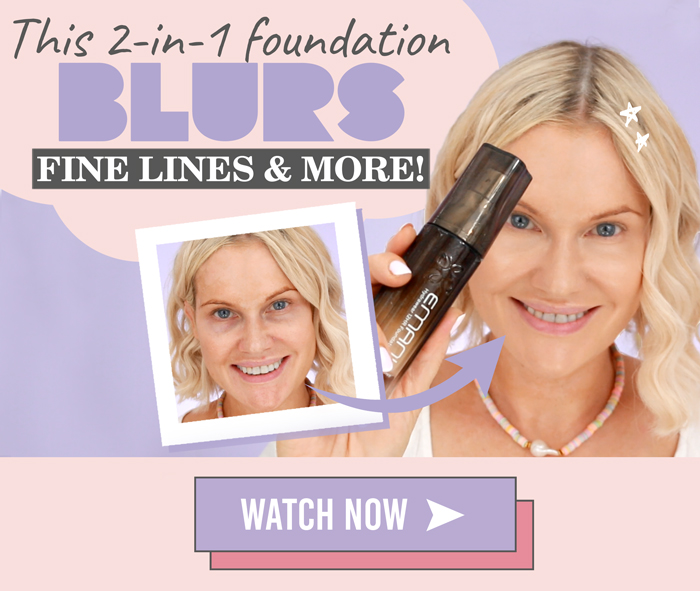 I hope you love using this Emani- Hydrawear Plus Foundation with Concealer as much as I loved hand-picking it for you!
Need more help?
Should you need more help with your new Emani- Hydrawear Plus Foundation with Concealer, be sure to get in touch with us 👉 here, we'd love to hear from you!
Show us your selfie!
We love seeing how you like to use your Emani- Hydrawear Plus Foundation with Concealer Send us your selfie wearing your new purchase 👉 here and let us celebrate you!