BATB228_5 Stylish Ways to Revive an Old Sweater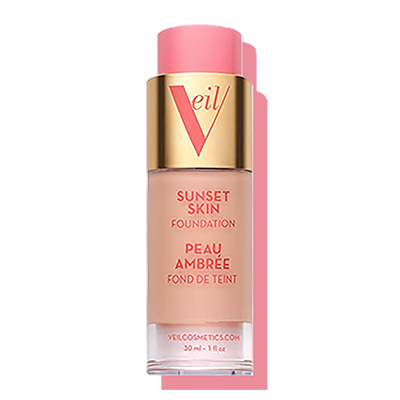 Do you have a sweater hiding in the back of your wardrobe that you no longer wear?
Perhaps you've become bored of it over time?
If so, I've got a great (and simple!) tip to help you revive style into your old sweaters!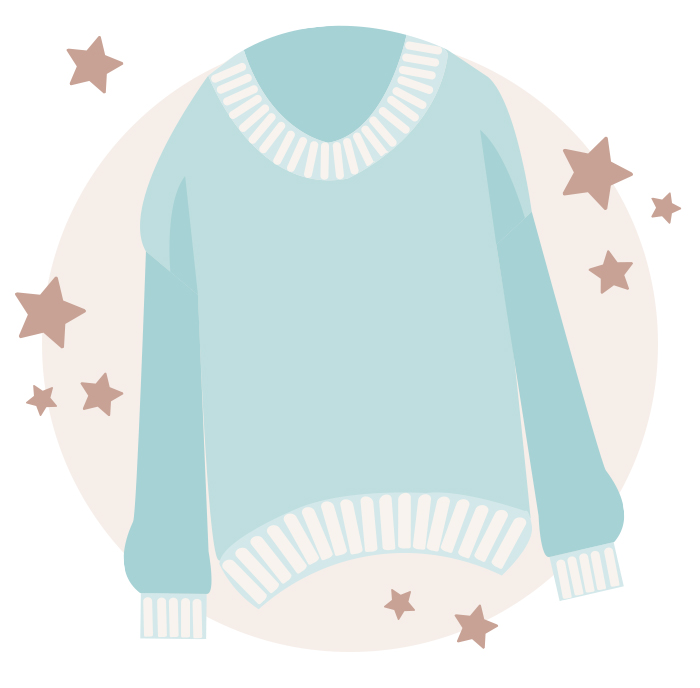 Embroidered or diamante patches are a great way to give your plain sweater a stylish and vintage look – and they can be used on pretty much any material!
They usually need to be ironed or sewn on (whichever you find easiest!) and there is so much choice out there!
Where you place your patch (or patches!) on your sweater is completely up to you – there's no right or wrong way 🙌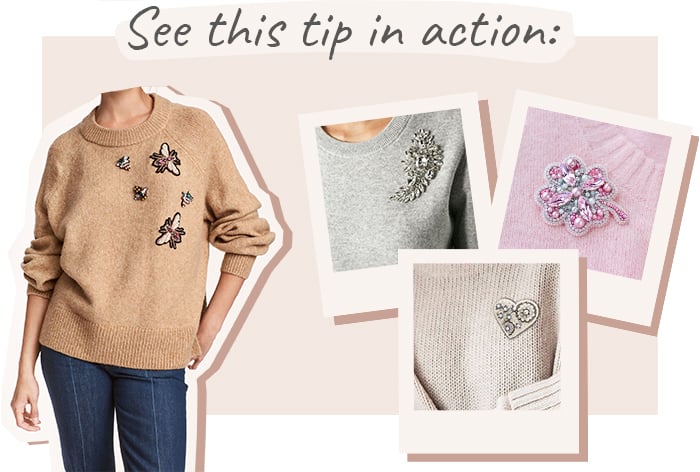 Where to find...
Search a website called 'Etsy' - it's a handmade online marketplace or alternatively seek out your local haberdashery stores; both are great places to find embroidered or diamante patches! 🛍
Or...
Why not support your local charity or thrift store by finding a pre-owned sweater and getting creative by up-styling it this way? 💕
Use buttons or jewels to turn your sweater into something super chic and really one-of-a-kind! ✨
This could be as simple as sewing a few ornate buttons on to different areas (how about the shoulders or sleeves?) 🧵
Where to find...
Buttons come in all shapes and sizes, but you can often find really unique styles at markets, fabric shops or even your old sewing tin!
Or…
You could go all out and create a repeated pattern or cluster effect using pearls from an old necklace! 💎
Another way you can easily add some elegance to your old sweater is with brooches!
And the best bit is...
…it's not a permanent alteration! So, if you want to switch up your style with different brooches, or maybe try it in a different position, then you've got the power to do so!
And because there's a brooch for pretty much any look, they are the perfect way to show off your unique style and personality! 👗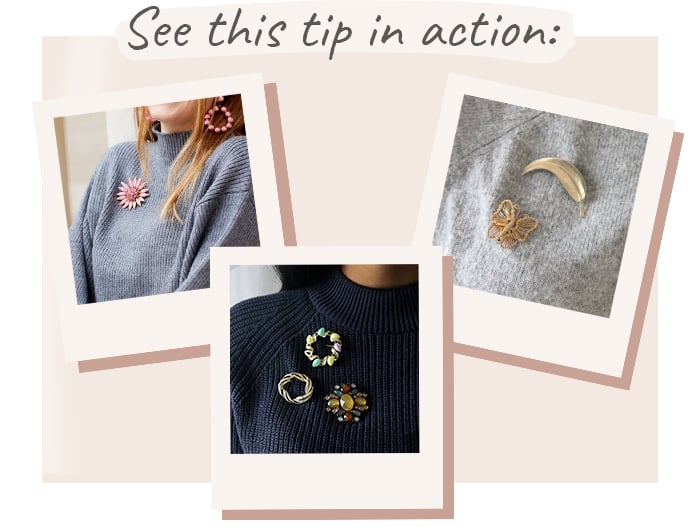 Where to find...
Charity or thrift shops are always a great place to look for brooches – you might find something that little bit more vintage and unique! ✨
Why not try combining several similar-styled brooches in a cluster on your sweater for a bolder statement?
If you're feeling like your outfit just isn't popping enough, try adding jewellery into the mix! 💍
A stand-out necklace pairs really well with more basic clothing, giving your outfit a striking focal point.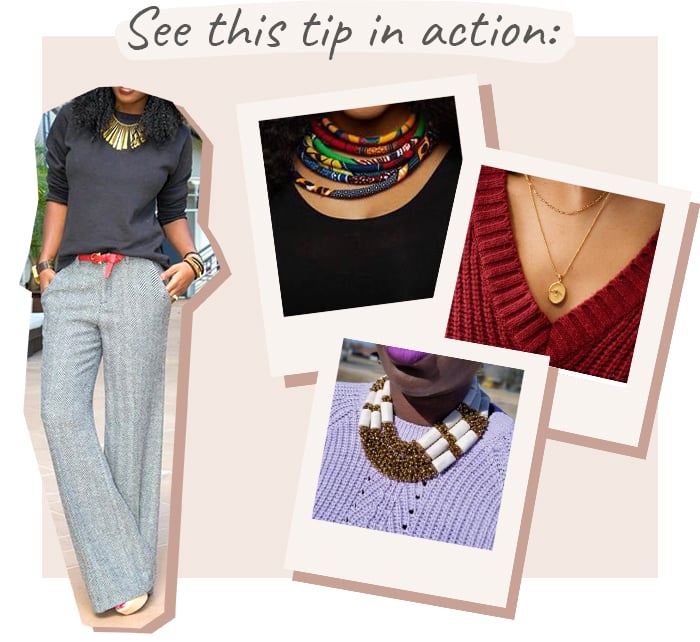 Why not try a chunky or even vibrant necklace to give a dazzling pop of colour to your outfit? 🎨
Sometimes all you need to bring an outfit to life is a bold lipstick! 💄
One of my absolute faves is this Velvet Lipstick in the shade 'Bewitched'!
The vibrant and buildable colour will give you an instant stylish vibe and can help you look (and feel) more youthful! 💋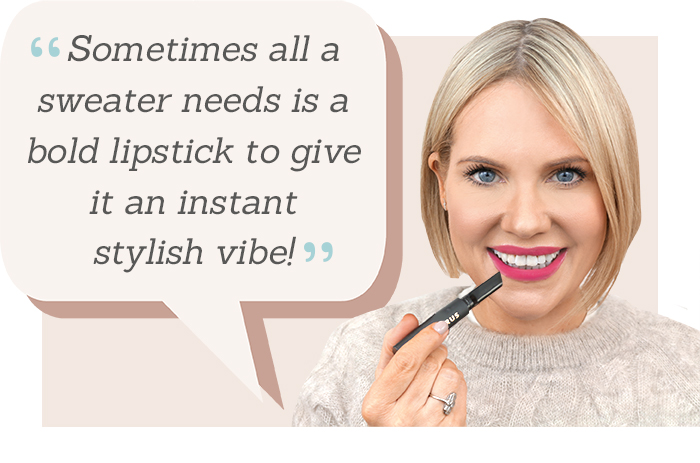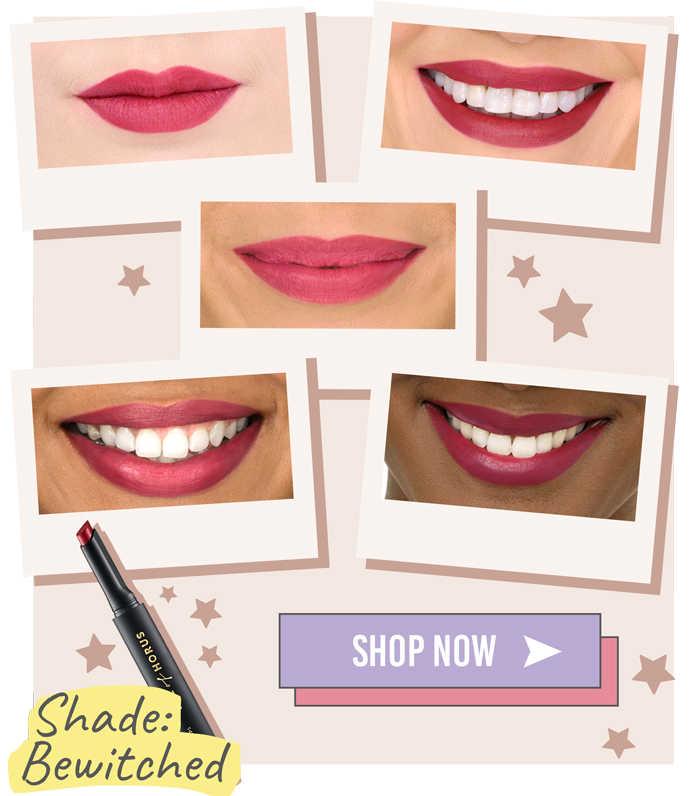 These are some really great ways to get your old sweaters looking chic and stylish again.
Have fun turning something old and tired into something stylish and one-of-a-kind! 💕