BATB297_Rejuvenated Collagen Shots – Your Questions Answered
As you may (or may not know) I've been taking Rejuvenated Collagen Shots for many years and I swear by them...
They truly have helped my skin (and hair!) in so many ways! ✨
I've tried lots of other collagen supplements, but, so far, I've not found any to work as well (and taste as nice!)
We've received lots of questions about Rejuvenated Collagen Shots and so we've asked the experts (and genius people!) who make them to give us some answers! 🔍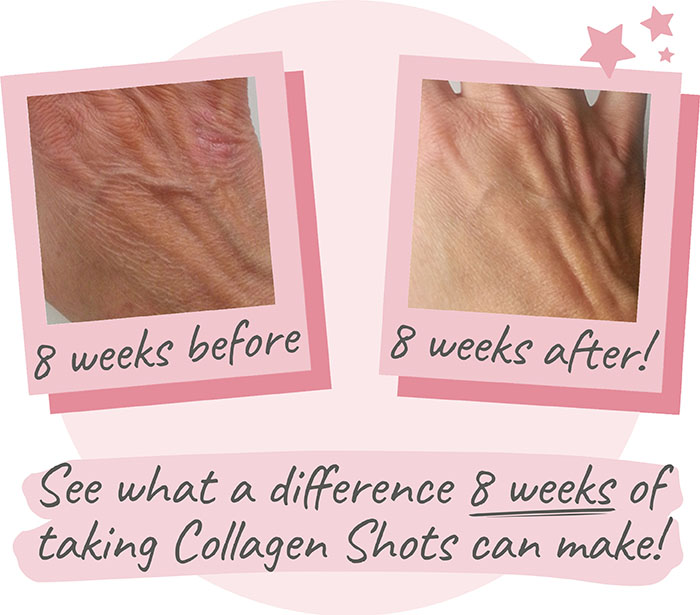 What are Rejuvenated Collagen Shots?
Rejuvenated Collagen Shots come in a re-sealable sachet pouch and contain a powder formula that can be added to water or juice to create a 'shot' of skin-rejuvenating goodness that you drink daily. 
Is it safe to drink?
Rejuvenated Collagen Shots are a 100% natural food supplement that comply with European foods safety standards EFSA. However, if you are allergic to fish and shellfish we advise you not to take this supplement since it contains marine collagen.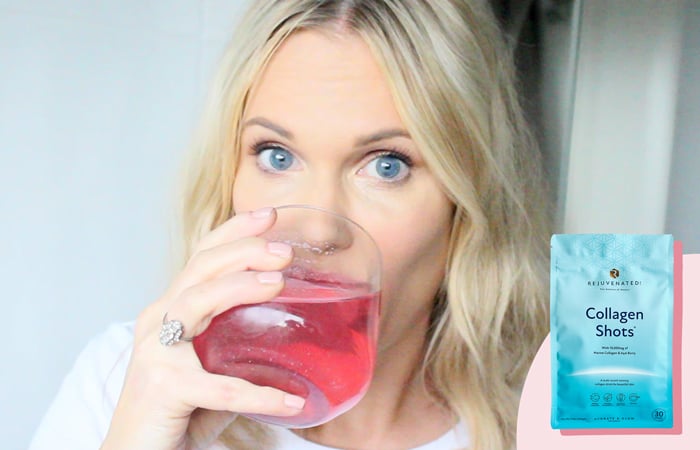 Each batch is quality tested to ensure they reach the highest standards. The manufacturing plant is ISO9001 certified to meet food manufacturing certification. 👍
The Marine is from ethically sourced cold water fish in Europe. The Fish includes: Pangasus, lantadae (perch), cyprinidae (carp), Alosa (shad), Pomadysyidae (Grunt) Tilapia, Ictaluride and catfish
(Don't worry you can't taste fish at all – take my word for this!!)
What does it taste like?
The taste is very delicate and of wild berries. Drink mixed with water or mix it in with your smoothies!
What is collagen?
The skin is the largest organ in the body, the most visible organ exposed to the greatest combined negative effects of intrinsic ageing, including reduced collagen synthesis, environmental factors such as sunlight and lifestyle choices, like smoking.
As we age, the appearance and functionality of the skin changes, most noticeably with wrinkles, lines, dryness and sagging skin. Collagen is crucial for maintaining the structure of the skin and therefore, youthful radiance and firmness. 💗
Collagen is a protein that is highly abundant in the body, we produce it naturally and it's an integral part of many structures in the body including the skin, connective tissue (including muscles, bones and ligaments), nails and hair.
Collagen contributes to smooth, firm and strong skin structure, helping skin to look firm and feel bouncy.
"

Collagen is crucial for maintaining the structure of the skin and therefore, youthful radiance and firmness!

"

Makeup Artist
Why do I need Collagen?
Our bodies do naturally produce collagen, however as we age, production by the body is reduced and over time, the skin becomes dry, wrinkled and saggy.
Rejuvenated Collagen Shots are specifically designed to provide additional collagen that promotes the body to increase its natural production.
The collagen peptides stimulate fibroblasts in the skin, which increase collagen production and restore the structural integrity of the fibroblasts, promoting firmer, stronger skin.
Can I get it from my regular diet?
Collagen ingested in your normal diet typically has a large molecular size which is very hard for the body to break drown and as such, very little is actually absorbed into the bloodstream for the body to use effectively.
Taking this into consideration, the hydrolysed collagen in Rejuvenated Collagen Shots has a much lower molecular weight that's easily digested and absorbed into the body and collagen is delivered to the skin, where it can help to promote healthier, younger looking skin 🙌
What age needs Rejuvenated Collagen Shots?
From around the age of 25, our bodies gradually start losing the ability to make collagen.  By the age of 45, we will have lost around 30% of collagen in our bodies and we continue to lose more each year as we age.
By drinking a daily Collagen Shots, you are helping to supplement and replace the collagen that the body is struggling to produce.
It's never too late to start with Rejuvenated Collagen Shots, when consumed daily you'll notice a visible improvement of your skin from as little as 4 weeks, with continued improvement every month there after! 👏
They are better than tablets because there are 10,000mg of hydrolysed collagen in Rejuvenated Collagen Shots and to achieve this with tablets, it would mean consuming a large quantity every day, which would be impractical.

In order for a cream to be effective, the collagen must be able to cross the skin-body barrier and reach the deep layers of the skin, collagen is made of larger molecules which cannot cross this barrier.

In contrast, when consumed in a drink, the collagen molecules are digested in the stomach and are then absorbed into the bloodstream from where they can be efficiently delivered to the skin.
In comparison to rival brands, there is a very high amount of hydrolysed collagen in Rejuvenated Collagen Shots (10,000mg per serving) that makes them stand out from the rest.

In addition, the unique recipe has been clinically formulated to combine peptide-rich amino acids, hyaluronic acid, antioxidants and a range of vitamins and minerals that are proven to improve the tone and texture of the skin.

What's more, Rejuvenated Collagen Shots were voted the "Hottest Beauty Product 2014", by The Times newspaper and are proud to be a "Beauty Shortlist Awards Winner 2015" for their category.
10,000mgs of collagen This is the essential amount of collagen needed to start actively firming and lifting your skin.

Hyaluronic acid Also found naturally in the body, this will help your skin retain moisture and bounce.

Acai Berry A super-antioxidant with high amounts of vitamin C. Vitamin C will help your skin start building even more collagen.

Vitamins B3 & B5 To help improve moisture levels in your skin, leading to softer, smoother skin.

Zinc Helps skin repair itself from the inside out, so skin looks more even toned.

Copper Helps promote your body to produce more of its own collagen and helps strengthen the elasticity in your skin, leaving you with more toned skin.
Good to know!
Collagen Shots are gluten and lactose-free and are also 100% natural with stevia sweetener.  Each Rejuvenated Collagen Shots product contains a 30 day supply.
Research has shown that orally ingested collagen can increase collagen synthesis and improve hydration levels in the skin, which has been reported to:
Helps reduce the appearance and depth of lines & wrinkles

Helps skin look smoother & plumper

Helps to increase skin firmness & elasticity

Helps to improve the look of scarring & stretch marks

Helps skin to look and feel more hydrated & less dry

Helps to increase skin glow & radiance, plus helps to decrease the look of dark under eye circles
Not only will your skin improve, but the connective tissue throughout your body will also improve in structure – this could have other benefits to your whole wellbeing 💖
Research shows that collagen is extremely beneficial throughout the body, it has also been found to noticeably improve:
Bone Density is Improved For people who suffer from osteoarthritis or osteoporosis, collagen supplements combined with calcium are worthy of considering as a choice for treatment. In fact, osteoporosis is an affliction that strikes many women and some men all across the nation. Regardless of the patients' gender, collagen supplements are prescribed to patients, in combination with other drugs. The goal is to control the weakening of bones. As a result, calcium and collagen are often used in combination to help bind calcium in order to strengthen bones and provide improved flexibility.

Teeth and Gums are Strengthened Although collagen is not one of the first supplements thought of in relation to the teeth and gums, it is helpful in binding our teeth and keeping them firm to the gums. On the other hand, lowered collagen in the body can cause an individual to loose teeth.

Fingernails and Toenails are Fortified Supplements containing collagen can be used to strengthen brittle, weak nails. Very simply, the treatment can be taken orally or in the form of a nail treatment. However, the time it takes to restore the nails to full strength and the preferred length will vary depending on each individual.

Skin Elasticity is Strengthened Age has the unfortunate effect on our skin of causing it to sag and wrinkle. In fact, the layer of fat that holds our skin tight to our bones begins to diminish as the years pass. This is due to the effect of everyday UV rays breaking down the collagen and other connective elements in the skin. However, collagen supplements replenish what is lost, allowing the layer of fat to remain and the skin to hold strong.

Quality of Hair is Changed A collagen supplement helps the hair grow long and strong, and it increases the body's natural hair-building proteins. Collagen initiates hair growth, and depending on the level of loss, regrowth as well. When used on a regular basis, healthy hair grows thick and strong in response to the collagen supplements.

Burns and Wounds are Healed Quickly Collagen supplements and topical solutions are being researched for burns and dermal wounds. Collagen molecules come together and bind in order for new skin to develop. As a natural dressing for wounds, collagen absorbs wound excretions. Thus, it will also help the wound stay moist as it heals without allowing bacterial infections to develop.
What is the recommended daily dose of Rejuvenated Collagen Shots?

Each Rejuvenated Collagen Shot contains 10,000mg (10g) of collagen and we recommend that you take just 10g per day to achieve the best results.

What time of day should I take Rejuvenated Collagen Shots?

We recommend that you take Rejuvenated Collagen Shots half an hour before going to sleep at night, as this is when the cells in the body are renewing and repairing. Alternatively, drink it on an empty stomach either first thing in the morning, or half an hour before a meal. However, if you feel that you would like to drink yours in the morning then this will still have a wonderful results.

How do I prepare a Rejuvenated Collagen Shot?

Put 10g (around a heaped tablespoon) in a glass and fill with 200 – 250ml of water (or preferred beverage), whisk with a fork, allow a minute for the collagen to dissolve – whisk again and drink. Rejuvenated Collagen Shots are 100% natural, so the blending agents and emulsifiers that can help other products dissolve quickly are not present. It is recommended that the product is given a good whisk with a fork to allow the collagen to dissolve fully, this may require you to wait for one minute before whisking again.

When will I start to see the benefits of taking Rejuvenated Collagen Shots?

As everybody is different, the time it takes to see visible results and feel any difference from Rejuvenated Collagen Shots will vary. With this in mind, the findings below fit with results from Rejuvenated's clinical studies regarding the product. After 2 weeks: most people start to notice an improvement in skin feel (softness and reduced dryness). After 4 weeks: reports suggest that skin starts to appear smoother and fuller with an increased glow. After 8 weeks: wrinkles and fine lines visibly start to reduce. Skin feels more hydrated, plumper and more elastic. Some may see these results quickly, whilst others may not see results for several weeks later than above. We recommend that you take a daily Rejuvenated Collagen Shots continuously for twelve weeks to really see the full benefits.
What happens if I stop taking Rejuvenated Collagen Shots?

If you have been taking Collagen Shots regularly and forget to take it on one or two occasions, there will not be any significant effects to prevent the skin improving. However, if you discontinue use of these supplements, the benefits will slowly disappear and your skin will eventually return to its original state.

Are Rejuvenated Collagen Shots safe?

Rejuvenated Collagen Shots have been extensively tested to ensure they are safe for human consumption and each batch is quality tested to ensure they reach very high standards. Rejuvenated Collagen Shots are free from carbohydrates, artificial colours and sweeteners, gluten, dairy, soy, preservatives, yeast, starch, fat and cholesterol. Plus they're gluten free, lactose free and are suitable for diabetics. This product is all 100% natural, from traceable and sustainable farming methods. NOTE: Do not drink if you are allergic to fish or shell fish. If you are pregnant or breastfeeding, take advice from your doctor or healthcare practitioner before consuming.

Are Rejuvenated Collagen Shots vegetarian?

Collagen Shots are made from marine collagen, including fish and therefore are unsuitable for vegetarians.

Are Rejuvenated Collagen Shots Halal and Kosher?

The hydrolysed collagen in Collagen Shots is certified Halal and Kosher.
I hope this article has helps answer some of your questions about Rejuvenated Collagen Shots, I've taken them for many years now and swear by them!
If you have any other questions, be sure to reach our to us at help@beautyandtheboutique.com - we'd love to hear from you! 
Enjoy 💖