BATB016_Your Ultimate Guide to Makeup Brushes
I'll let you in on a little secret - most Makeup Artist's will tell you the one thing they can't be without in their kits is…
…their makeup brushes! 🏆
Make sure to watch my video above 👆 for my expert guide on why i love this brush set so much!
Plus, after you've watched all my advice in the video, find out even more about how I use these brushes below! 💡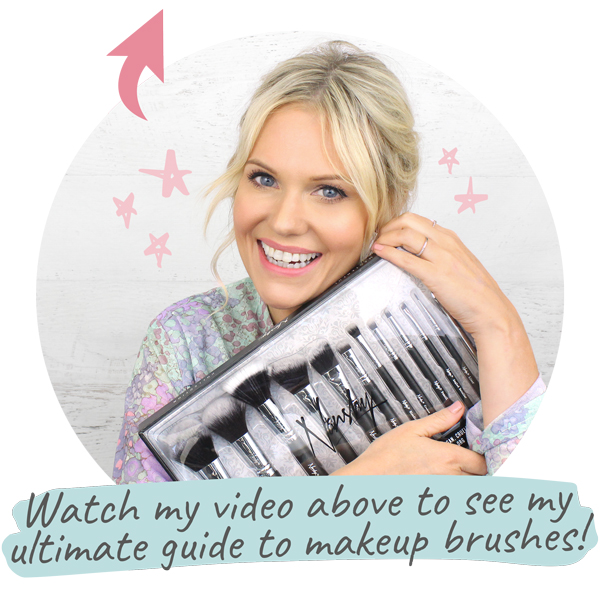 Whether you've used makeup brushes before or you're a complete novice...
...my masterclass above ☝️ promises to teach you easy to follow techniques that will take your makeup to the next level!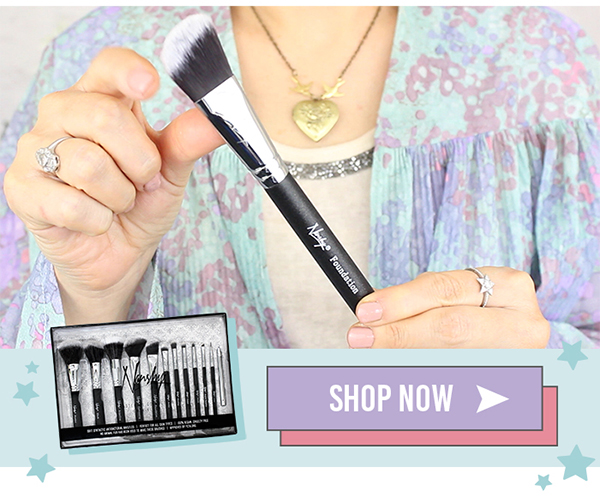 When you want your liquid or cream formulated foundation to look like it's your skin – only much better – then you need a Foundation Brush and a Stippling Brush 🙌
These two brushes work in tandem to create the best looking foundation of your life! 💗
The Foundation Brush works to perfectly apply the foundation evenly across the face...
...whilst the Stippling Brush can be used afterwards to buff and blend your foundation to perfection! ✨
How to Use a Foundation Brush like a Pro
First, load up the Foundation Brush and start by applying on your T-zone area, which usually needs most of the coverage to even out any redness and discolouration in these areas.
Build the foundation gradually (and it layers!) as this will help your foundation look more natural, and it will last longer. Once you've applied the foundation to your T-zone, blend this out to the outer corners of your face.
Remember to apply foundation under your eyes before applying concealer if you need a little extra coverage for dark circles!
Apply a coat of foundation on your eyelids, too (set in place with a light dusting of translucent powder); doing this will help your eye shadow stay on much, much longer! 
Top tip!
Work the foundation in by applying the foundation in one direction and then using the Foundation Brush in the opposite direction to blend out any lines or streaks.
If you still have streaks with your foundation - fear not – this is where your Stippling Brush will come in handy! 👏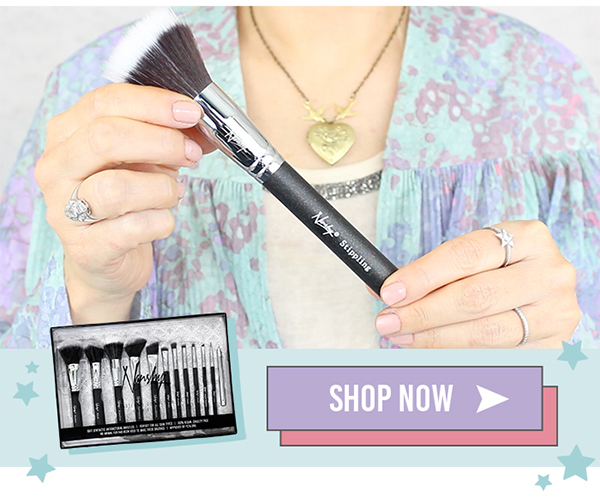 Stippling brushes are designed to buff and blend foundation into the skin for that much sought after airbrushed effect 🤩
So, if you've always wanted that flawless airbrushed finish that so many celebs are sporting but didn't know precisely how to achieve it...
...then this is the brush for you! 💖
This brush is where the magic happens – trust me, you'll never be without it again! ✨
How to Use a Stippling Brush like a Pro
The Stippling Brush can be used to apply foundation in a similar way to the Foundation Brush and can be used with liquid, cream or powder foundations.
Apply your foundation using a Stippling Brush in light, circular motions all over the face – this will give a much sheerer/lighter coverage of foundation.
If you've already applied foundation with a traditional Foundation Brush (as explained above), use a Stippling Brush to buff and blend the foundation into the skin giving you that flawless, airbrushed finish!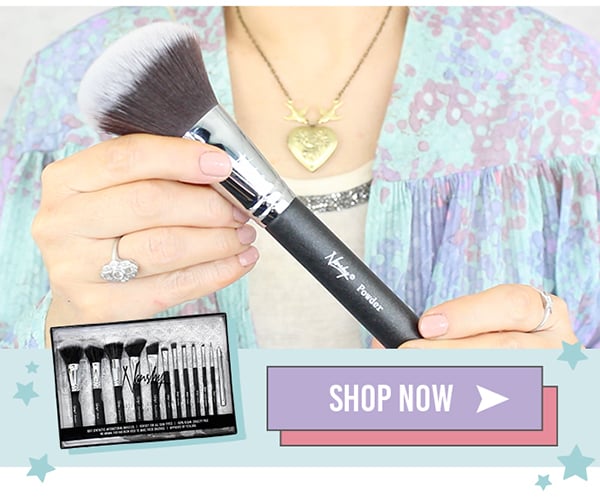 A Powder Brush is an essential step in your makeup routine (especially if you suffer from any oily skin areas)...
...because it helps set your makeup in place and helps it last longer - for the rest of the day! 🔒
How to Use a Powder Brush like a Pro
Pick up your face powder with a Powder Brush and tap off any excess before applying (applying just a light dusting of powder is best!
Using a powder brush, sweep your translucent face powder onto only oil-prone areas such as your T-zone. If you have oily skin or a matte look to your foundation, sweep your translucent face powder all over your face - mainly focussing on your T-Zone.
For any areas that need extra mattifying, use a powder-puff to 'dab' and 'press' translucent face powder on any areas that may need a little extra helping hand!
A Powder Brush can also be used to apply bronzer – just wipe clean the brush on a towel before using bronzer to your brush. To apply bronzer using a Powder Brush simply, sweep along cheeks, temples, bridge of the nose, around the jawline and neck.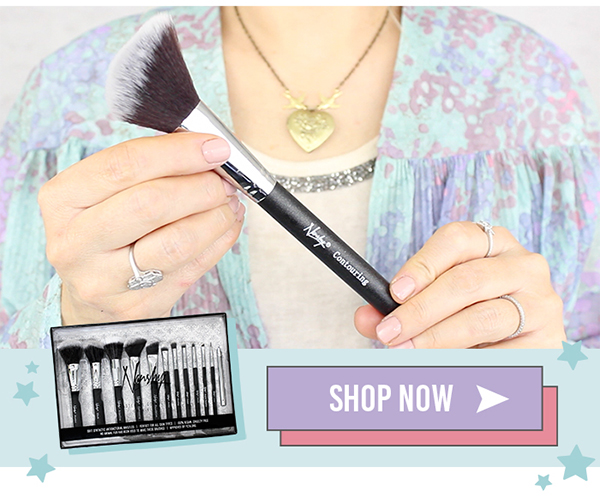 Contouring can give your cheekbones a fantastic lift and will help sculpt and slim your face, making it appear more defined 😍
For this, you need an excellent Contouring Brush! 
How to Use a Contour Brush like a Pro
To use a Contour Brush, first load up contour powder onto the brush, tap off the excess and pull a 'fish-faced (suck in your cheeks!).
Finding the hollow of your cheek (using the pointy side on the brush facing downwards to the mouth), swoosh the brush upwards to the top of your ear.
Hold the brush gently, building up the colour gradually depending on how much contouring you like!
All you need for a naturally pretty looking complexion is an excellent Blush Brush that does the hard work for you! 💪
A Blush Brush gives the perfect finish to your face makeup.
How to Use a Blush Brush like a Pro
To use a Blush Brush (this works for powder blush, but for cream or liquid blush, you can just use your fingers), simply load the brush with a powder blusher.
Double-tap the excess powder off – tapping off excess blush powder help keep your blusher application looking natural as it's better to apply a little initially and then build up layers for more intensity!
Looking in the mirror, smile and sweep upwards from the apple of the cheek, using a swooshing motion upwards towards your ear. Finally, holding the brush lightly to your skin using a circling motion on the apples of your cheeks.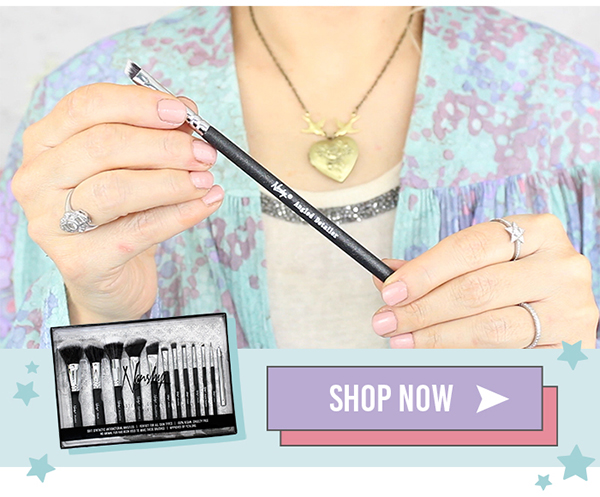 An Angled Brush is such a great little multi-purpose brush, and it will soon become your favourite little brush for brows and eyes! 👁💕
How to Use an Angled Brush like a Pro
Simply dab an Angled Brush into your chosen brow product and start filling in the missing hairs with light, feathery strokes – in the direction of the hair growth.
Try not to make the start of the brows too much thicker than your natural brows, as this is a tell-tale sign you've filled your brows in…
You can also use an Angled Brush to highlight and lift your brow bone! Make sure your brush is clean and dip it into a concealer two shades lighter than your natural skin tone; now, apply a thin line of this concealer onto your brow bone (from your brow arch to the end of your brow). Use your fingers to blend. Ta-Daaaah, a more lifted eye!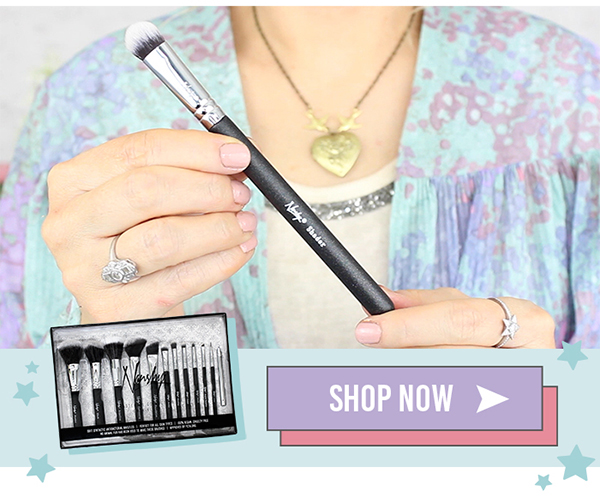 A Shader Brush is a perfect brush to apply layers of eye shadow to your lids in a more intense way (making it ideal for using base eyeshadow colours!) because of its densely packed bristles and dome shape 🙌
How to Use a Shader Brush like a Pro
Add eyeshadow to a Shader Brush (tapping off the excess) and pat over your eyelid for the best coverage.
Be sure to use a 'patting' and 'dabbing' with this brush, as this will ensure the colour goes on in an intense and precise way.
Apply layers to help your eyeshadow look more intense in colour and last longer!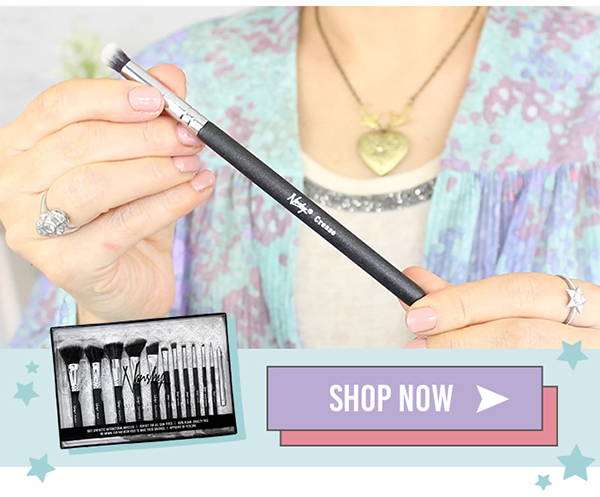 To get an instant eye lift, this is the brush to have! 👏
A Crease Brush is a great little makeup tool to keep in your kit because the compact bristles make applying colour to the crease so easy and soft.
How to Use a Crease Brush like a Pro
Add eyeshadow to a Crease Brush (tapping off the excess) and place it in the middle of your crease.
Go back and forth (like a windscreen-wiper) into your eye socket crease, creating an instant eye lift!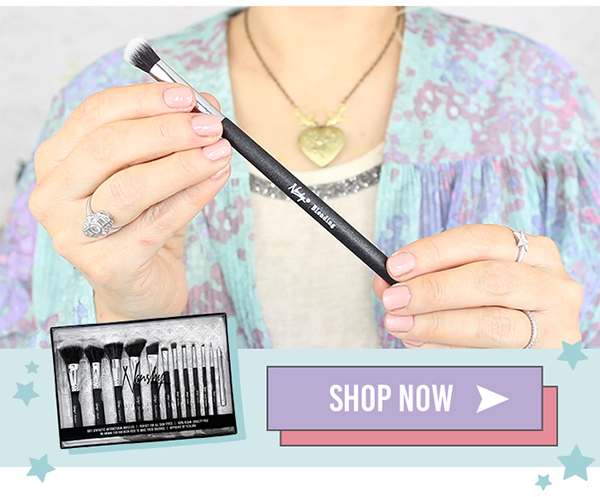 An eyeshadow Blending Brush helps your eye makeup look polished and professional 😍
This brush will soon become your go-to brush for creating a natural and flawless look!
How to Use a Blending Brush like a Pro
First (ensuring your brush is clean), use light and gentle circular motions to soften and blend any edges of eyeshadow that you wish to look more natural and softer!
Make sure not to over-blend where you wish to keep the eyeshadow colour application definition.
Each time you blend a new colour of eyeshadow, be sure to wipe your brush clean on tissue or a towel.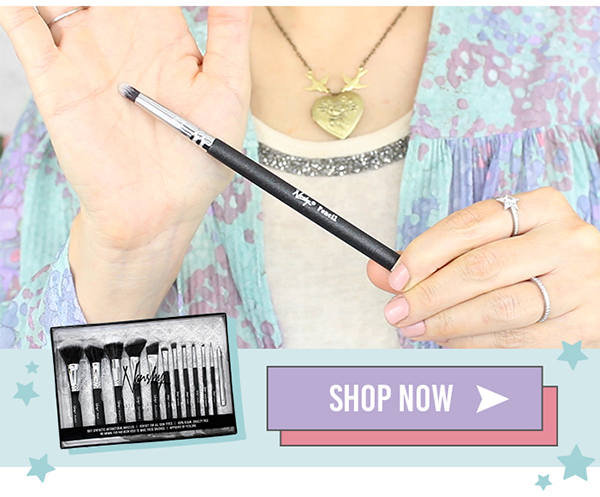 A Pencil Brush adds excellent definition and depth to your eyes and can be used in many ways 🤩
If you've always wanted that sexy, smouldering look, then this is the brush you need!
How to Use a Pencil Brush like a Pro
Dab the pencil bush into some darker shadow, pat and dab this colour along your lash line, sweeping upwards at the outer corner towards the end of your eyebrow.
To intensify the look, apply several layers along your upper lash line or apply the eyeshadow slightly damp for a more dramatic eyeliner effect!
For rounder, softer eyes, dab a mid-tone eyeshadow colour onto the Pencil brush; and apply under the eyes near the lower lash line (on the outer corners).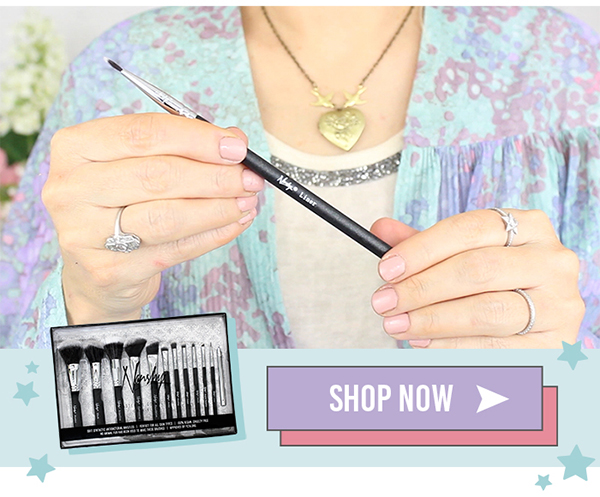 The Liner Brush is like a long artist brush that easily achieves a flawless look for liquid or gel eyeliner in just a few simple strokes.
It will give you that glamorously defined eye; this stylish look never fades throughout the decades, and this brush will help you achieve it! 👏
How to Use a Liner Brush like a Pro
Dip a Liner Brush into your gel or liquid eyeliner and wipe off any excess into a tissue – you don't want too much product; otherwise, it will clog up!
Using your little finger to stabilise your hand, start at the middle of the eyelid and pull to the outer corner. Go to the inner corner of the eye, drawing a line to match up with the other one.
Add more product, tilt your head backwards, and put the outer swoosh on the corner of the eye (you can stretch the skin of the eyelids if that helps!).
Made a mistake? Just wipe off with a cotton bud and some eye makeup remover.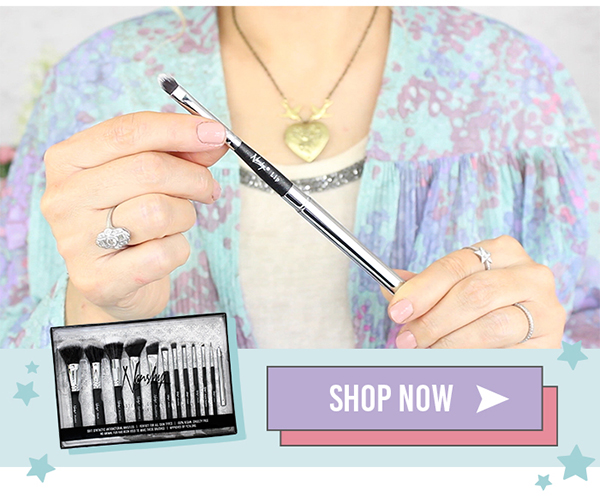 Owning a Lip Brush is the perfect finishing touch to your makeup!
It will expertly define your lip shape and transforms how smooth and professional, and accurate your lipstick looks 💋
How to Use a Lip Brush like a Pro
Dab a Lipstick Brush into the lipstick.
To define your lip shape, use the side of the Lip brush to line your lips with lipstick – this creates a 'lip pencil' look which will help enhance your lip shape!
Using the fleshy flat part of the Lipstick Brush, fill your lips, starting in the middle of your lips and working outwards.
To help your lipstick last longer on your lips, apply in thin layers!
I think you'll love these Nanshy Masterful Collection brushes. They'll change the way your makeup looks (and feels) for good…
…no other reason is needed! 💖
If you haven't already, be sure to watch my video above 👆 for all of my brush guide tips! 🎬
Plus, scroll down to discover even more tips that I think you'll love below!👇