BATB067_Everything You Need to Know About Foundation
Are you forever searching for your perfect foundation? 🔍
If you are, I'm here to help you in your quest!
After reading my masterclass below 👇 you'll feel much more knowledgeable to take on the task and dare I say it, it could even be fun! 😘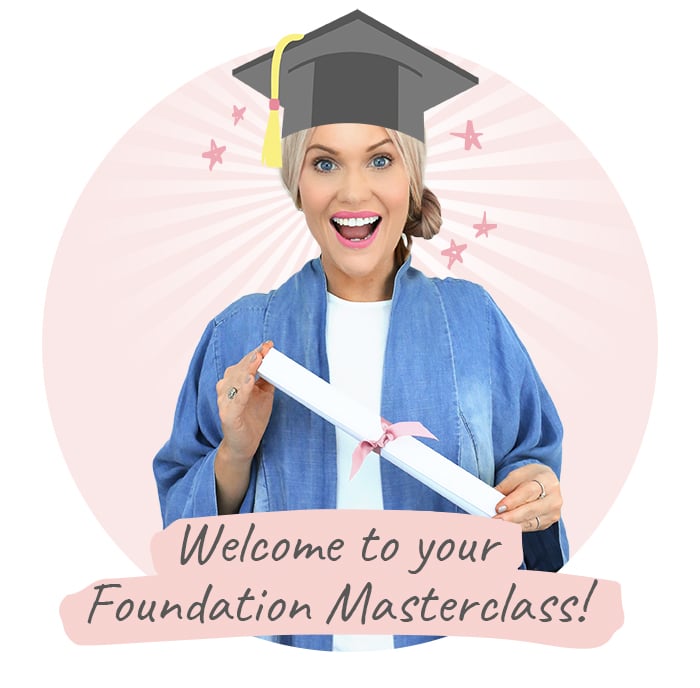 Before you even begin to start choosing your foundation, you need to really know your skin type.
You might think you know your skin type, but it really does change over time. It also depends on what your hormones are up to, what the weather's like and what products you're using 👍
But there's an easy way to find out your skin type today:

'Normal Skin' If the tissue doesn't show oil or skin flakes and your skin feels supple and smooth, you've got what the beauty industry refers to as 'normal skin'.

'Oily Skin' If you've got oil on your tissue from most areas of your face and your skin feels dewy to the touch, you've got what the beauty industry refers to as 'oily skin'.

'Dry Skin' If your tissue has no oil, and skin feels and looks tight, you've got what the beauty industry refers to as 'dry skin'.

'Combination Skin' If you've got a mix of all three – usually an oily T-zone and normal to dry elsewhere – you've got what the beauty industry refers to as 'combination skin'.
There are so many finishes to choose from it can feel a little overwhelming, but don't worry – my simple guide will help you choose the best finish for your skin! 👇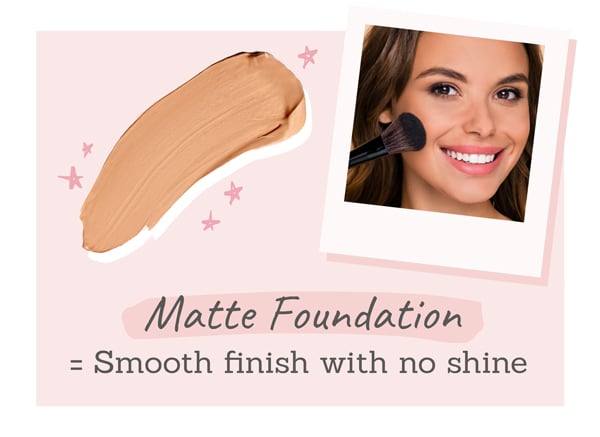 What is a 'Matte' finish?

Most matte foundations give you a medium-to-full coverage with a smooth finish and no shine. Depending on how oily your skin is, the mattifying effect lasts for hours and generally, oil-free, matte foundations stay on your skin for longer.

Who should wear a 'Matte' finish?

Women with oily and combination skin (an oily t-zone and normal outer zone), would most likely love this finish, particularly if the finish is oil-free. However, even women with drier skin can enjoy this look with a good layer of moisture underneath.
Top tip! 
To keep your finish matte and your foundation firmly on, push your oily day moisturiser aside and choose an oil-free one to wear underneath instead ✨
What is a 'Satin' finish?

A foundation in between dewy and matte that offers a soft, sheen effect that makes skin look radiant.

Who should wear a 'Satin' finish?

All skin types look great with a satin finish. If you're oily, a translucent powder worn on the T-zone will help absorb excess oil while still offering a natural glow. If your skin is dry, skip the translucent powder.
" The satin foundation I love to wear! "
Makeup Artist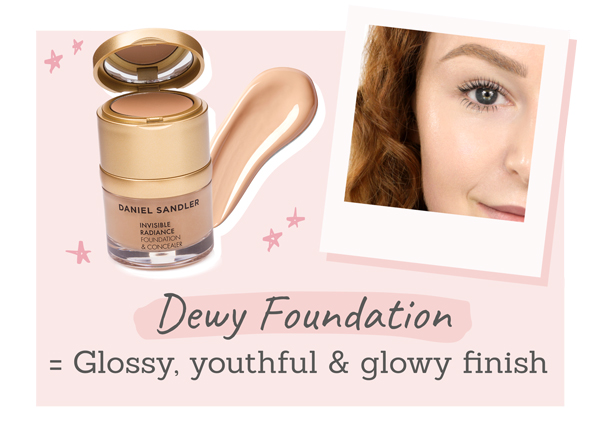 What is a 'Dewy' finish?

A foundation with a glossy, youthful, glowy finish. It exudes a lot of radiance and adds a lot of moisture to the skin. It is also usually a medium to sheer coverage foundation.

Who should wear a 'Dewy' finish?

A Dewy foundation finish is perfect for women with dry skin or skin that shows fine lines.

Who should avoid a 'Dewy' finish?

Women with excess oil on their skin who like to wear translucent powder. Why? because wearing a translucent powder over a dewy finish foundation takes away the 'glow' and may make the dewy finish look cakey.
"

The dewy foundation I love to wear!

"

Makeup Artist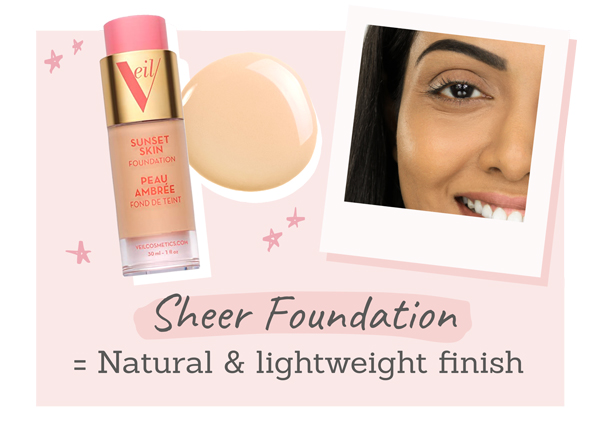 What is a 'Sheer' finish?

The main things to know about sheer finish foundations is that they look natural on the skin and feel ultra lightweight. Designed to even out minor imperfections, sheer finish foundations allow your skin to shine through, enhancing your skin rather than masking it. Sheer finish foundations are more like moisturisers with just a teeny amount of coverage.

Who should wear a 'Sheer' finish?

Sheer finish foundations can be worn by all skin types, however, they're usually best suited to women who don't like the look of foundation on their skin as they don't offer too much coverage.

Who should avoid a 'Sheer' finish?

All skin types can wear a sheer finish foundation, however, if you feel you have imperfections you'd like to conceal you may like to wear a little concealer in these particular areas to give a touch more coverage. Simply, apply the foundation first and then apply your fave concealer onto areas tat need extra coverage.
" The sheer foundation I love to wear! "
Makeup Artist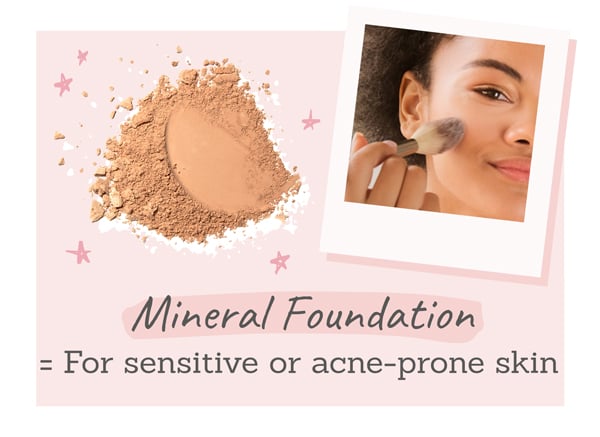 What is a 'Mineral' foundation?

What is mineral foundation? Genuine 100% mineral foundation doesn't include parabens, fragrance, talc, preservatives, oil, or other chemicals, making it ideal for sensitive or breakout-prone skin types that often become irritated with heavier formulas.

Who should wear a 'Mineral' foundation?

Pretty much every skin type works well with mineral foundations. In particular, women who have sensitive skin, eczema or acne prone skin and who are happy to have a semi-matte/matte finish to their skin with coverage that can be sheer and then built up in layers will love mineral foundation. It's perfect for complexions that may need just a touch of coverage on some areas and then built up in layers to create more coverage in other areas.

Who should avoid a 'Mineral' foundation?

Skin types that are dry or flaky may find that the formulation gathers around dry, scaly patches of skin.
Top tip! 
When choosing a mineral foundation, pay extra close attention to the ingredients list and opt for the version that reads less synthetic.
True mineral foundations should include iron oxides, mica, and titanium dioxides among other elements, but any ingredients that seem to be derived from a paraben, glycerin, or alcohol aren't the real deal 🙅‍♀️
Now that you've found the finish you feel would work best with your skin type, it's time for me to help you choose your perfect shade!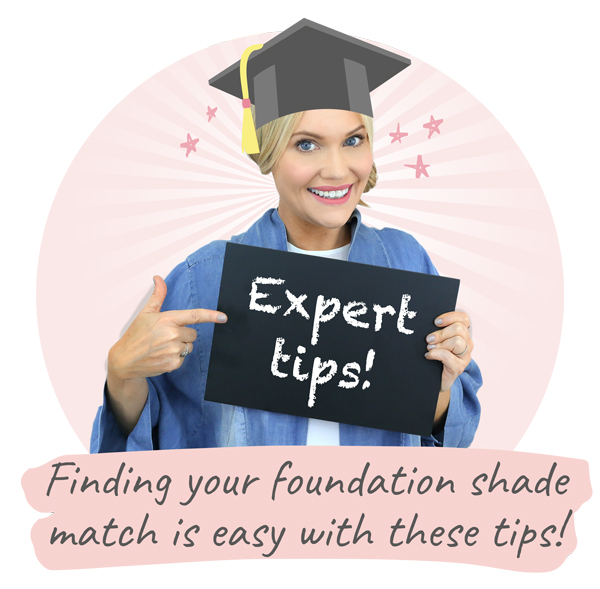 Always keep in mind the colour of your neck, décolletage, arms and hands when searching for your perfect foundation shade.
If these areas of your body are much lighter than your face, split the difference and go for a foundation in between the colour of your face and these areas.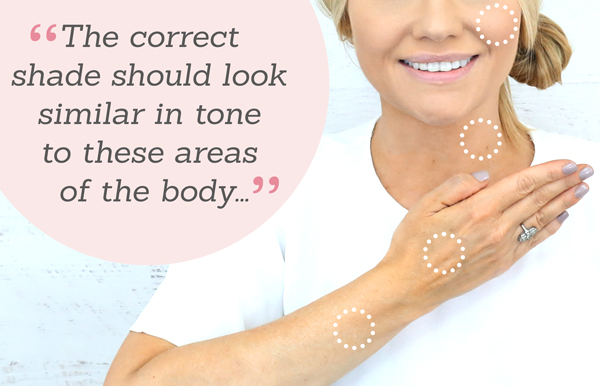 This way, everything looks like it blends together seamlessly 💗
Understanding 'foundation tones'...
Some makeup brands split their foundation shades into cool tones, warm tones and neutral tones.
'Warm-Toned' Foundation will look a little more golden in their tone.

'Cool-Toned' Foundation will look a little more pink in their tone.

'Neutral-Toned' Foundation will look perfectly balanced between 'golden' and 'pink' in their tone since being neutral they are the perfect balance between warm and cool.
You'll know when you have the perfect tone for you as your skin will look like your skin and won't look overly ashy, pinky or yellow! 👏
Finding your foundation match...
When matching a shade to your skin tone for the first time, it's always best to do this in natural daylight (without any artificial light).
If you're not near a window, go to your nearest window (or even better outside), and look at the shade in pure daylight or facing a window 🌤
If you're inside a shop, apply a swipe across your jawline down to your neck – the perfect shade should disappear.
Then pop outside with a hand mirror (carry one in your bag every time you go foundation shopping, it's a little life-saver!) to see how the shade looks in natural daylight 💖
Top tips for foundation shopping in store...
When shopping for foundation, be sure to bring makeup wipes with you.
Remove the foundation from your jawline and swipe shades vertically across your jawline and neck. 
Leave the foundation for a few minutes as surprisingly a foundation can change shade on your skin within around 5 minutes due to your skin's PH and oxidisation ⏱
Swipe the shades next to each other and after a few minutes, you'll be able to see your best match.
You're seeking a shade that virtually disappears into your skin tone ✨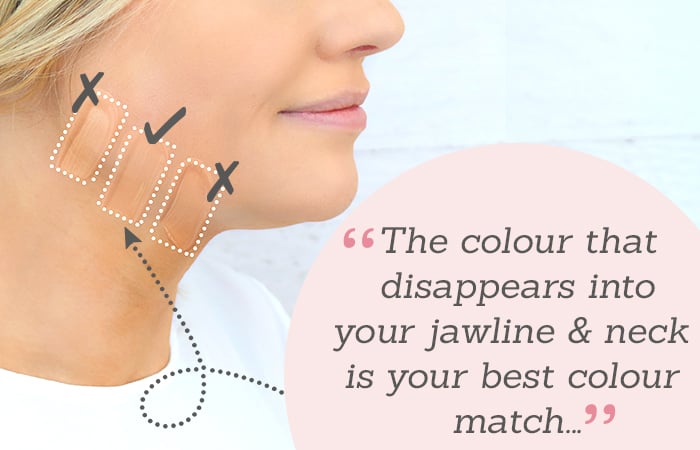 If your face is a little darker than your neck or vice-versa, I recommend choosing a shade that's in between both your face and your neck.
Changing seasons... changing foundations! 
Our skin tone can change throughout the year! 
For example, you may find that while a shade works for you in the winter, you may need to change your shade in the summer ❄️🌤
Some people like to have a shade for their winter skin and a slightly warmer shade for their summer skin should they tan.
Alternatively, you may like to keep with just one shade and then on pop a little bronzer to warm up your skin tone 💖
Click here 👉 to watch my video on how to apply your bronzer like a pro! 
Wearing a bronzer with your foundation can make your foundation look incredible!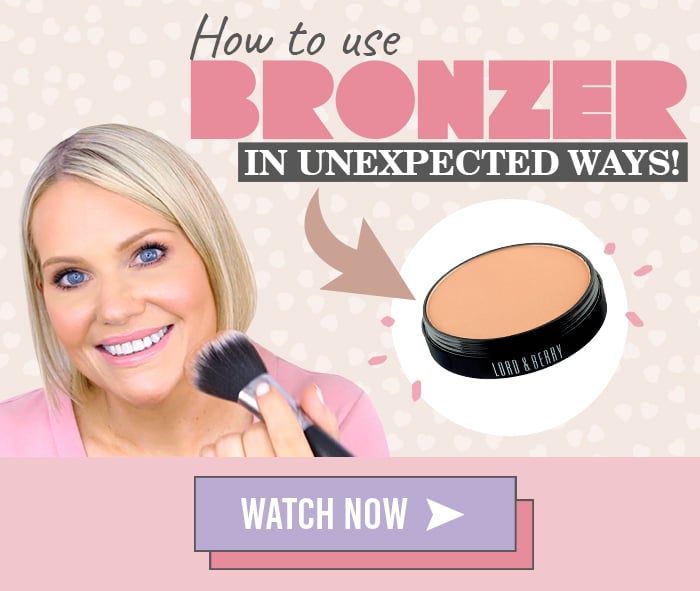 A quick heads-up...
If you suffer from rosacea, warm tone foundations can help take down the look of redness in these problematic areas 🙌
Just blend a small amount of a warm toned foundation over the area you wish to take down the redness on (such as around the cheeks and nose) and then apply your regular foundation over the top!
Sometimes you can have the perfect foundation but aren't applying it in the best way...
There's no right or wrong way to apply makeup, only the way which feels and works best for you!
I hope these tips can help with that 😊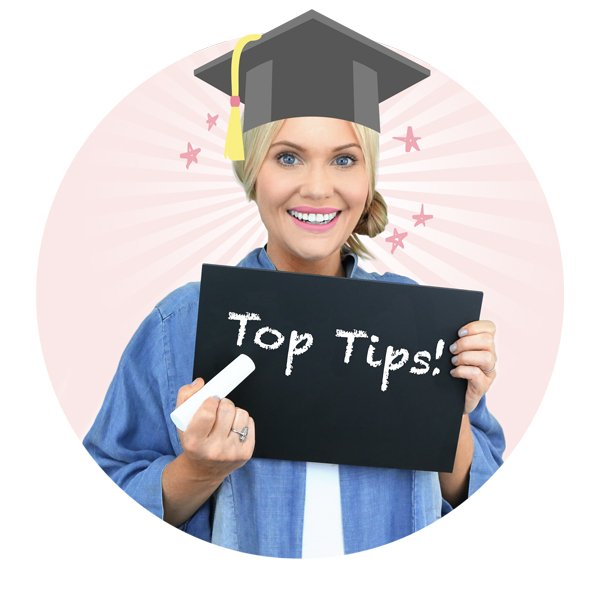 My foolproof application tips...
Work from the centre of your face, out to the edges When applying foundation, start from the centre of your face and work outward. This leaves you with the most natural finish, and helps prevents foundation being visible around the perimeter of your face.

Apply in downward strokes Apply your foundation with downward strokes to avoid highlighting the fine, fuzzy hair we all have on our faces (particularly around the edges of our faces). Since the hair grows downwards, by applying foundation in a downward motion this will help keep the hair looking smooth and undetectable.

Apply to eyelids to reduce redness Apply foundation over your eyelids to reduce redness. Doing so instantly brightens the eye as well as making a perfect base for your eye makeup. Simply press a little translucent powder over the top to stop foundation creasing when you open and close your eyes (this will also help to keep eyeshadow on for longer!)

Apply foundation facing a window For the most natural foundation application results, always (if you can) apply your foundation facing natural daylight. If you don't have a window (or good natural light) near you, try to apply in the brightest possible light available to you at the time, always facing towards the light.
Top tip!
For a: "No, I'm not wearing foundation (wink, wink!)" look, after applying your foundation, give it a quick buff with this game-changing brush below…
Is your foundation creasing in fine lines?
Fear not – I have the perfect tip for you! 
Discover how Jojoba Oil can instantly fix and smooth the look of foundation and concealer creasing...👏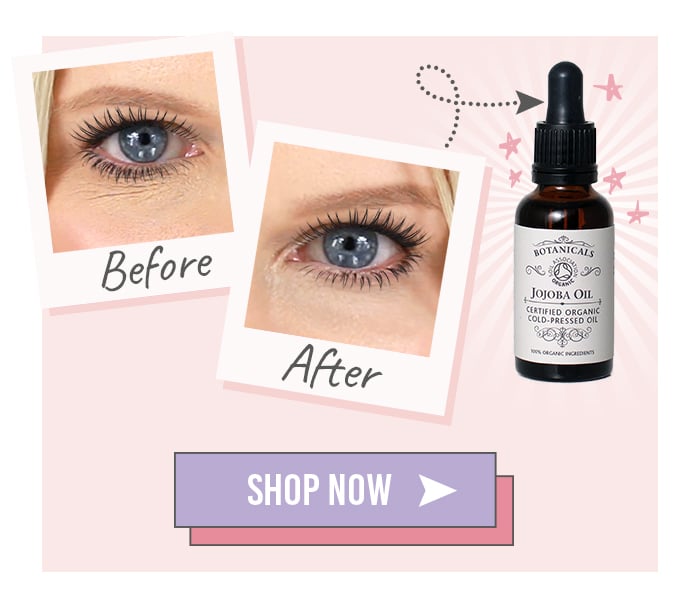 Hide your dark circles!
If you suffer from dark circles, try applying a couple of layers of foundation under your eyes first, then apply your concealer.
This will help provide extra coverage and you may find you need less concealer 👍
What are the best tools to use?
This might surprise you, but your fingers are actually amazing for applying foundation! 🖐
Fingers tend to warm up a foundation formulation nicely and make it easier to blend; they can also feel more intuitive when applying.
Fingers can also give slightly heavier coverage since there are no bristles to buff and thin the product out. 
However, if you'd like to have a more sheer coverage, apply with your fingers first and then try using a foundation stippling brush like this – it gives the most beautiful, natural finish! 💗
"

This brush makes foundation look like your skin... only better!

"

Makeup Artist
Had a recent outbreak of spots?
It could be that you need to wash your foundation brush and makeup facial sponges! 🧼
Dirty brushes and sponges can become clogged up with product and facial oil, creating a great breeding ground for bacteria and these can easily cause breakouts 👎

Create your own tinted moisturiser!
Liquid and cream foundations can be thinned with moisturiser to sheer out coverage for days when you just wish for a touch of coverage!
 🙌
Make your own tinted moisturiser by adding a few drops of your favourite liquid foundation with your facial moisturiser.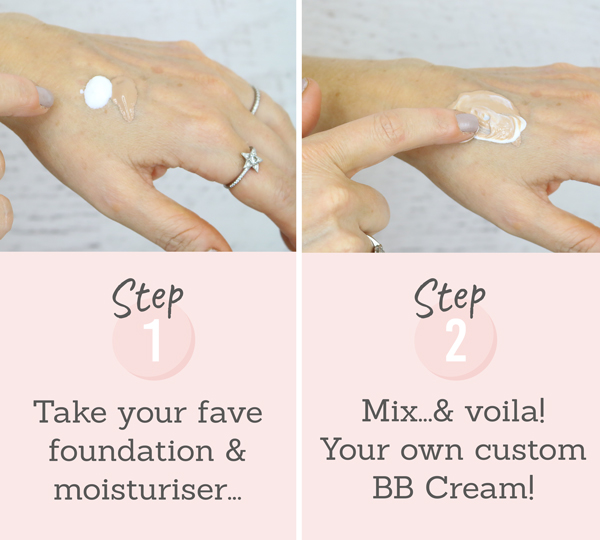 " Mix this SPF with your foundation for a custom tinted moisturiser that protects skin too! "
Makeup Artist
Add dewiness to any foundation!
If you want to turn your liquid foundation into a dewy one, place a little of your foundation on the back of your hand.
Now add 1 to 3 drops of Jojoba Oil, mix together on the back of your hand and apply to your face.
One drop will give a subtle amount of dewiness, 3 drops will give you a super dewy glow! ✨
Experiment until you find your perfect dewy ratio! 💖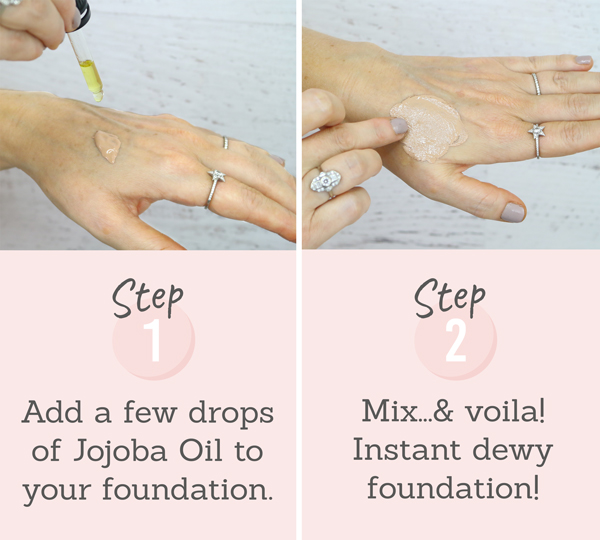 " Give your skin a perfected & radiant look by mixing this oil with your fave foundation! "
Makeup Artist
Skincare tips for smoother skin...
Smooth skin makes an incredible difference – not only to how long your makeup lasts, but also how foundation sits and looks on your skin.

There's a brilliantly quick way to smooth skin and that's exfoliation! I like to go one step further and use an at-home microdermabrasion facial called DermaTX. 
Not only will makeup sit better and last longer, it'll look smoother and like it's professionally applied.
Microdermabrasion removes dull and dead skin cells that can stop your face creams and serum from penetrating the skin, so you'll also be giving your skincare routine a chance to work its magic! 🧚‍♀️✨
"

Your foundation will thank you for using this to create a smooth base!

"

Makeup Artist
And with regular use, you'll notice your pores will start to look smaller and more refined. It's a win-win-win! 
Take a peek by clicking 👉 here.
Moisturising your skin...
Of course, you want your skin to be beautifully moisturised through the day, but did you know that your daytime facial moisturiser might be the culprit behind your makeup disappearing soon after you've applied it? 🤔
Day moisturisers containing lots of oil can speed up how quickly makeup breaks down after it's been applied.
So, if you find your makeup slipping off your face after an hour or so, it could be the oil in your day-time moisturiser. 
"

This oil-free pot of wonder plumps skin, ready for your foundation!

"

Makeup Artist
Don't worry, you don't have to give up your favourite oil-based cream – just keep it for night time (and choose a day cream that's water-based to wear under your makeup) 💦
Or after application of your oil-based moisturiser, dust your face with a little translucent powder and then apply your foundation.
What is a 'primer' & do I need to use it?
Primer is a must if you want your foundation to last a little longer through the day.
Why? Because, a great primer seals in your moisturiser and provides a smooth, even surface for all your foundation 💕
It acts as a layer between your makeup and your skin, so it stops makeup from being absorbed into the skin, giving it much better staying power. 
" This primer improves your skin & foundation! "
Makeup Artist
Using a translucent powder can really help keep foundation on for longer! ⏰
I like to dust my face with this micro-fine translucent powder before applying my foundation, as it helps soak up any oil or moisture that my skin hasn't drunk-up from my skincare, then I'll apply my foundation.
If you like to wear a translucent powder over your foundation, try to apply it just to the T-zone on the face and allow the cheeks to be powder free, so they keep their luminosity from your skin's natural oils for a natural glowy sheen! 💖
"

This reduces the look of pores & fine lines, plus keeps foundation on longer!

"

Makeup Artist
If you have particularly oily skin and find your foundation to be slipping, then, throughout the day, use blotting papers to minimise shine, rather than applying more powder to avoid caking and to give a more natural look.
Now that you know how to find your perfect foundation, discover how to apply your all your makeup with my 'Ultimate Guide to Makeup Brushes'! 🙌
I teach you how to use brushes to get a makeup artist finish every time you apply your makeup 💗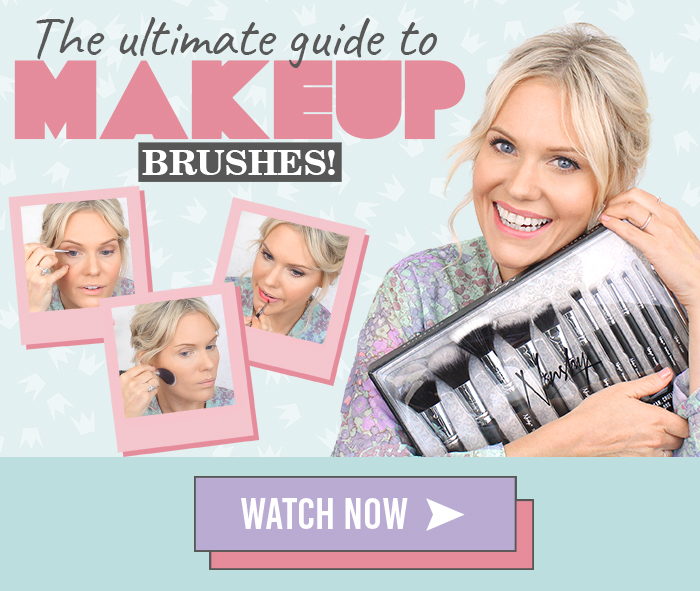 You're now a foundation expert!
Congratulations on graduating this masterclass on foundation! 🎓💕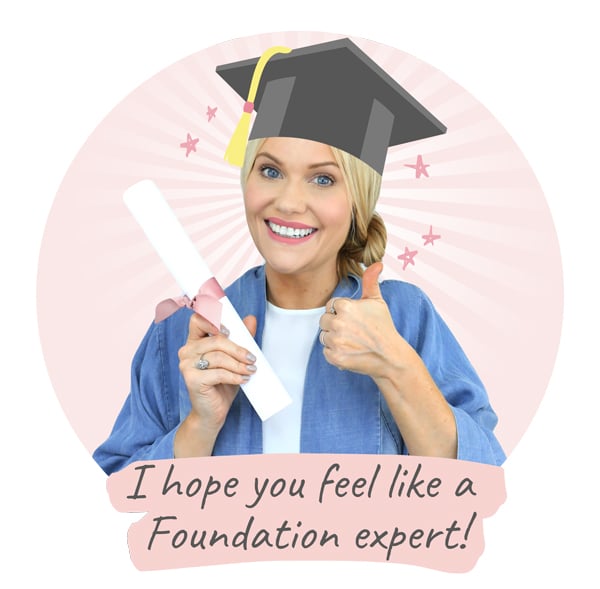 I hope the tips i've shared above 👆 have given you the confidence to be your very own foundation expert the next time you shop for foundation!
Plus, scroll down to discover even more tips that I think you'll love below!👇