Dafna's Skincare - Active Mist
Active Mist
Instantly spritz 'glow' and radiance back to your face and revive your makeup with your brand new Dafna's Personal Skincare Active Mist!
Dafna's Skincare Active Mist is the perfect go-to for hydrating, brightening and refreshing your skin.
A spritz of this leaves skin glowing, hydrated, toned and nourished!
What makes this mist so unique?
The innovative, 100% natural, light yet active facial mist combines plant essences and oil concentrations thanks to a pioneering formula called MelaCare™ - a mix of oils from three medical plants - Camellia japonica, Oxalis triangularis and Eremanthus erythropappus, known for their powerful anti-inflammatory, soothing and antioxidant properties.
With frequent use, skin tone becomes more even and signs of photo-aging are reduced thanks to MelaCare™ oil, which inhibits melanin synthesis (which can lead to sun and age spots, also known as melasma).
Pop this skin-boosting hero in your bag to mist over your face and neck throughout the day!
The Active Mist not only balances skin tone but fights signs of skin-ageing while promoting hydration, glow and freshness to your complexion…
…get ready for your skin (and you!) to love it!
It illuminates the complexion immediately and restores makeup, reviving it to look like it has just been applied.
Plus, you can use your Dafna Skincare Active Mist as a facial toner to hydrate freshly cleansed skin in the morning or night – or both!
And that's not all…
What's more, is it smells beautiful, and the scent helps reduce feelings of anxiety!
All thanks to a wonderful blend of natural ingredients to soothe and refresh the senses (and the skin!). 
More than just your regular facial mist, you'll not be able to resist spritzing this gorgeous Active Mist throughout the day!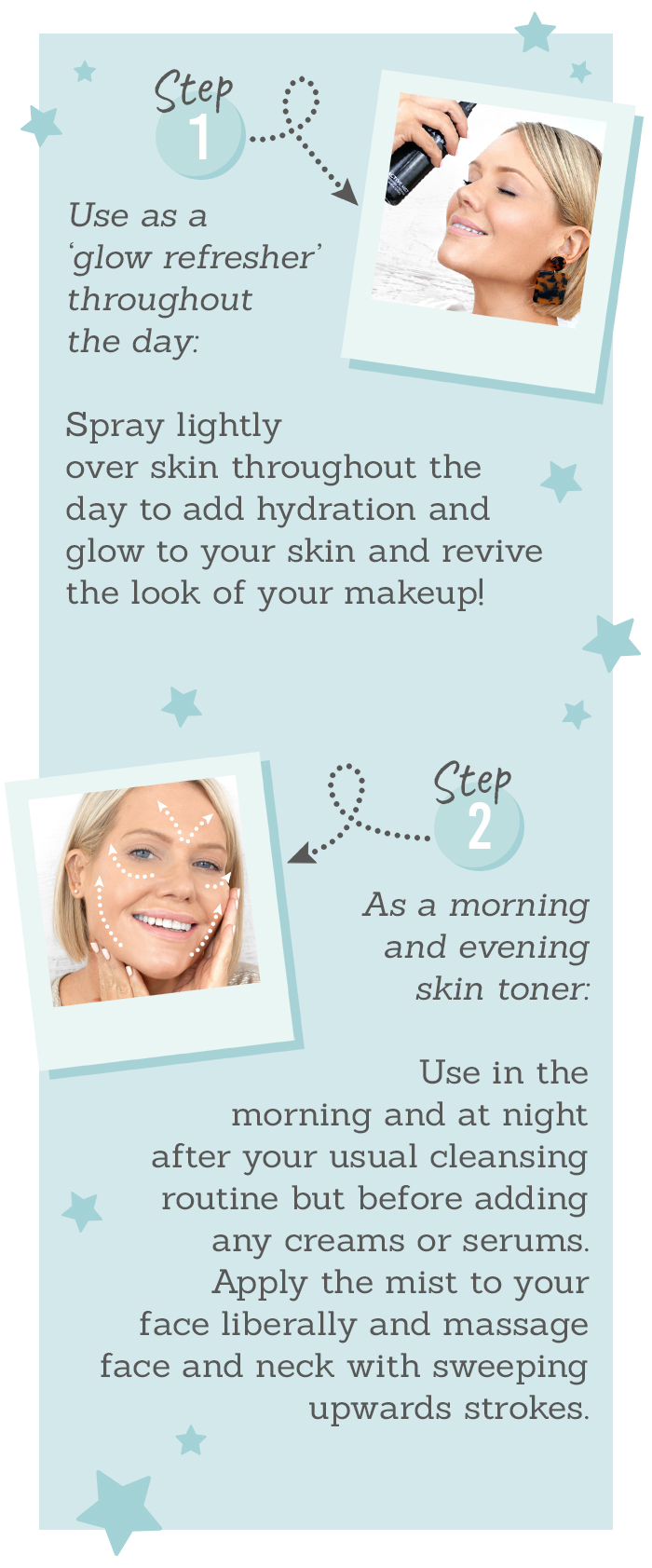 Hydrates skin throughout the day (even over makeup!) to revive and recover luminosity and glow to the skin

Can also be used as a toner on freshly cleansed skin, AM and PM, to refresh the skin further

A unique sensory experience that calms and soothes feelings of anxiety and that smells divine

Helps balance uneven skin tone while adding luminosity to mature, dry or dehydrated skin

Reduces the signs of ageing and works as an anti-ageing treatment for the skin

Relaxes the senses and brings immediate comfort when spritzing over the skin

MelaCare™ oil - a mixture of oils from three medicinal plants (Camellia japonica, Oxalis triangularis and Eremanthus erythropappus), known for their powerful anti-inflammatory and antioxidant effects, keep skin protected and even out the skin tone, reducing signs of spots and wrinkles

With frequent use, skin tone becomes more even, and signs of photo-ageing are reduced thanks to MelaCare™ oil which inhibits the synthesis of melanin

Soothes, softens and repairs the skin, so it's perfect for dry or dehydrated skin
Calendula Instantly calms and plumps skin to keep it looking and feeling tighter, hydrated and beautifully supple.

Fig Juice Fantastic at comforting, calming & cooling the skin for a burst of refreshing hydration.

Geranium Flower Oil Reduces irritation & breakouts, eliminates dead skin cells & slows ageing for youthful looking skin!

Sweet Orange Peel Oil Soothes and rebalances skin, reducing the look of dark under-eye circles and skin blemishes for an even-toned complexion!

Mimosa Bark Extract Known as the 'skin plant', this revives skin and makeup for a more glowing and youthful complexion!
About the brand: Dafna's Skincare
Dafna's Personal Skincare' was created in 2016 by Dafna Shaham, a trained aroma-therapist, naturopath and cosmetics formulator of natural products. The name DAFNA means 'laurel leaves' in Hebrew and is the design of the logo. Each of Dafna's products encompasses an authentic wellness experience inside and out.
A collaboration with scientists led to the anti-ageing line DR2 in 2014, based on the Ayurvedic philosophy. Natural and bioactive ingredients and highly advanced biotechnology make skin look and feel great, with aromatherapeutic principles that act on the limbic system responsible for emotions.
The carefully chosen natural active ingredients (a combination of botanical extracts, essential oils and other advanced biotechnological advanced plant formulations) work together to create effective, healthy and safe-to-use products with visible and clinically proven improvements in skin recovery, texture and delayed signs of ageing.
At Beauty and the Boutique...
We love beauty and animals – so you always know the products we sell are never tested on animals.
I hope you love using this Dafna's Skincare - Active Mist as much as I loved hand-picking it for you!
Need more help?
Should you need more help with your new Dafna's Skincare - Active Mist, be sure to get in touch with us 👉 here, we'd love to hear from you!
Show us your selfie!
We love seeing how you like to use your Dafna's Skincare - Active Mist Send us your selfie wearing your new purchase 👉 here and let us celebrate you!