BATB318_Face Filter Effect Makeup
I've found makeup that mimics a beauty effect filter in real life! 🤩
If you love how your phone can add that perfect filter that blurs imperfections and makes skin appear flawless in pictures – you'll love this tutorial!
Watch my video above 👆 to discover the products that help you achieve a flawless, youthful & glowing complexion - that never looks cakey or overdone! ✨
After you've watched all my expert advice in the video above, find out more about the products I've used below! 👇
Doll 10 T.C.E Foundation is a full-coverage foundation that doesn't feel thick or cakey but instead light, with a buildable texture that melts into your skin.
It gives you an instantly perfected complexion that looks (and feels) younger, fresher, without any filters in sight! 👏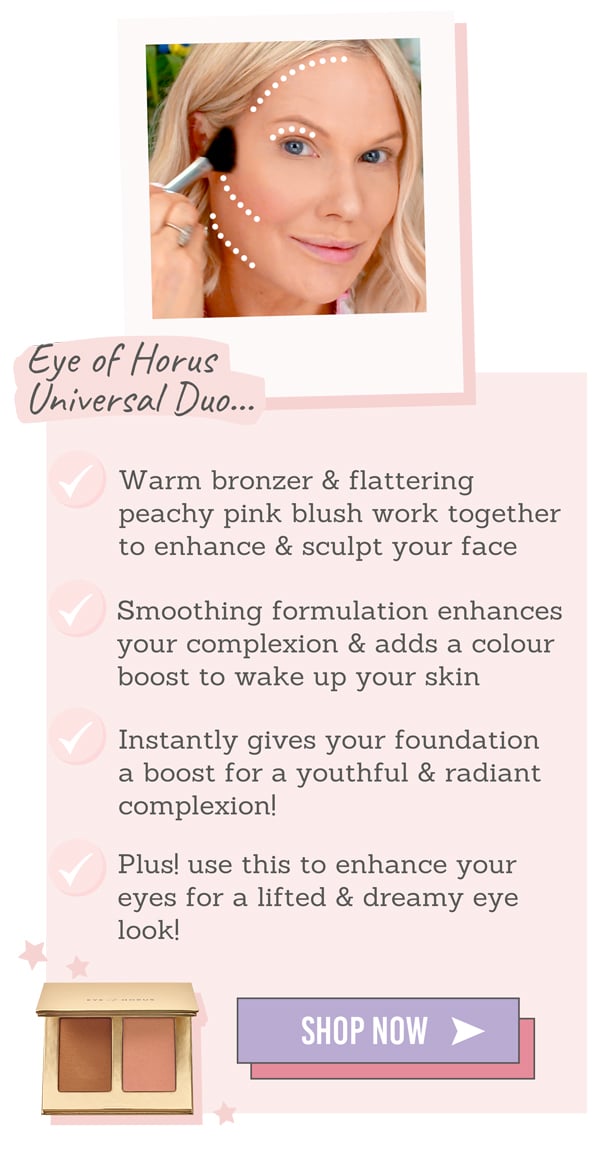 Eye of Horus Universal Duo has a flawless bronzer and uplifting blusher that sculpt and enhance your complexion, transforming dull, lack-lustre skin into glowing and goddess-worthy! 
Sweep the bronzer on your cheeks, forehead and jawline for a soft and subtle sun-kissed hue that contours and sculpts your face.
Then sweep the versatile pink blush gently on your cheeks for freshness & vibrancy. 💖
Together, they create an incredible, luminous complexion that holiday snaps are made of! ☀️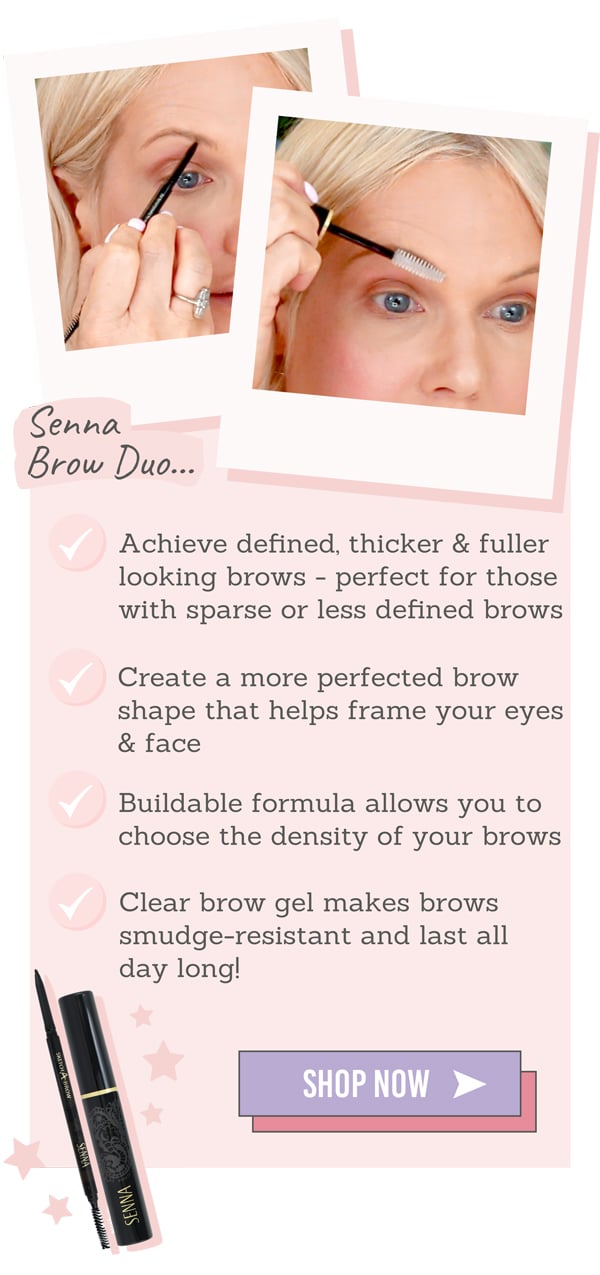 Senna Brow Duo is your best quick-fix solution to the most natural-looking and longer-lasting brows ever!
Fill in or draw brows with the smudge-resistant Sketch-A-Brow Pencil and enhance those brow arches for natural-looking definition & lift.
Then set with the Senna Brow Fix X Clear Gel for long-lasting eyebrows! 🌟
Studio10 I-Lift Longwear Liner is a dual-purpose, double-ended, ultra-creamy eyeliner that will not only solve those tired-looking eyes but will also help define and add depth to your eyes 👁
Plus, it lifts the look of the brow bone and makes the eye sparkle! ✨
The CODE FFL pre-mascara lash plumper upgrades lashes before mascara is applied, giving instant volume, thickness and length - making it one very creative (not to mention quick and easy) way to provide you with the look of false lashes and lash extensions…
…without ever having to apply them! 🎉
The Eye of Horus Goddess Mascara Black is a lash gem that gives you the best of both mascara worlds for enviably long and naturally curled lashes!
Easily glide the product from root to tip thanks to its flexible silicone hourglass brush for those perfectly curled lashes that dry instantly!
Create fuller-looking lips instantly with the Studio 10 Lip Duo!
Two innovative products that are ultra-long lasting, non-drying, super soft and silky multi-tasking duo 💋
Plus, your natural lip colour is amplified, and fine lines are minimised! 💖
I hope you enjoy the stunning results of this flawless filter effect makeup look!
If you haven't already, be sure to watch my video above 👆 to discover the products that give flawless results! 🎬
Plus, scroll down to discover even more tips that I think you'll love below!👇