Earth Harbor - Helios Anti-Pollution Serum
Transform exhausted skin into happy, healthy and replenished once again!
Pollutants don't just exist in heavily congested areas, so they can wreak havoc on your skin even if you don't live in (or near!) a big city.
Skin stressors are in our environment daily, from ultraviolet rays to free radicals in the atmosphere. Unfortunately for us, the very air we breathe causes oxidization which fuels the formation of fine lines, wrinkles and dull, thin and lack-lustre skin.
Help your skin defend against the elements thanks to Earth Harbor's clever liquid gold serum:
Helios Anti-Pollution Serum
Helios Anti-Pollution Serum is the perfect plant-based antidote to skin that needs rejuvenating and refreshing from everyday stressors on the skin, UV rays, environmental pollution, blue-light screens (from our mobile phones!) and free radicals, to name but a few!
So, if your skin craves a little daily helping hand to be its best self, then Helios Anti-Pollution Serum might just soon become your all-time fave skincare hero!
What makes this serum so unique?
The beautiful, velvety texture sinks effortlessly into the skin, leaving it silky soft, hydrated, smooth and glowing.
Not only is this little liquid gold full of ultra-reparative Plant Stem Cells, but it also boasts the youth-preserving Red Algae for a targeted Antioxidant treatment that will fortify and protect your skin at a cellular level.
Let Helios Anti-Pollution Serum gift your skin its thriving barrier function back, and enjoy your new smoother, more youthful and healthier-looking skin.
After wearing it daily (AM & PM) over time, you may soon notice an improvement in tone and texture, with skin looking (and feeling!) much plumper and firmer.
Plus, it's never oily or greasy and can even help to reduce pores and heal pimples and skin irritations for a blemish-free and more even-toned complexion.
Get ready to arm your skin with Helios and secure your beautiful face against harmful external factors…
…all hail Helios, the reigning Queen of anti-pollution serums!
Thanks to these wonder ingredients!
This powerful serum boasts an array of skin-nourishing, organic ingredients that help to rewind, rejuvenate, and normalise skin with anti-pollution, antioxidant and youth-boosting properties for skin that not only looks better on the outside but feels better from the inside, too:
Red Algae Astaxanthin
Red Algae Astaxanthin is a powerful environmental protector; it's said to be even more powerful than Vitamin C!) to help the skin protect itself against environmental damage and free radicals. It helps promote moisture retention and elasticity and boosts skin smoothness, with fine lines and wrinkles appearing less noticeable.
Plant Stem Cells
Plant Stem Cells from apples and argan provides skin with youth-enhancing, anti-pollution and anti-ageing phytonutrients by hyper-enhancing skin's ATP synthesis, cellular metabolism, and radical scavenging properties.
Marula, Grapeseed, Baobab & Borage Seed Oils
These clever skin-loving oils add moisture, vitamins, fatty acids, and antioxidants to your skin to reduce redness while increasing your skin's smoothness, hydration, firmness and plumpness - all without clogging your pores!
Cranberry Seed Oil, Neroli Flower & Sweet Orange 
Cranberry Seed Oil contains one of the highest antioxidants and phytosterols content of any fruit or vegetable oil, with high essential fatty acids and Vitamin E that together becomes the ultimate in nurturing and renewing skin as a natural anti-pollution hero. Neroli Flower and Sweet Orange Oils have powerful youth-preserving and antimicrobial properties that have been used for centuries to help diminish wrinkles and reduce veins and capillaries while generating new growth in skin cells.
Calendula Flower Extract
Calendula Flower Extract has been used for its rejuvenating qualities as far back as Ancient Egypt. It contains properties that help heal skin imperfections, soothe irritations and blemishes, and regulate the skin's natural oil production. It's an immuno-stimulant, is both antiseptic and antimicrobial and helps stimulate collagen production for more youthful, glowing skin.
Pomegranate & Pumpkin Seed Oils 
Pomegranate and Pumpkin Seed Oils contain rare fatty acids with powerful anti-inflammatory properties. They help fight free radicals to keep skin youthful while helping reverse sun damage, creating a more even skin tone and leaving skin feeling supple and healthy.
And that's not all…
… Helios Anti-Pollution Serum has an intoxicating and relaxing natural aroma of neroli or orange blossom, both uplifting and soothing!
Plus, it looks just like a beautiful sunset in a bottle! What's not to love?
Press reset on your skin with this holy-grail youth-boosting super serum!
*Store at room temperature and out of direct sunlight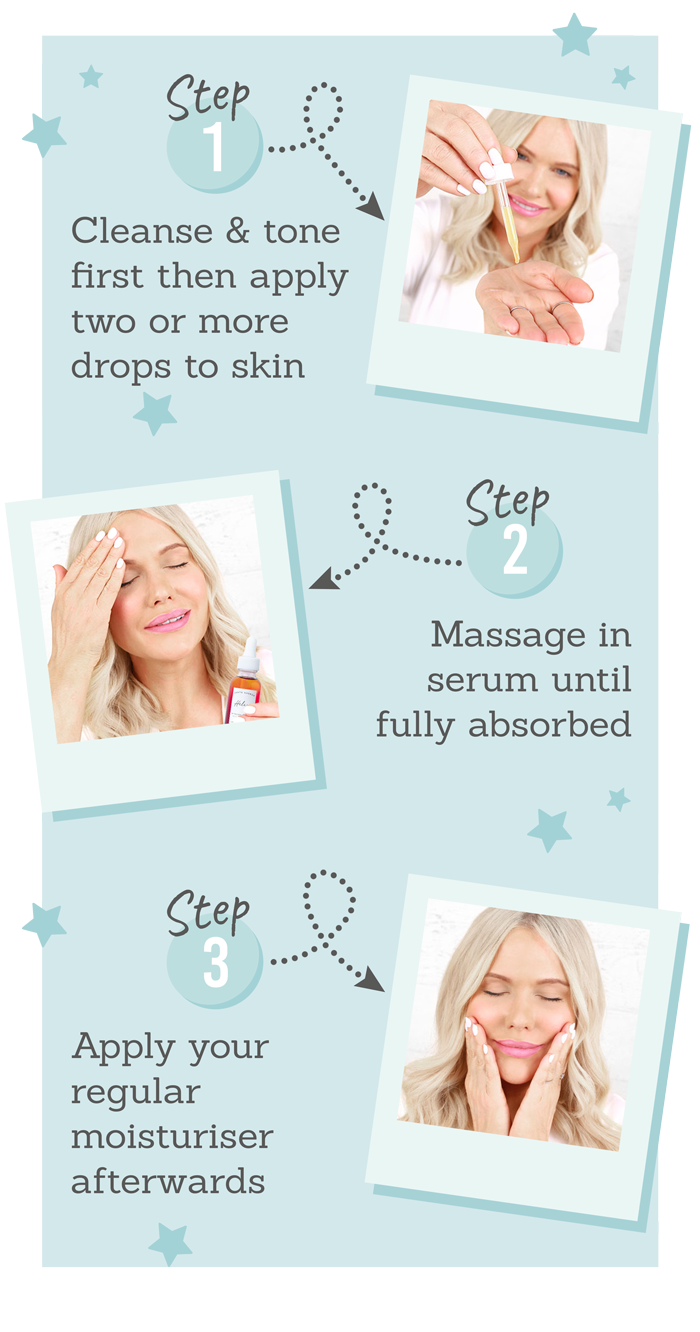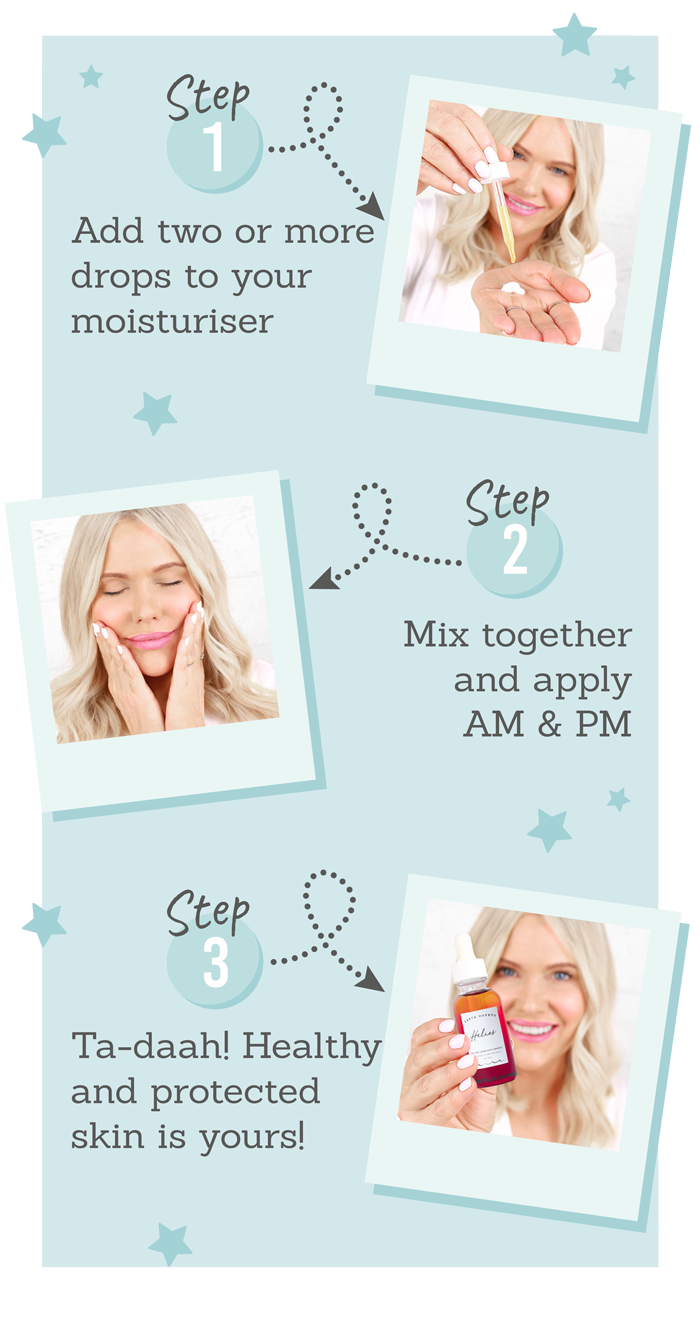 Plant-based super serum to renew & protect your skin!

Antioxidant, anti-inflammatory & anti-microbial properties help defend skin against environmental stressors like pollutants & ultraviolet light

Helps skin combat fine lines and wrinkles for a more youthful-looking complexion

Provides tender aftersun care for skin that needs hydration

Boosts stressed skin with its natural, organic and scientifically-proven ingredients

Gently yet efficiently targets fine lines & wrinkles, heals blemishes & rejuvenate skin for a healthy, plump & youthful appearance

Skin looks smoother, firmer and more glowing when used daily consistently over time

Silky texture & fresh citrus blossom aroma leaves you uplifted & enjoying your new skin ritual
About the brand: Earth Harbor
Earth Harbor is a small family business that delivers incredible ethical products with real results! Founder Ali Perry-Hatch is a certified health scientist and herbalist who developed holistic phyto-technology to bring you safe botanical formulas using only the highest quality, ethically sourced ingredients. With leading-edge biomimicry and a global database of clinically proven botanicals, these award-winning formulas are 100% plant-based and hyper-concentrated for superior results. Earth Harbor are proudly carbon neutral, plastic negative, and partner with 1% For The Planet® to save marine life and solve the global water crisis – making it both good for you and Mother Nature!
At Beauty and the Boutique…
We love Beauty and Animals – so you always know the products we sell are never tested on animals.
I hope you love using this Earth Harbor - Helios Anti-Pollution Serum as much as I loved hand-picking it for you!
Need more help?
Should you need more help with your new Earth Harbor - Helios Anti-Pollution Serum, be sure to get in touch with us 👉 here, we'd love to hear from you!
Show us your selfie!
We love seeing how you like to use your Earth Harbor - Helios Anti-Pollution Serum Send us your selfie wearing your new purchase 👉 here and let us celebrate you!