Bosign - Magnifying Mirror
Magnifying Mirror
Do you want to see absolutely everything?
Then you'll love your new versatile magnifying mirror!
This makeup mirror promises to get up close and personal so even if your eyesight isn't 20/20, this mirror will give your vision the extra boost it needs!
Perfect if you wear glasses and find makeup application a challenge...
…or for anyone who doesn't want to miss a thing!
This trusted mirror is your new guarantee to that perfectly polished look.
Bosign Magnifying Mirror
Let this magnet mounted detachable makeup mirror by Swedish brand Bosign be the answer to all your beautifying-woes!
Its innovative portable design allows you to attach and detach to any room in your house easily and may just soon become to your new must-have makeup application, grooming and styling secret beauty weapon!
What makes this mirror so unique?
The Bosign Magnifying Mirror is lightweight and small (so you can take it anywhere!) yet carries a powerful X 15 magnifying capacity!
So, even if you're a glasses wearer, or just find it tricky to achieve a detailed eye look, thanks to the superb magnifying powers of this little gem, the struggle to achieve that flawless look is officially over!
And suppose you've always dreamt of rocking that ultimate, perfected complexion with seamlessly blended foundation or framing your eyes with beautifully sculpted and shaped brows…?
In that case, the only effort you need is to zoom into your Bosign reflection!
Ideal for tweezing stray hairs, applying precise makeup (like perfecting that winged eyeliner!) or putting in contact lenses in a flash!
And that's not all…
Thanks to the intelligent magnet and suction cup, this 2-piece Magnifying Mirror allows you to simply adjust, rotate, pivot or tilt to your chosen angle and on most flat surfaces - including glass, plastic, metal or even ceramic tiles.
Just leave the Bosign Magnifying Mirror mounted on the wall or move it to another room where the lighting is better – adjusting and detaching it as many times as you want!
And best of all – absolutely zero screws needed for assembly or any tricky instructions,
Hooray!
Precise, powerful and portable, make the Bosign Magnifying Mirror your perfect little beautifying buddy for all your makeup, beauty and grooming needs!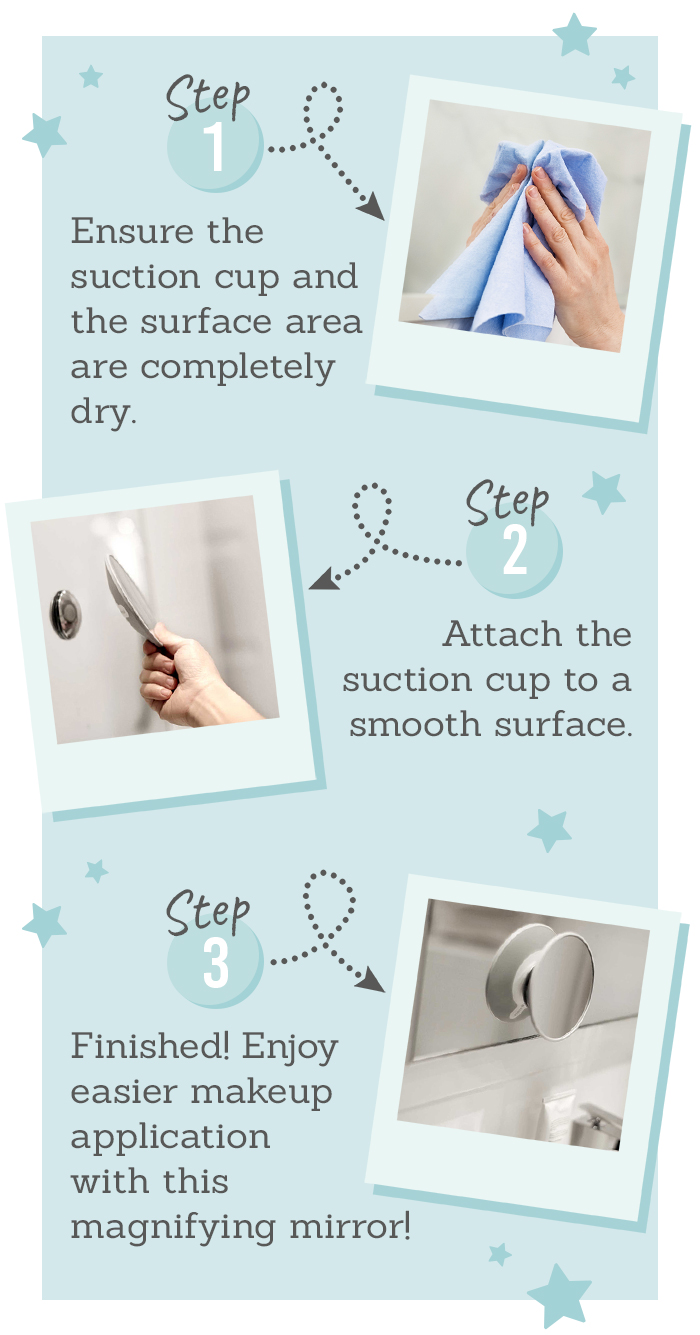 Compact, removable suction-cup mirror with a unique pivoting design that makes it great for makeup application, contact lenses, tweezing and squeezing (!!)

Travel friendly with no wall installation required - it has a built-in magnet that fastens the mirror to any surface so you can attach(and detach) anywhere

15x magnification power mirror that makes seeing everything easier especially handy if you're a glasses or contact lens wearer

Pivots easily on base to achieve your best angle making shaping brows easier, perfecting detailed eye makeup and ensuring all areas of your face and neck are covered for a seamless complexion when applying foundation
About the brand: Bosign
Bosign is an innovative Swedish company producing lifestyle products that make everyday tasks easier to enjoy thanks to modern Scandinavian detail and lasting functionality and creative twists.
They have a passion for designing forward-thinking solutions for contemporary living, improving daily life with simplicity and clean aesthetics.
At Beauty and the Boutique...
We love beauty and animals – so you always know the products we sell are never tested on animals.
I hope you love using this Bosign - Magnifying Mirror as much as I loved hand-picking it for you!
Need more help?
Should you need more help with your new Bosign - Magnifying Mirror, be sure to get in touch with us 👉 here, we'd love to hear from you!
Show us your selfie!
We love seeing how you like to use your Bosign - Magnifying Mirror Send us your selfie wearing your new purchase 👉 here and let us celebrate you!