BATB225_Makeup Artist's Foolproof Beauty Secrets
Have you always felt like you've never really mastered a great makeup look? 💄
In this video above 👆 I'll share with you my makeup artist foolproof beauty secrets that, even if you're a makeup novice, you'll be able to achieve easily!
After you've watched all my expert advice in the video above, find out more about the products I used below! 👇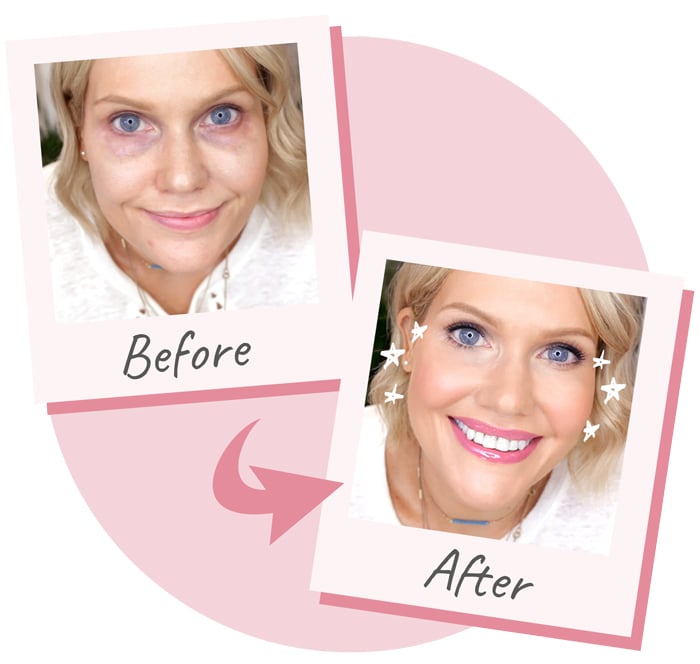 I love the lightweight feel of this foundation - plus it's so easy to apply using just your fingers!
Say hello to a more perfected, even-toned complexion that looks like your skin... only more rested & youthful! ✨
If, like me, you suffer from dark under-eye circles or tired eyes, a little dab of this correcting concealer can do wonders for brightening your eyes & concealing dark circles...
 …giving you a more rested and youthful appearance! ✨
The quickest way to a more rested complexion is a swoosh of the right bronzer!
This Lord & Berry Bronzer is my go-to for a natural-looking, sun-kissed glow all year round!
Gift your cheeks a youthful, bouncy glow… in an instant! ✨
This Studio10 Plumping Blush Glow-plexion adds a natural peachy-pink hue to your cheeks for an instant complexion boost...
...whilst also making your cheekbones look amazing! 
This little beauty is a serious eye-transforming game-changer!
Complete your makeup bag with the Studio10 I-Lift Longwear Liner… and discover the quick fix to that bright, refreshed and sexy eye look in an instant! 👁
The darker end of the pencil beautifully defines your eyes, while the lighter end instantly brightens and lifts eyes! 👏
Lord & Berry Back in Black Mascara is one of the few (rare to find) mascaras that can instantly take you from a natural look to high-volume...
...you can choose your lash volume on any given day!
The tiny wand is able to get to the tiniest of lashes (that you never even knew you had!), giving you beautiful, fluttery lashes that never look clumpy! 💕
I've exclusively put together this Delilah Everyday Lip Duo to give you the ultimate lip look for every occasion!
If you've been searching for a lip look that goes with everything in your wardrobe and instantly makes you look (and feel) super chic – then this could just be your new lip holy grail! 👄
This Lord & Berry Lip Oil Potion is the secret to keeping lips looking young and plump…
…by giving them their daily TLC for a smooth and luscious pout!
I also love to apply this to the tops of my cheekbones for a youthful glow! ✨

If you haven't already, be sure to watch my video above 👆 for all of my foolproof beauty secrets! 🎬
Plus, scroll down to discover even more tips that I think you'll love below!👇