Rejuvenated - H30 Night Repair
H30 Night Repair
Sorry to spread the news… but applying anti-ageing skincare can only do so much!
If you want to hold off ageing and repair damaged skin, then age-defying skincare needs to also come from the inside.
Say 'hello' (…or better still 'goodnight'!) to your brand new H30 Night Repair by Rejuvenated!
Fix Skin in Your Sleep
H30 Night Repair contains a powerful blend of ingredients that strengthen and hydrate your skin alongside an effective combination of antioxidants, hyaluronic acid, vitamins and ionic minerals that all help to enhance your skin whilst you sleep.
Working in synergy with your circadian rhythm for a restful slumber, these restorative ingredients ensure skin is regenerated and hydrated upon waking.
In fact, H30 Night Repair contains a combination of unique 100% active natural ingredients to feed, nourish and nutritionally support skin cells!
This is beauty sleep!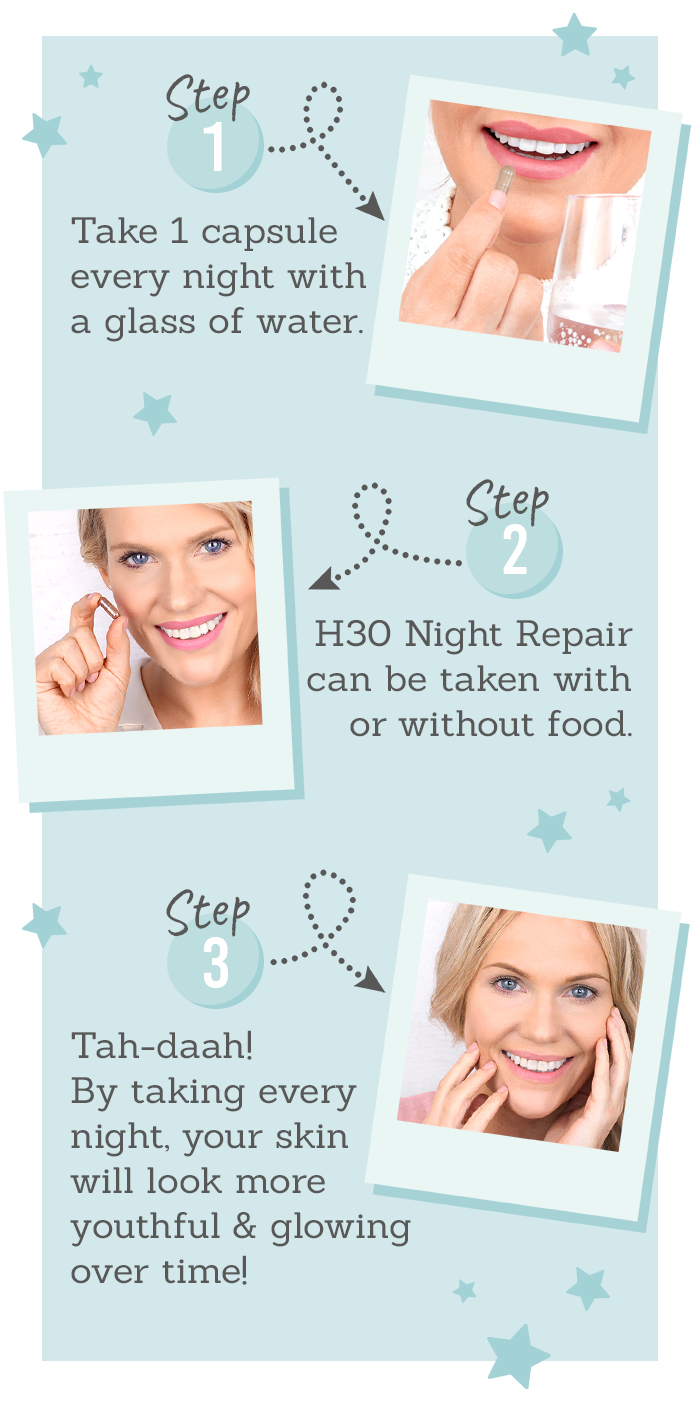 One tablet provides hydration from minerals and ions thanks to the high active ionic electrolyte minerals that perform a critical role in almost every metabolic reaction in the body; potassium, magnesium, calcium and sodium plus over seventy other trace minerals in their readily absorbable ionic form. This is great for the skin because the minerals allow our skin to retain water to support hydration, promoting healthy, luminous-looking skin with hydrated cells operating at their highest level, so your complexion looks clear, glowy, and healthy. In fact, magnesium and calcium work together to encourage relaxation for a good night's sleep, so you wake up feeling refreshed and renewed!

Hyaluronic Acid - ingredients in these hypotonic hydration capsules blend potent herbs and antioxidants with Hyaluronic Acid that offer high hydration levels while you sleep and nutritional support for maintaining healthy skin. Because Hyaluronic Acid can hold up to 1,000 times its weight in water, it gives your skin a fresh glow and by helping boost your skin's moisture which promotes plumpness, supple skin and reduces the appearance of fine lines and wrinkles

Astaxanthin - anti-inflammatory, unique and naturally occurring carotenoid found in sea algae that's an effective antioxidant that helps mop-up environmental damage to the skin for healthier-looking skin by smoothing wrinkles, making age spots look smaller and helping to maintain skin moisture

Astragalus Root – a herbal medicine used historically for health and feelings of well-being with its antibacterial including immune-boosting, anti-ageing and anti-inflammatory effects

Marine Pine Bark - contains over forty antioxidants & acts as an anti-inflammatory that binds with collagen to protect the skin to help slow down the ageing process. It boosts Hyaluronic Acid production (which helps increase skin elasticity and hydration) with visible signs of ageing (and age spots) reduced, plus it helps to fight toxins and plumps skin from inside to reverse signs of ageing and minimise wrinkles already present

Grape Seed Extract - naturally occurring antioxidant and anti-inflammatory with many times the power of Vitamin C and E that helps skin look toned and even with less redness. Because it increases cell turnover and collagen synthesis (helping skin stay healthy and elastic) when used regularly, it can even out your skin tone with less redness

Vitamin A, B, C, D & E – a vitamin complex boost that rejuvenates, protects and provides antioxidants to shield against oxidative stress and free radical damage from UV exposure that contributes to the formation of collagen (which can thicken the dermis to reduce fine lines resulting in firmer, more youthful-looking skin). By interrupting the process that breaks down collagen, these vitamins nourish and protect your skin, giving it a healthy, radiant glow and helping to maintain elasticity and firmness in the skin for a youthful-looking complexion

100% natural, from traceable and sustainable farming methods that are free from carbohydrates, artificial colours and sweeteners, gluten, dairy, soy, preservatives, yeast, starch, fat and cholesterol, making them suitable for diabetics and vegans
About the brand: Rejuvenated
Rejuvenated was founded by Kathryn Danzey, who has 40 years of experience within the beauty industry. Known for her groundbreaking innovative concepts, Kathryn is a big believer in beauty from within.
The Rejuvenated products are 100% natural with traceable and ethically sourced ingredients that bring together exciting, highly effective products which can really make a difference to how you look and feel.
The team of nutritionists, scientists and doctors all work together to provide easy to use daily formulations with fantastic results.
At Beauty and the Boutique...
We love beauty and animals – so you always know the products we sell are never tested on animals.
I hope you love using this Rejuvenated - H30 Night Repair as much as I loved hand-picking it for you!
Need more help?
Should you need more help with your new Rejuvenated - H30 Night Repair, be sure to get in touch with us 👉 here, we'd love to hear from you!
Show us your selfie!
We love seeing how you like to use your Rejuvenated - H30 Night Repair Send us your selfie wearing your new purchase 👉 here and let us celebrate you!