Life Armour - Drops of Balance
Is your life overly busy – juggling a thousand (and one!) different things?
Now, you can feel as though you gain more physical and emotional balance with your very own handbag herbal remedy!
If you could use a little helping hand to slow down the effects of modern life and unwind, then this clever health tonic promises to work in harmony with both your mind and body...
…naturally!
What makes 'Drops of Balance' so unique?
Take the edge off challenging times (without any drowsiness!) with just a few drops of the Award-Winning life armour's® 'Drops of Balance' – a 100% natural supplement developed by experts to help you unwind, rebalance, reboot and restore!
Carry the handy little life armour® 'Drops of Balance' bottle whenever you're on the move for the comfort of having your secret little helper to get through those hectic, stressful days with greater ease, patience and courage.
Or keep it as your ultimate deskside, bedside and handbag confidence-boosting, unwinding essential!
Not only do they get to work fast, but these tiny Drops of Balance reassure and help you find your inner calm when you need it most!
Continue your day with clarity, confidence and comfort with pure, natural and active ingredients that work - and taste yummy too!
Treat yourself to a moment of calm – the natural way!
And that's not all…
This vegan and alcohol-free natural blended tincture adapt to your body's needs with a clever mix of concentrated active ingredients such as:
Shatavari Root
Used readily in Ayurveda as an immunity booster, Shatavari Root (or wild asparagus!) is an adaptogenic herb that helps create more balance within - specifically in supporting healthy hormone balance and female reproductive health (though everyone can benefit from taking it). An adaptogen gives your body what it needs to regain balance (homeostasis).
Shatavari (the "queen of herbs") promotes love and devotion and helps you process physical, mental and emotional stresses. Women traditionally take this supplement all their lives, from menstruation to menopause, thanks to its calming, rejuvenating, and nourishing effect. Used in Ayurvedic medicine for centuries as a general health tonic, it calms nerves, fights inflammation, and eases stomach issues.
Shatavari contains anti-ulcer, antioxidant, antidiarrhoeal, antidiabetic, and immunomodulatory properties making it helpful during PMS or hormonal imbalances. Mood swings are due to a drop in oestrogen, and when oestrogen levels dip, so does serotonin – leading to irritability, anxiety, and depression. Shatavari is a natural remedy that reduces stress, mood swings and depression by interacting with serotonin and gamma-aminobutyric acid (GABA) systems to release feel-good hormones that boost your mood!
Ashwagandha
An ancient medicinal herb with multiple health benefits, Ashwagandha is a superstar herb that helps ease many hormone problems in women. It works as a powerful anti-stress, antioxidant and adaptogenic herb with exceptional hormone-balancing properties.
Lemon Balm Leaf
Lemon Balm is a beautiful herb dating back to the Middle Ages and known to soothe stress, cognitive performance, mood and sleep symptoms. Helping you relax positively regulates sleep, which leads to a more stable emotional wellbeing, boosted mood and increased sense of calmness.
Plus, Lemon Balm is also thought to increase the mood regulator levels in the brain reducing restlessness and anxiety.
Let this calming herb look after your brain health and manage stress and anxiety in your daily life!
Schisandra Berry
Schisandra Berry is used in traditional Chinese medicine to positively impact the 'Qi' (life force or energy) by improving concentration, coordination, endurance, focus, and mental fatigue.
This super berry is a highly nutritious, balancing and ultra-protecting beauty tonic!
Schisandra helps manage stress by naturally balancing hormones and improving our ability to handle physical and mental challenges. It does this by supporting the adrenal function, being an adaptogen, and even having natural antidepressant effects - even when the brain is tired or stressed.
Adaptogens naturally increase the body's resistance to anxiety, environmental stress, toxins, emotional trauma, mental illnesses…and more! Schisandra helps nurture the adrenal glands, which naturally lowers stress hormones (like cortisol), linked with enhanced cognitive capabilities and metabolic health for an overall more balanced mind and body.
Not only does it calm your sense, but it also balances your overall skin tone, protecting against environmental aggressors for that radiant, glowing complexion!
Peppermint Syrup
Peppermint Oil can relieve stress, anxiety, depression and mental exhaustion thanks to its naturally refreshing properties. Mint contains adaptogenic properties (adaptogens help balance the body) that help regulate cortisol levels to boost natural stress resilience. The refreshing mint flavour brings instant calm to your body, relieving stress and rejuvenating the mind.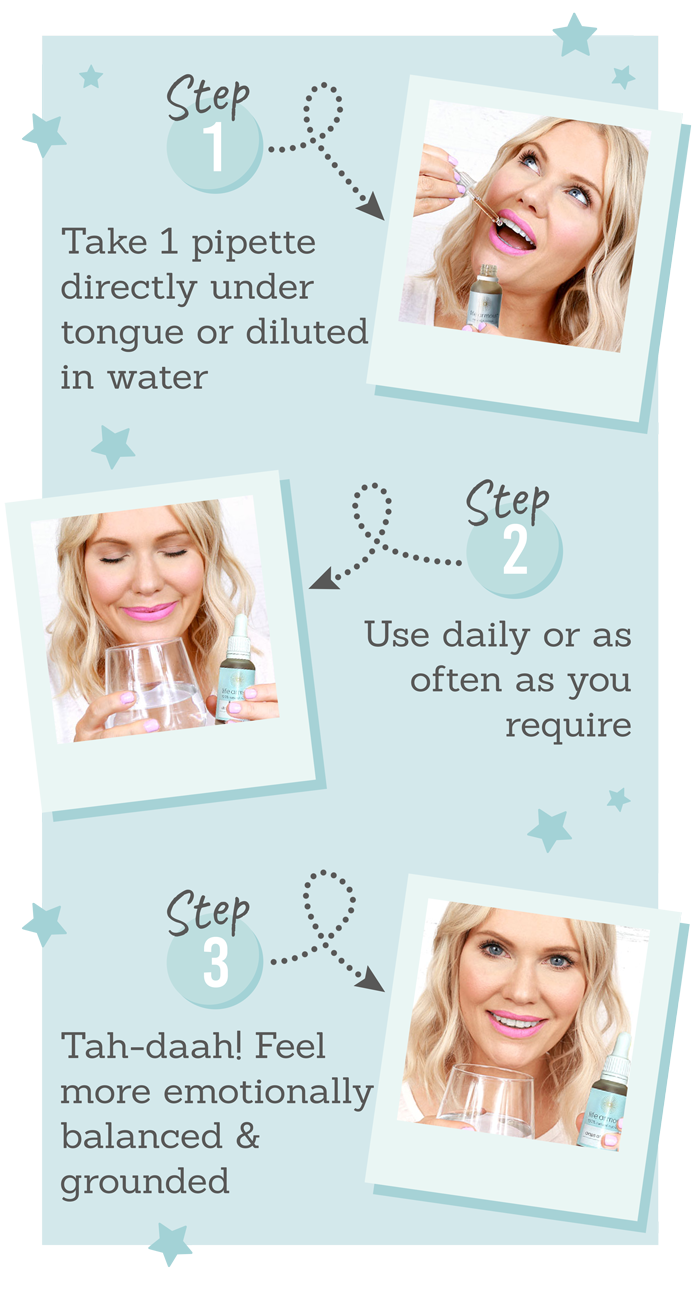 Contains a blend of concentrated active natural ingredients to help you find more balance in your daily life

Portable and convenient pipette bottle so you can carry it with you on the move and use it as needed

Can be taken daily as often as needed to help destress and find more calm

Pleasant taste thanks to the natural blend of refreshing peppermint syrup with vegetable glycerine, Shatavari Root, Ashwagandha, Lemon Balm Leaf, Schisandra Berry

Feel more at peace within yourself and enjoy healthier hormonal balance and female reproductive health with the support of Ayurvedic Shatavari Root

Experience a calmer, less stressful environment due to the antioxidant, adaptogenic and hormone balancing Ashwagandha herb

Feel brighter, calmer and more relaxed with mood-boosting Lemon Balm Leaf

Regain your energy and balance stress levels thanks to Schisandra Berry, which helps your body regulate the adrenal gland

Naturally calm stress levels, anxiety, depression and mental exhaustion with adaptogenic and refreshing Peppermint Syrup
About the brand: life armour®
life armour's® founder Marishka Dunlop's passion was to create a natural supplement that nourished and protected our bodies from daily stressors from within. Designed for women to live life to the fullest, with positivity, good health and endless possibilities, life armour® consists of 100% natural ingredients that work in harmony with your body to restore vitality and health, reducing stress and anxiety. 
Developed in the UK by a team of leading experts and medical herbalists to create a range you can trust, life armour® is a collaboration between real women, expert scientists and ethical manufacturers. Natural supplements that lead to better health and improved wellness look no further than life armour®.
At Beauty and the Boutique…
We love beauty and animals – so you always know the products we sell are never tested on animals.
I hope you love using this Life Armour - Drops of Balance as much as I loved hand-picking it for you!
Need more help?
Should you need more help with your new Life Armour - Drops of Balance, be sure to get in touch with us 👉 here, we'd love to hear from you!
Show us your selfie!
We love seeing how you like to use your Life Armour - Drops of Balance Send us your selfie wearing your new purchase 👉 here and let us celebrate you!