Radical Skincare - Multi-Repair Hand & Nail Creme
Multi-Repair Hand & Nail Creme
Keep your hands looking as youthful as possible every day with your brand new Radical Skincare Multi-Repair Hand & Nail Creme!
This anti-ageing powerhouse will protect your skin and actively get to work (whilst also smelling lovely!).
High-five for our hands finally getting the attention they deserve!
And that's not all…
Forget greasy creams that leave your hands in a slippery mess – Radical Skincare's Hand & Nail Repair is a silky dream that works overtime to give you noticeably smoother, softer, brighter and more youthful-looking hands!
Prepare to be totally smitten with your brand-new, baby-soft hands!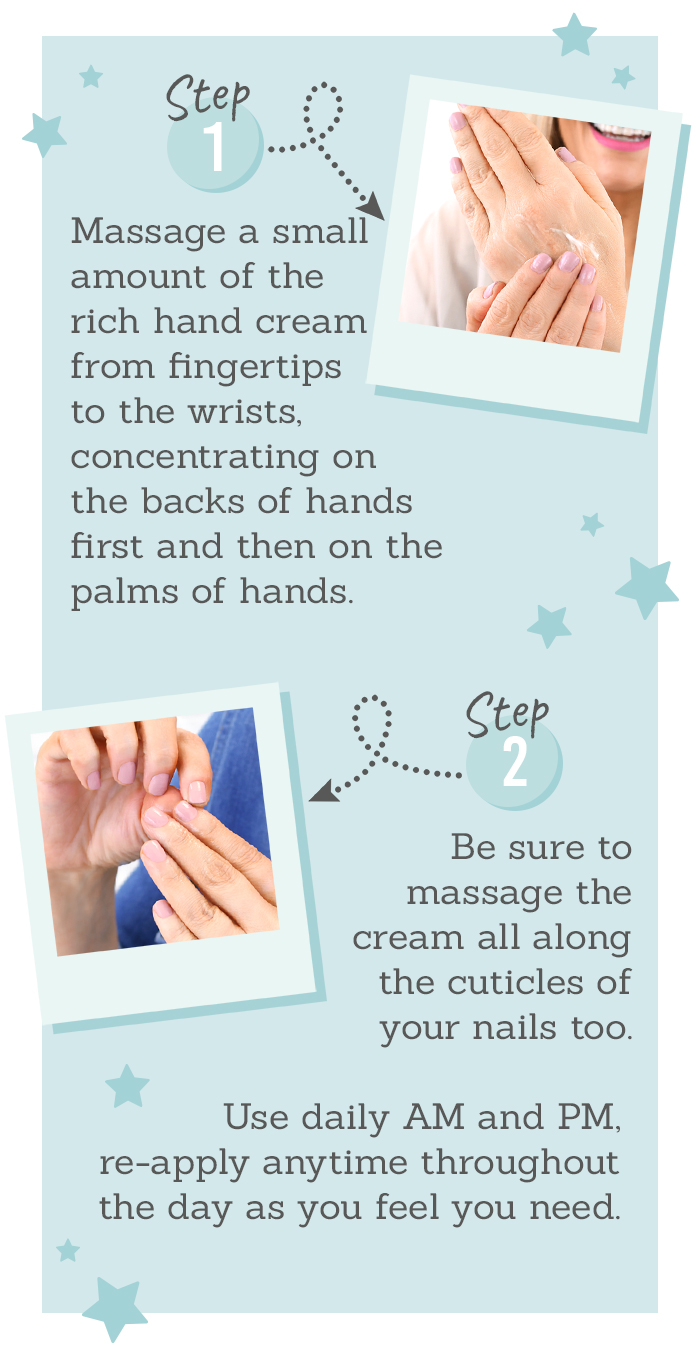 Hands feel softer, nourished, and hydrated thanks to High-Performance Active Ingredients

Hyaluronic Acid - helps plump out the look of wrinkles and helps skin stay more hydrated

Radical Trylacel™ technology - re-stimulates the synthesis of essential collagen and elastin fibres to improve skin firmness and elasticity, meaning signs of ageing are less visible, and it protects against free-radicals which can speed-up the ageing effects on skin

Hexylresorcinol - visibly reduces the appearance of age spots/melasma

Raspberry extract - regulates melanin synthesis, helping to prevent age spots /melasma from forming

Shea Butter - a skin-loving antimicrobial that contains healing and moisturising properties to help reduce inflammation, soothe and calm the skin

Myrrh extract - supports the strength of the nails and conditions cuticles while calming dry, cracked skin and irritations

Rice extract - absorbs excess secretions by sweaty palm and acts as an anti-perspiration agent
About the brand: Radical Skincare
The Founders of Radical Skincare, Liz and Rachel, were exposed to the science of skin rejuvenation at an early age as daughters of a world-renowned Professor of Plastic Surgery.
After 15 years in the LA skincare industry and inspired by their struggles with rosacea and ageing skin, they decided to form their own business…
…Radical Skincare!
With the help of their highly skilled chemists and scientists, they dedicated years of research to formulating advanced skincare products that protect and rejuvenate all skin types with their patented antioxidant rich solutions containing Trylacel™ technology.
At Beauty and the Boutique...
We love beauty and animals – so you always know the products we sell are never tested on animals.
I hope you love using this Radical Skincare - Multi-Repair Hand & Nail Creme as much as I loved hand-picking it for you!
Need more help?
Should you need more help with your new Radical Skincare - Multi-Repair Hand & Nail Creme, be sure to get in touch with us 👉 here, we'd love to hear from you!
Show us your selfie!
We love seeing how you like to use your Radical Skincare - Multi-Repair Hand & Nail Creme Send us your selfie wearing your new purchase 👉 here and let us celebrate you!