Senna - Moisture Drop Gel Primer
Moisture Drop Gel Primer
Get ready for a primer like no other!
Senna Moisture Drop Gel Primer
Our skin needs to first look - and feel - hydrated for our foundation and face makeup to look glow-worthy!
With your Senna Cosmetic's Moisture Drop Gel Primer you can create the perfect canvas for your makeup, whilst boosting and fixing dry skin!
This primer is genius stuff!
What makes it unique?
Senna Moisture Drop Gel Primer releases hydration droplets onto the skin whilst smoothing and priming your complexion… ready for your foundation application!
The lightweight gel formula quickly absorbs and sinks into the skin, which helps fix and prevent further dehydration.
Plus, the formula helps fill in lines and pores and injects new plumpness to the skin!
And that's not all…
After applying the Moisture Drop Gel Primer, your foundation will blend like a dream, and you'll enjoy the look (and feel!) of baby-soft skin thanks to natural botanicals and Argan oil.
A genuine one-of-a-kind primer, unlike any other I've tried as a makeup artist!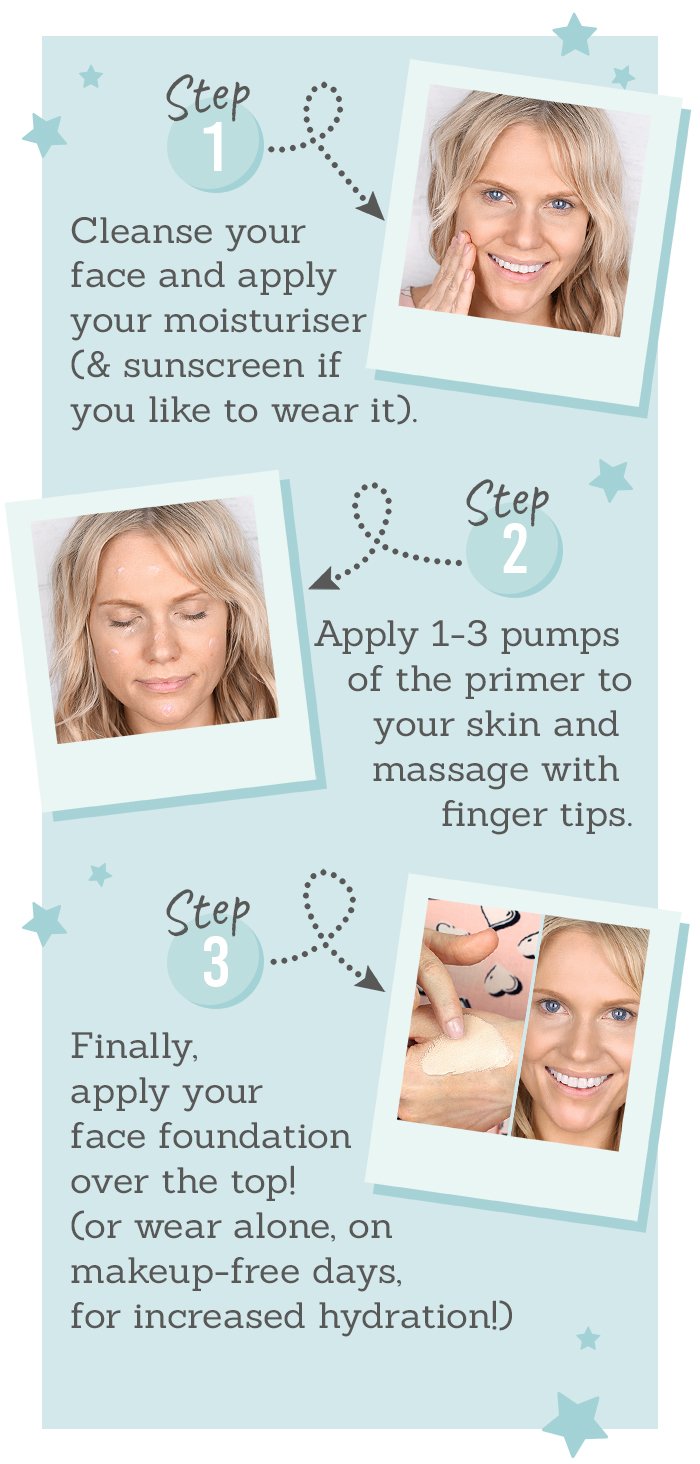 Creates the perfect base for the foundation while adding moisture to boost skin

Lightweight gel formula that's easy to apply and absorbs quickly into skin

Releases encapsulated hydration droplets onto skin for smoother and younger-looking skin

Provides a protective moisture barrier helping to prevent dehydration which plumps the skin and helps fill in lines and pores for a more youthful appearance

Primes the skin so that makeup stays on for longer

Pores tighten thanks to natural botanicals, and skin becomes soft, supple and radiant thanks to Argan Oil
About the brand: Senna
Senna was created in 1976 by Emmy nominated artist Eugenia Weston, a pioneer in the cosmetics industry for over three decades.
It was the first professional makeup artist line to introduce more natural, wearable colours that all women could wear – every day.
Award-winning, Senna Cosmetics has become a favourite among Hollywood film and television makeup pros, beauty editors, A-list celebrities and women like you and I.
Known for its amazing skin perfecting formulations, richly pigmented colours and innovative mineral makeup, Senna Cosmetics believe:
"Every woman has a unique beauty imprint, and makeup has an almost magical power to enhance, transform and express that beauty."
At Beauty and the Boutique...
We love beauty and animals – so you always know the products we sell are never tested on animals.
I hope you love using this Senna - Moisture Drop Gel Primer as much as I loved hand-picking it for you!
Need more help?
Should you need more help with your new Senna - Moisture Drop Gel Primer, be sure to get in touch with us 👉 here, we'd love to hear from you!
Show us your selfie!
We love seeing how you like to use your Senna - Moisture Drop Gel Primer Send us your selfie wearing your new purchase 👉 here and let us celebrate you!