YuYu - Luxury Fleece Hot Water Bottle
If you want one product that truly is a game-changer…
…then this.is.it.
Imagine being able to carry that warm fuzzy feeling and soothing pain relief a hot water bottle provides… even when you're on the move?
The answer?
YuYu Luxury Fleece Hot Water Bottle
…and it's totally different from ANY other hot water bottle around!
Why?
Because the clever slim shape fits – and ties - along your body!
So, you can snuggly wrap it around arms, legs, stomach or shoulders – wherever there is pain, the YuYu will target it with ease, letting you go about your day in comfort! 
Such a creative concept.
You can't help but be impressed with The YuYu Luxury Fleece Hot Water Bottle and its promise to keep you comforted, warm and snuggled but also provides mobile pain relief through heat therapy...
...the natural way, day or night.
What makes the YuYu unique?
The YuYu is the perfect companion allowing your muscles to relax and offering instant relief if you suffer from a chronic condition or have headaches, joint pains, or period pains.
It also helps soothe away any pains, aches and cramps during pregnancy.
And because you can tie the YuYu around yourself with the clever straps, it lets you reach tricky, painful areas (like around your upper shoulders) for immediate relief!
Super easy to use and carry, this is a product you will be grateful to have.
Plus, you can now choose between two gorgeous designs - Dusty Pink or Luxury Grey!
The beauty of the YuYu lies in the inventive bottle shape, and its straps – long and covered in the softest fleece make it perfect for warming your bed or wrapping around yourself (or laying lengthways down your body).
The bumps on the surface of the bottle trap air within the fabric, making it retain its heat for ages too.
Are you ready to elevate your hot water bottle experience?
And that's not all…
Why not use the YuYu around your neck (with the strap) when sitting in front of the computer for long hours?
Or tie it around your lower back and tummy during that time of the month, allowing you to continue what you need to both in the office and at home!
Not only to be used for hot water, why not try using it with ice water to cool your body down when it's hot outside, after an intense workout or help ease muscle swelling or inflammation in your joints?
Plus, the YuYu Luxury Fleece Hot Water Bottle can even help combat Global Warming by turning down the heating a few degrees and using your YuYu to keep you nice and toasty instead!
In fact, the clever design requires only as much hot water as the traditional square-shaped hot water bottles!
Hands-free: this will be your new, mobile, pain-relieving, energy-saving and super comforting HOT (and cool!) BFF Hero!!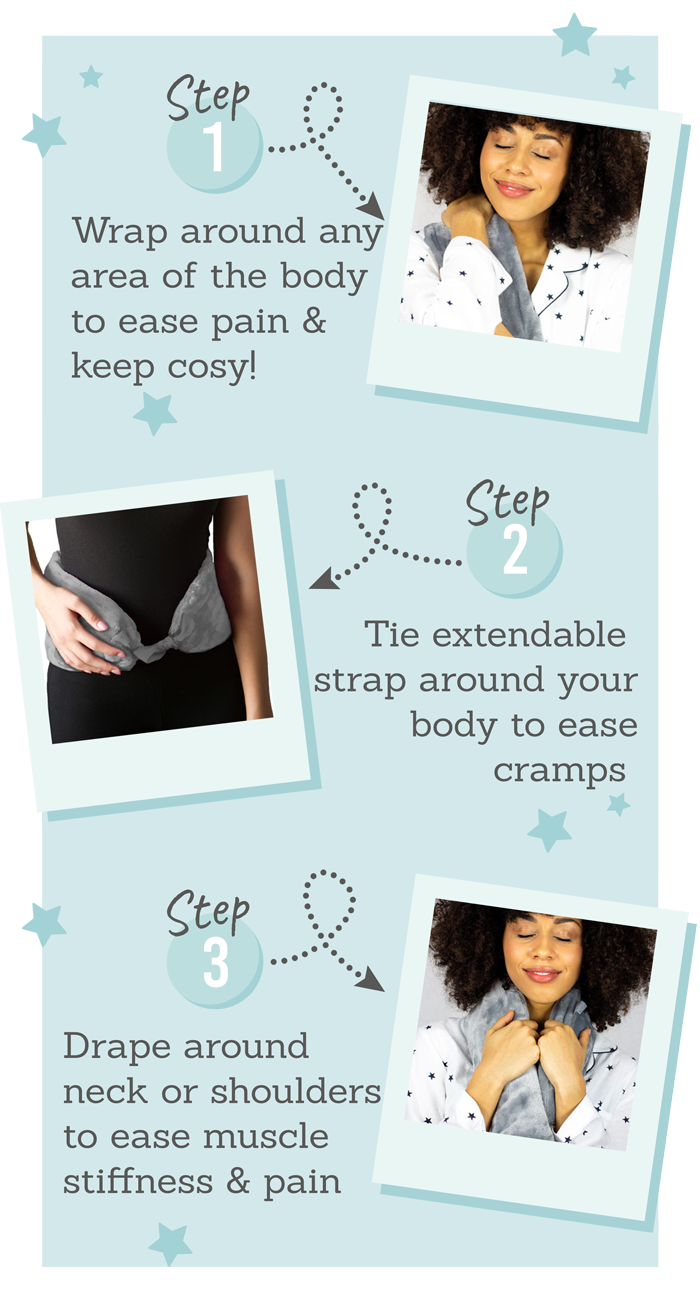 Luxurious, super-soft and attractive fleece cover that's snuggly, cosy and stylish and available in two shades: Dusty Pink or Luxury Grey

Long, slim and flexible shape makes it easy to position just where you need it most to soothe and comfort!

Keeps more areas of your body warm at the same time

Also, comforting across lower back and abdomen to help soothe sore muscles, back pain and menstrual cramps

Extendable strap feature to tie around the body, providing hands-free heat application

British Standard certificated and vigorously tested for the safety of customers

Highest quality, eco-friendly, biodegradable, flexible, soft rubber bottle sourced from Sri Lanka

100% Polyester fleece cover for a luxuriously soft and comfortable hot water bottle

Keep warm & cosy with your hot water bottle during colder months & go greener by turning down your heating!

Give yourself a full-body cool down on hot days and nights by applying your YuYu around your neck or arms to cool your internal body temperature down after an intense work-out

Help ease muscle swelling or inflammation in your joints through targeted ice therapy thanks to the YuYu insulated material
SIZE: 
81cm x 13cm (inner hot water bottle measures 80cm x 11cm)
32 x 5 inches (inner hot water bottle measures 31.5 x 4 inches )
Award-Winning Product
Don't just take our word for it – check out this outstanding award that YuYu has achieved:
Gift of the Year 2014 - Finalist
About the brand: YuYu
Richard Yu is the founder of the YuYu, launched in 2012 after realising that the traditional (600year old!) hot water bottle needed a bit of a modern upgrade!  Making it far more practical and tons more luxurious feeling, he spent many years redesigning, researching and planning the YuYu into what it is today!
YuYu has launched within several five-star hotels, such as the Mandarin Oriental Hyde Park and Claridges, with bespoke designed covers for each hotel as a luxury gift for VIP guests, plus adding it as an innovative bedroom accessory in their prestigious suites.
At Beauty and the Boutique…
We love beauty and animals – so you always know the products we sell are never tested on animals.
I hope you love using this YuYu - Luxury Fleece Hot Water Bottle as much as I loved hand-picking it for you!
Need more help?
Should you need more help with your new YuYu - Luxury Fleece Hot Water Bottle, be sure to get in touch with us 👉 here, we'd love to hear from you!
Show us your selfie!
We love seeing how you like to use your YuYu - Luxury Fleece Hot Water Bottle Send us your selfie wearing your new purchase 👉 here and let us celebrate you!