Life Armour - Super Me+
Super Me+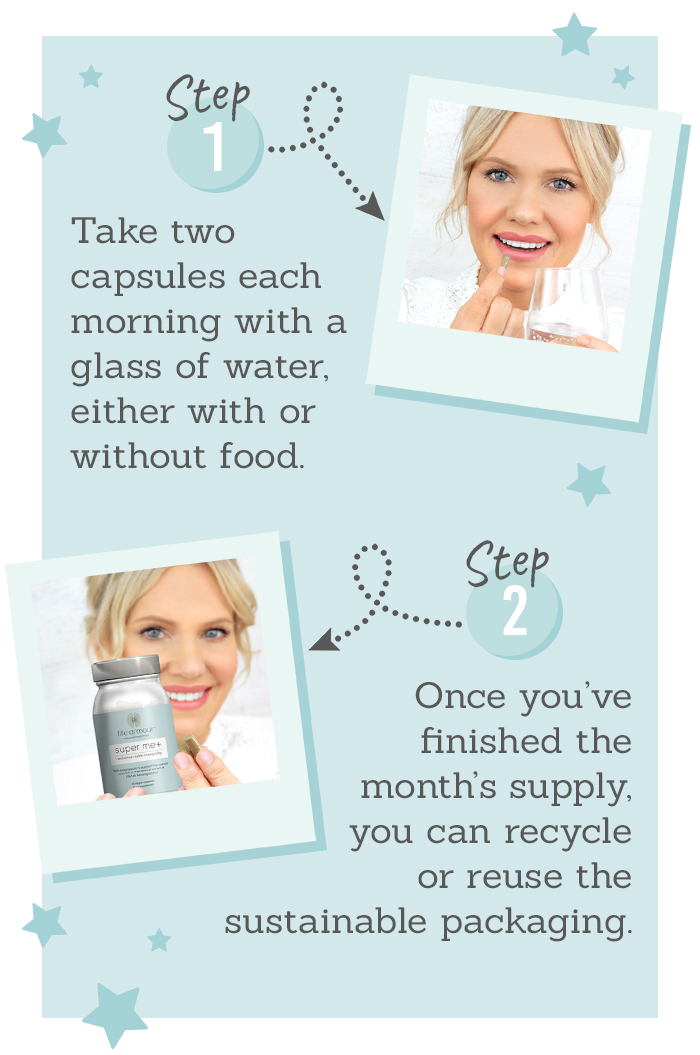 How do you really feel on a daily basis…?
Stressed…overwhelmed…anxious?
Many of us find our daily routines leave us precious little time for deep focus or relaxation.
None of us are immune to modern life pressures, often too busy to stop and think about how this can affect our wellbeing.
Juggling work, social commitments, parenthood, housework, commute…the list can feel extensive and exhaustive!
If you feel tired, stressed, drained or 'on edge' because of long days and little time to catch your breath in between, this supplement will help boost (and calm!) you on even the most challenging days:
Life Armour® 'Super Me+'…
…to help keep you grounded and on top of any daily stressors - the natural way!
'Super Me+' is a supplement that contains 100% active and effective, natural ingredients and might just be the type of positive support that you need in your life.
They help your body feel comforted and give your mind time to think calmly and clearly when things feel foggy.
We have all become experts at multi-tasking – racing from one thing to another - which isn't necessarily good for either our mind or bodies.
What makes 'Super Me+' so unique?
Life Armour® 'Super Me' helps reduce the effects of physical, mental, and emotional stress on the body and ease any worries – perfect for an overactive mind.
Plus, these plant-based supplements are mood-boosting and focus based to enable you to take charge of your day and life…
…and help you feel empowered again!
Daily routines, multiple chores and looming deadlines may all be part of our daily lives, but 'Super Me+' helps calm down stressful times, giving your health and wellbeing a push in the right direction - without the need for artificial or chemical ingredients.
And that's not all…
Perfectly formulated with natural plant-based ingredients, each 'Super Me+' capsule features Ionic Magnesium, Rhodiola Rosea, Ashwagandha, Passionflower and Alfalfa …all-natural, active ingredients that will help your body with the following benefits:
Ionic Magnesium Ionic magnesium helps regulate neurotransmitters, which send messages throughout your brain and nervous system. There may be a link between depression and magnesium deficiency. Because magnesium acts as the gatekeeper for NMDA receptors (involved in healthy brain development, memory and learning), feelings of fear and panic are thought to be reduced with greater magnesium intake.

Ashwagandha KSM-66 An ancient medicinal herb with multiple health benefits, the Ashwagandha KSM66 (the highest quality Ashwagandha available) is clinically proven to reduce stress and anxiety, helping fight depression amongst many other benefits.

Rhodiola Rosea Used in traditional medicine for many years (especially in the cold, mountainous areas such as Russia and Scandinavia), this herb helps balance cortisol levels, calming the nervous system, and treating things such as anxiety, depression, and fatigue.

Passionflower Passionflower is a variety of exotic vine flowers with curly purple or blue tentacle-like petals used since the 16th century for medicinal purposes. Believed to have many mood-boosting benefits, it also relieves anxiety.

Alfalfa Alfalfa is a flowering plant in the pea family (part of the legume family). This potent alkalizing agent contains a high content of antioxidants, vitamins C and K, copper, folate and magnesium, making it a very beneficial all-arounder in supporting the normal function of our nervous system for a calm and balanced feeling.
Start enjoying more moments of calmness…and fewer moments of panic with these little life-grounding helpers!
Supercharge your life with Life Armour® 'Super Me+' and feel like the 'Super Woman' you are!
Natural supplements that help reduce stress calm an overactive mind and decrease feelings of anxiety while boosting the mood and enhancing focus

Helps in times of physical, mental and emotional stresses or worries

Vegetarian cellulose soft capsule shell making it easier to swallow (without taste or smell)

Products are 100% active, effective and completely natural to help balance your mood the natural way

Sustainable with packaging materials that can be recycled and beautifully designed so you can display them anywhere

Two capsules per day provide the perfect balance to help support your stress levels the natural way

Rhodiola Rosea (114mg) - helps balance cortisol levels, calming the nervous system

Ashwagandha KSM-66 (230mg) – highest quality available and clinically proven to help reduce stress and anxiety amongst other benefits

Passionflower (116mg) - relieves anxiety

Ionic Magnesium (322mg) - helps regulate neurotransmitters, which send messages throughout your brain and nervous system

Alfalfa (138mg) – supports the normal function of the nervous system
About the brand: Life Armour®
Life Armour's® founder Marishka Dunlop's passion was to create a natural supplement that nourished and protected our bodies from daily stressors from within.
Designed for women to live life to the fullest, with positivity, good health and endless possibilities, Life Armour® consists of 100% natural ingredients that work in harmony with your body to restore vitality and health, reducing the effects of stress and anxiety.
Developed in the UK by a team of leading experts and medical herbalists to create a range you can trust, Life Armour® is a collaboration between real women, expert scientists and ethical manufacturers.
For natural supplements that lead to better health and improved wellness, look no further than Life Armour®.
At Beauty and the Boutique...
We love beauty and animals – so you always know the products we sell are never tested on animals.
I hope you love using this Life Armour - Super Me+ as much as I loved hand-picking it for you!
Need more help?
Should you need more help with your new Life Armour - Super Me+, be sure to get in touch with us 👉 here, we'd love to hear from you!
Show us your selfie!
We love seeing how you like to use your Life Armour - Super Me+ Send us your selfie wearing your new purchase 👉 here and let us celebrate you!