Doll 10 - OverARCHiever Multi-dimensional Volume Powder
Do you want to know the secret to achieving full, youthful and more defined brows…
…with a matching retouch to your roots too?
If you have sparse, ageing brows, a thinning hairline, or need regular costly salon regrowth top-ups, you have come to the right place! 
This little makeup compact with specialized brushes is the only product you'll need to cover your brows, hair and hairline.
Get ready to meet this multi-purpose, all-in-one palette from Doll 10 with brushes that define brows, cover roots, and boost volume for a naturally beautiful you!
OverARCHiever Multi-Dimensional Volume Powder
Perfect both your brows and hair the quick and easy way… at home!
The OverARCHiever Multi-Dimensional Volume Powder for Brows & Hair has been designed explicitly by hair experts Calista Tools and Doll 10 Beauty to take your brows, hair and roots to the next level!
This volumizing and conditioning powder defines and shapes your brows while adding volume and dimension to your scalp, roots and hair…
…this is your one-step daily hair and brow quick-fix DIY solution!
Created by experts to suit real women every day.
It's never been easier to subtly cover hair re-growth and boost eyebrow colour naturally in one multi-use product for sculpted brows and hair that looks voluminous and youthful!
OverARCHiever Multi-Dimensional Volume Powder is my new must-have coveted beauty product!
What makes this brow kit so unique?
This multi-dimensional volume powder gives a natural-looking coverage for hairline, roots and eyebrows – designed by experts to look beautifully natural!
The innovative, three-tone formula fills in and evens out your brow shape with a realistic, hair-like finish.
The hybrid two-in-one primer and powder formula increases grip and wear time on the brows and scalp to eliminate exposed areas and create the appearance of a more voluminous head of hair.
Not only does this multi-award-winning palette consist of three flattering and complimentary shades to choose between or mix together for your own bespoke colour that perfectly matches your hair…
…it also includes two expertly-designed brushes!
A dual-ended angled brow brush with spooley for creating realistic and natural-looking brows, as well as a very handy touch-up hairbrush for blending powder seamlessly into roots and scalp for thicker-looking, youthful hair!
The long-lasting OverARCHiever powder is easy to apply to brows and roots – simply blend with the brushes for a natural look without any harsh or obvious lines.
Perfect for covering any unwanted stray greys that might frame your face or sit at your hairline, brows or roots, and it can even absorb excess oil in your hairline!
With a choice of blending three colours, the colour match will be true to your own colour and stay in place beautifully.
Plus, the unique hair touch-up brush is incredible at blending everything thoroughly for a bespoke colour that no one would know is not natural – and it washes out like a breeze! 
Touch-up at home or on the go with this little hair-and-brow-saving beauty gem!
And that's not all…
The breakthrough, gentle formula is lovingly powered by skin-loving ingredients such as conditioning brow and hair oils like Borage Oil, Ginseng Oil, Coconut Oil, Aloe Leaf Extract…
…and along with Vitamin C and Hyaluronic Filling Spheres, this is a treat for your skin too!
Simply choose your perfect shade from our five options that promise to suit everyone according to your natural hair colour. 
Plus, the little rose gold cased compact is both chic and fits perfectly in any handbag, with the brushes its perfect companions..and a little goes a long way.
Doll 10 OverARCHiever Multi-Dimensional Volume Powder for Brows & Hair with Brushes is a real game-changer for your hair and brows and my new daily go-to…
… you did it again, Dolls!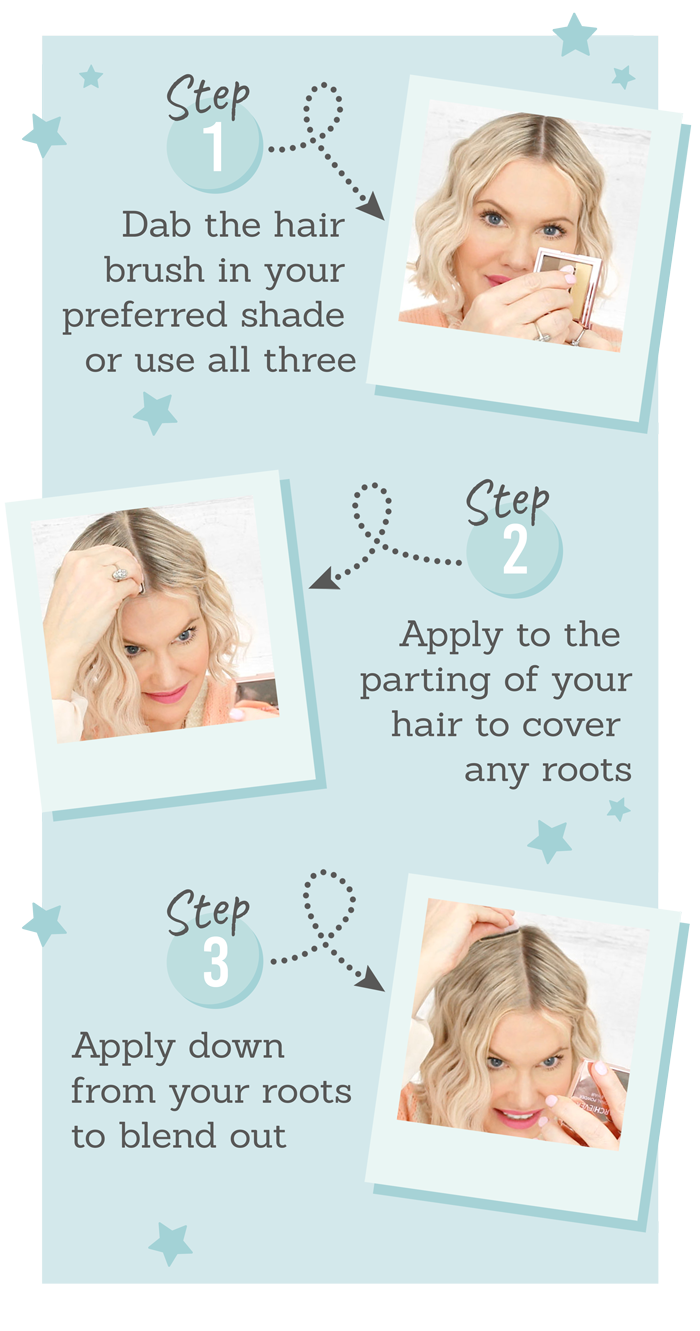 All-in-one palette with three easy to blend shades that define & fill sparse eyebrows & covers thinning or grey hairlines

A noticeable improvement in the appearance of brow fullness after application

Visible improvement of hair and brow volume and definition

Visible difference in the appearance of thinning hair

A noticeable difference in the appearance of hair volume after application

Long-lasting results with 12hour wear without fading, flaking or transferring

Instant added visible volume and fullness to hair and brows

Healthy and youthful-looking hair

Nourished, hydrated and protected skin thanks to a powerful blend of 10 carefully selected skin-loving ingredients

Three-tone formula evens out brow shape with a realistic, hair-like finish

A hybrid two-in-one primer and powder formula for all day wear & reduced exposed scalp or thinning brows
Borage Oil replaces essential fatty acids for soft, supple and healthy brow hairs

Ginseng Oil is renowned for improving overall skin quality for a more youthful appearance

Aloe Vera Extract is a known skin conditioning agent that works to hydrate and plump the skin while supporting the skin's natural repair process

Hyaluronic Filling Spheres are made of Hyaluronic Acid to provide plush hydrating colour that glides on the skin. Hyaluronic Acid is nature's miracle ingredient as it holds 1000X its weight in water to the skin's surface for a more youthful appearance

Vitamin C helps to improve collagen synthesis & provides free-radical fighting antioxidants for brighter-looking skin

Coconut Oil is a known skin conditioning agent that keeps skin hydrated, moisturised and supple
About the brand: Doll 10
Founder of Doll 10, Dr Doris Dalton, developed this high-performance beauty brand to be more than just makeup – she wanted to create products designed as beauty solutions powered by clinically proven, clean ingredients. Each product is designed to be easy to use so that it would be convenient for everyone to get "Dolled Up" in just 10 minutes a day! Enriched with good-for-your-skin ingredients, this doctor-developed makeup brand will get you looking great and give your skin a naturally beautiful boost too! Give yourself 10 minutes of precious "me time" with Doll 10!
At Beauty and the Boutique…
We love beauty and animals – so you always know the products we sell are never tested on animals.
I hope you love using this Doll 10 - OverARCHiever Multi-dimensional Volume Powder as much as I loved hand-picking it for you!
Need more help?
Should you need more help with your new Doll 10 - OverARCHiever Multi-dimensional Volume Powder, be sure to get in touch with us 👉 here, we'd love to hear from you!
Show us your selfie!
We love seeing how you like to use your Doll 10 - OverARCHiever Multi-dimensional Volume Powder Send us your selfie wearing your new purchase 👉 here and let us celebrate you!