Lashfood - Chamomile Makeup Eraser Pen
Chamomile Makeup Eraser Pen
Do you struggle to apply makeup neatly – especially when in a hurry…?
If your eyeliner just won't play ball some mornings, your lipliner starts to feather, or when mascara smudges…and you end up having to start from scratch, then get ready for a little miracle makeup SOS fixer!
This is your makeup bag's potentially most valuable product yet!
Chamomile Makeup Eraser Pen
…ready for all your makeup emergencies or touch-ups at home or on the go!
Brows, lips, eyes and face – regardless of the mistake, the Chamomile Makeup Eraser Pen is an absolute makeup must-have!
And suppose you're someone who's always in a rush…?
In that case, Lashfood's Chamomile Makeup Eraser Pen will quickly become one of your favourite new products to hit your makeup collection – like a travel-friendly, precise and convenient makeup remover in a handy pen – ready for anything, anywhere.
Genius!
What makes this pen so unique?
This little makeup fixer will have friends wondering just how you became such a makeup pro overnight…
…and you wondering how you ever survived before?
Strong enough to remove even waterproof formulas, this clever Chamomile Makeup Eraser Pen is super gentle thanks to the infused powers of calming Chamomile Flower Extract and Vitamin E to help soothe sensitive, irritated, dry or sore skin – perfect for around the eyes or lips.
Plus, Jojoba esters (a complex mixture of long-chain fatty acids and fatty alcohols joined by an ester bond) are clinically proven to reduce dryness for softer, smoother and much healthier skin – no more flaky, rough skin patches!
Your new instant multitasking cure helps magically erase any mistakes in one easy swipe; cleaning up brows, perfecting eyeliner flicks and defining your pout - conveniently, efficiently and highly skilled!
Made from charcoal, the tip of the pen (which is reversible!) cleverly soaks up dirt with precision, meaning less waste, less mess, and less time spent trying to correct.
The Chamomile Makeup Eraser Pen is everything for beauty mishap corrections!
Get officially obsessed (carry one in your handbag, makeup bag and keep at home…!), you know, just in case…!
And that's not all…
Plus, there's no more need for endless cotton buds / Q-tips to correct any mistakes ever again with the Chamomile Makeup Eraser Pen.
Bonus!
Clean up smudges, perform quick fixes and erase mistakes - this magic pen is a makeup game changer!
Help correct any makeup mishaps without affecting the rest of your face and in no time…
…transforming your makeup fail into your new (and improved) makeup win!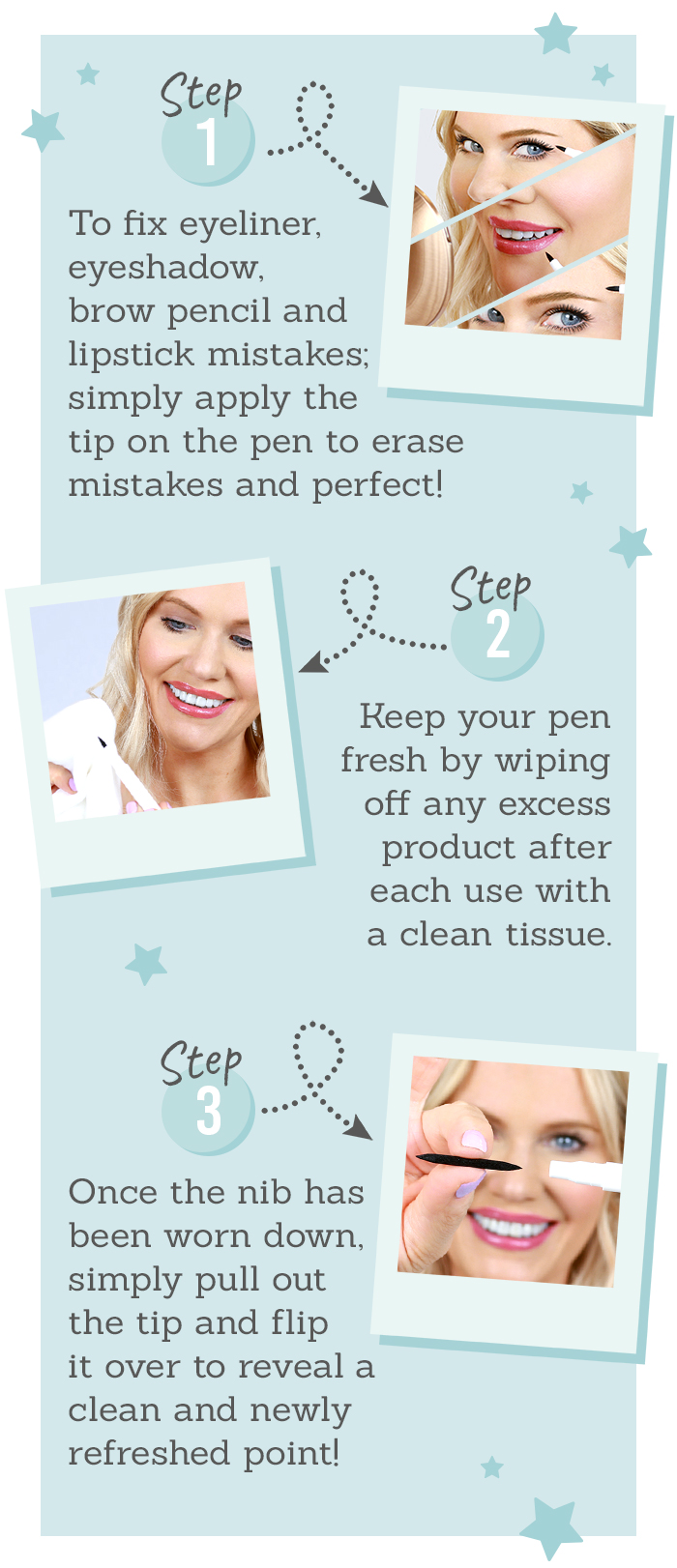 Instantly perfects makeup mistakes on brows, lips, eyeliner & mascara smudges, so your makeup looks professionally and flawlessly applied

Helps gently and effectively remove waterproof formulas so no tugging at the delicate skin around eyes or lips

Infused with Chamomile and Vitamin E to soothe sensitive skin without causing irritation but leaving your skin feeling soft and smooth

Chamomile Flower Extract - rich in Vitamin B-Complex and perfect for calming sensitive, delicate skin (especially around lips and eyes) with anti-inflammatory, antibacterial, astringent and hypoallergenic properties for radiant, soft and hydrated skin

Vitamin E - known as Nature's most effective antioxidant and skin protector that nourishes and shields your skin from damage caused by free radicals, strengthening the skin's barrier against environmental toxins

Glycerin - an excellent humectant that keeps skin from drying out and protecting it from environmental sources of irritation while being an emollient is perfect for gently erasing any makeup mistakes!

Jojoba esters - clinically proven to reduce dryness, hydrate and heal skin while reducing fine lines and increasing firmness without clogging your pores

Vitamin C – an antioxidant that helps repair, hydrate and condition dry skin for a softer and smoother complexion while brightening skin and targeting pigmentation, dark spots and breakouts

Handy, reversible tip to make the pen last longer, so you get two pens in one!

Easy to use, clean and carry in your purse, so it doesn't take up much space or cause any mess!

Ensures your makeup always looks professional and flawless and provides a handy quick fix should you need it while on the go!
About the brand: Lashfood
Effortless, natural beauty for the modern woman is LASHFOOD | BROWFOOD's philosophy using clean ingredients with effective results by pioneers of eyelash extensions Jane Kim and her daughter Faith.
The discovery of a breakthrough formula, Phyto-Medic Complex, meant that they could deliver nature's most powerful ingredients to achieve clinically proven results with 99%+ natural and organic ingredients without irritation.
LASHFOOD brings effortless beauty backed by high-performance naturals and is committed to flawless beauty made with skin-loving ingredients.
At Beauty and the Boutique...
We love beauty and animals – so you always know the products we sell are never tested on animals.
I hope you love using this Lashfood - Chamomile Makeup Eraser Pen as much as I loved hand-picking it for you!
Need more help?
Should you need more help with your new Lashfood - Chamomile Makeup Eraser Pen, be sure to get in touch with us 👉 here, we'd love to hear from you!
Show us your selfie!
We love seeing how you like to use your Lashfood - Chamomile Makeup Eraser Pen Send us your selfie wearing your new purchase 👉 here and let us celebrate you!