Makeup Course: Beauty Secret Day 2 - How to Get Amazing Skin for Your Age Today
👋 Hi friends,
Welcome to day 2 of your Makeup Course: 'The 7 Best Beauty Secrets'  🙋‍♀️
Today I'm going to share with you the one skincare ingredient you need to know about, to keep your skin looking it's best for the age you are today:
Collagen!
Collagen is what keeps our skin from sagging - it gives us that plump and youthful look! Your body naturally produces collagen, but this production decreases with age.
Starting in our mid-20s, we slowly begin to lose collagen, by about 1.0%-1.5% a year! 🥺
Collagen loss can speed up based on lifestyle choices, like smoking, environmental pollution and external factors like sun exposure.
What's more, we can lose up to 30% of our collagen production in the first five years of menopause.
BUT, there are things you can do to encourage your body to increase collagen production and make your skin look more youthful! 👏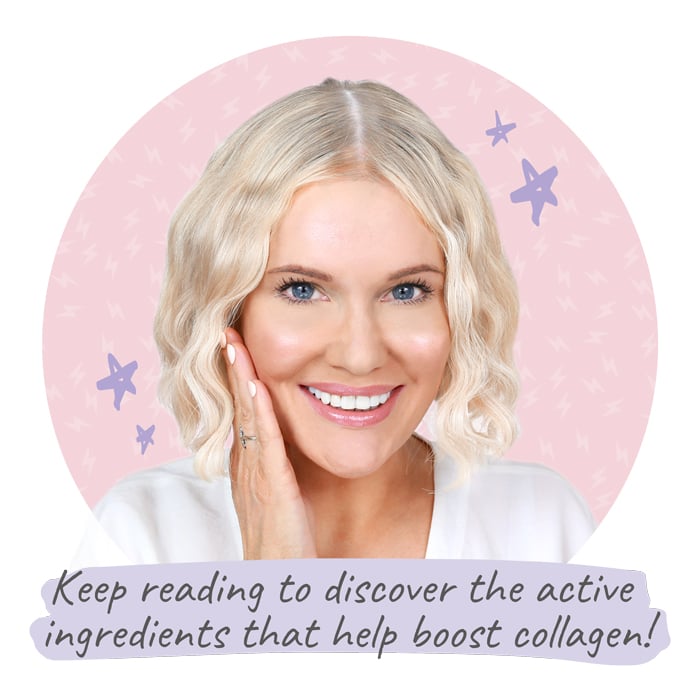 From what dermatologists know so far, certain active, topical ingredients help promote collagen production far more than creams that actually contain pure collagen! 💡
This is because when collagen molecules are put into face creams they are too big to penetrate deep into the skin and make any lasting difference (the collagen will make your skin look and feel nice, but it won't have a long-term effect!) 🙅‍♀️
Below, I have some tips on active, topical ingredients you can use to help boost your collagen production 🌟
You don't have to use all the ingredients I mention below, just one or two to help your skin look it's very best - at the age you are today!
Since peptides are tiny (think microscopic!), they can deeply penetrate the skin's protective barriers and get to layers of skin that many compounds just can't reach.
Peptides send signals to your skin to produce more collagen 👏
Peptides can help improve collagen and elastin, decrease skin roughness and dryness, and reduce wrinkle volume and depth.
"

The copper peptides in this serum target multiple signs of ageing, such as fine lines & enlarged pores for smoother skin!

"

Makeup Artist
Retinol can improve skin texture, lessen the depth of fine lines and wrinkles, help  tighten and shrink pores, and diminish dark spots! 
Retinol has earned its long-held reputation, due to its ability to boost the retention and production of collagen.
According to research, it has the potential to stop photo-ageing before it starts - high five to that! 🙋‍♀️
Research has also discovered that regular use of a retinoid product also increases the amount of new collagen formed and that this new collagen will last for years! ✨
" The Retinol in this Powerbalm combats signs of ageing by stimulating cell renewal! "
Makeup Artist
Vitamin C applied to the skin can encourage the production of new collagen. It also helps maintain the collagen you do have and protects it from damage. 
Some studies show that it can also reduce the appearance of wrinkles, when you use it for at least 12 weeks 👏
" This everyday face oil tightens skin & boosts collagen for more youthful-looking skin! "
Makeup Artist
Firstly, don't let the name scare you!
Hyaluronic acid is actually found naturally in our body in connective tissue.
It contributes to the skin's elasticity  - it can help boost collagen production in the human body.
Hyaluronic acid also has the unique ability to lock in moisture and thereby keeps skin looking more soft and youthful 🤩
So, seek out serums or skin creams that contain hyaluronic acid because it has amazing moisturising effects, holding up to 1000 times its weight in water when applied to the skin (pretty impressive stuff, huh?).
" This balm deeply hydrates skin & slows the formation of wrinkles! "
Makeup Artist
As you know, collagen has the power to add youthful volume to the skin, promotes a plumper appearance and helps skin remain strong.
It's naturally produced by our bodies, but collagen as a skincare ingredient (as I mentioned earlier in this beauty secret) cannot penetrate the skin's surface (so, collagen as a single ingredient in skincare does not have a long lasting effect on our skin).
BUT, there is one way you can use pure collagen (and I swear by this method!)...
...and that is to ingest a collagen supplement daily!
But, be warned, not all collagen supplements are created equally; I've done the hard work for you and found what I believe to be the very best...
Rejuvenated Collagen Shots! 
I take Rejuvenated Collagen Shots every day, and I've had amazing results - look at the results I saw on my hands after just 8 weeks...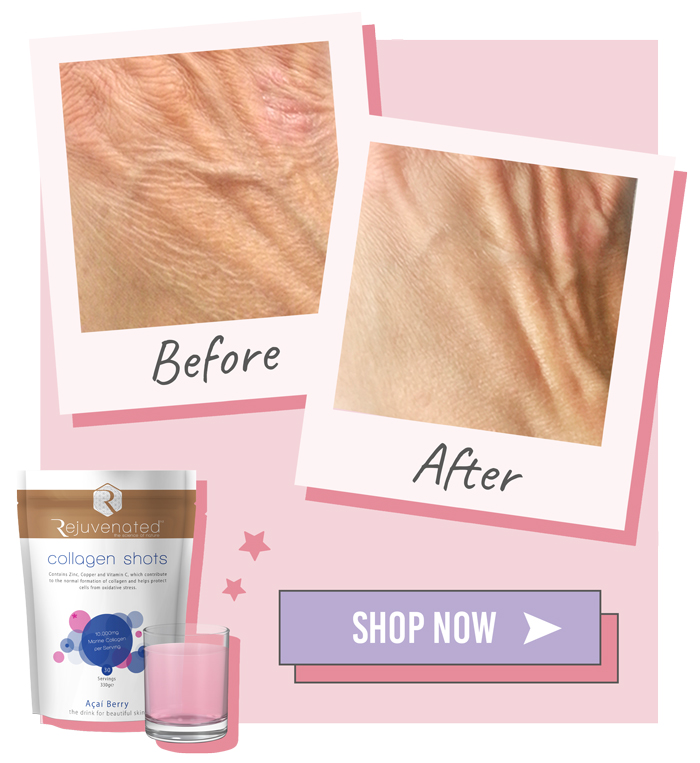 Pssst...
I hope you've learnt some useful tips on how to keep your keeping looking amazing and youthful! 💕
Look out for your next beauty secret arriving straight to your inbox tomorrow...

...trust me, you won't want to miss it! 🤩